Column: Huntington Hospital accepts California's end-of-life law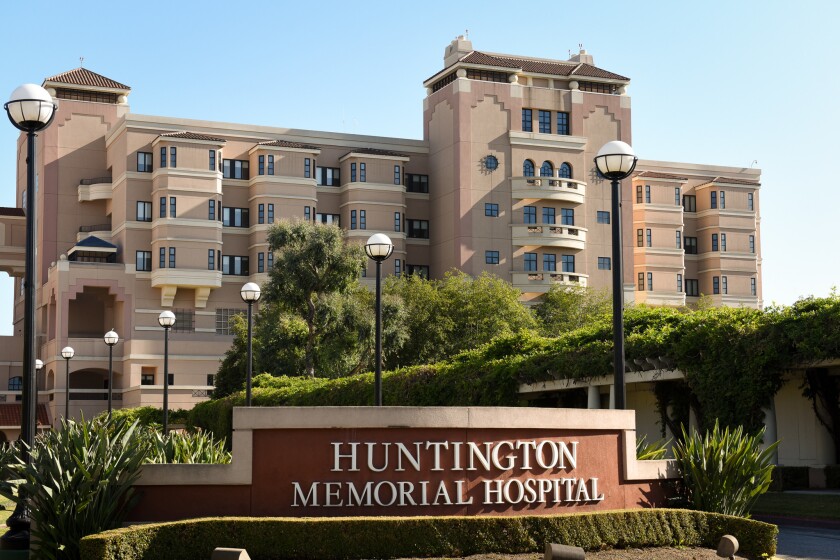 The board of directors of Pasadena's Huntington Hospital, rejecting the recommendation of the facility's doctors, has voted to participate in California's controversial End of Life Option Act, which permits physicians to assist terminally ill patients in ending their lives.
The hospital's doctors were notified of the decision by email Friday. Huntington plans to notify the broader community with an announcement in Sunday's Los Angeles Times.
Eileen Neuwirth, a hospital spokeswoman, confirmed the board's decision but declined to go beyond Sunday's planned statement.
"Earlier this year, our hospital began ongoing, thoughtful deliberations about whether and how to participate in this new law," a draft of the statement shared with doctors says. "Now, after careful evaluation of the law, its consequences, what is right for our community and — most important — what is consistent with our vision to serve our community with kindness and dignity, our board of directors determined that Huntington Hospital will continue to participate in the End of Life Option Act."
It adds that individual doctors will have the final say on how they want to proceed with their patients. Huntington said last month that it would participate in the End of Life Option Act on a provisional basis until a final decision was made by the board.
The state law is modeled on Oregon's Death with Dignity Act. It allows physicians to prescribe medication to hasten the death of adults who have been diagnosed with terminal illness and have six months or less to live. The patient must be able to self-administer the medication.
The law permits hospitals and doctors to opt out of participating. While most religious hospitals have rejected the law on moral grounds, secular facilities such as Huntington have wrestled with the question of whether helping a patient end his or her life is ethically consistent with a commitment to protecting people's well-being.
"In conversations with our physicians, palliative care experts, nurses, bioethicists, patients and community, the most critical factor in the end-of-life discussion is individual choice," Huntington's statement says.
The hospital's medical leadership approved an amendment to the hospital's rules in late April saying that "Huntington Hospital has chosen not to participate in the act." If adopted by the board, it would have applied to all "Huntington Hospital employees, independent contractors, or other persons or entities that work at or with Huntington Hospital."
The hospital says it has more than 800 affiliated physicians.
Neuwirth declined to comment on why the board adopted a sweeping acceptance of the End of Life Option Act that's inconsistent with the doctors' recommendation.
A hospital insider told me that pressure on the board to accept the law grew after I wrote in May about the doctors' behind-closed-doors decision.
"We fully respect those who disagree with the law and we expect it will be quite rare that patients choose to end their lives in our hospital," Huntington says in its statement.
David Lazarus' column runs Tuesdays and Fridays. He also can be seen daily on KTLA-TV Channel 5 and followed on Twitter @Davidlaz. Send your tips or feedback to david.lazarus@latimes.com.
---