Marijuana entrepreneur sells Lloyd Wright's neo-Mayan masterpiece for $6.16 million
The John Sowden House — a dazzling neo-Mayan gem built by architect Lloyd Wright — has traded hands for $6.16 million in Los Feliz.
One of Southern California's finest examples of neo-Mayan architecture, the singular, striking residence resembles a temple but has also drawn comparisons to a cave or the gaping mouth of a great white shark.
Records show the seller is Dan Goldfarb, a cannabis entrepreneur best known for founding Canna-Pet, which sells hemp products designed for animals. He bought the iconic estate for $4.7 million in 2018 with plans to turn it into a cultural hub for art and events.
The buyer is Nate Daneshgar, whose family owns Grand Central Market in downtown Los Angeles. He becomes the latest in a long line of notable owners including its namesake, painter John Sowden, and George Hodel, an L.A. physician who was named a suspect in the Black Dahlia murder case. For this notorious tie, the property's website claims that the house "might hold the key" to the unsolved mystery.
The exterior.
(Visual Media LA)
The living room.
(Visual Media LA)
The wall of windows.
(Visual Media LA)
The textile blocks.
(Visual Media LA)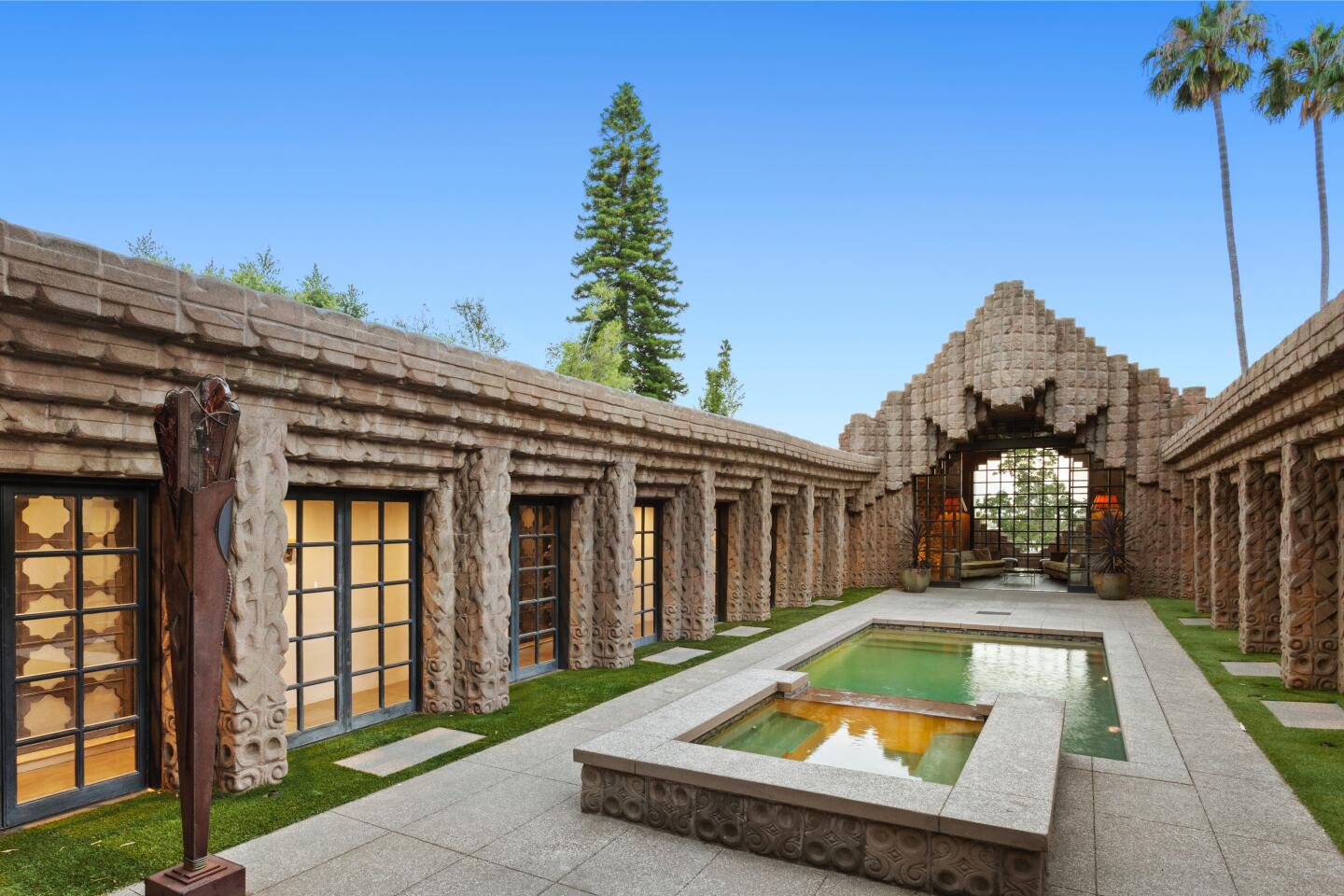 The swimming pool.
(Visual Media LA)
The courtyard.
(Visual Media LA)
Wright — son of prolific architect Frank Lloyd Wright — built the home in 1927 using concrete textile blocks that showcase decorative Mayan themes. The house hovers above Franklin Avenue, entering through copper gates to a dramatic tomb-like staircase.
The cave-like atmosphere continues inside, where stone fireplaces anchor living spaces lined with warm wood floors. Throughout the 5,600-square-foot space, walls of windows wrap around an interior courtyard with a swimming pool and spa surrounded by art installations.
For its distinct appearance, the residence has appeared in a handful of movies including "L.A. Confidential" and "The Aviator." It also claims a spot on the National Register of Historic Places.
Ryan Ponce and Sherri Rogers of Compass held the listing. Juan Longfellow and Louise Leach of DPP represented Daneshgar.