Celebrities home in on select Southland neighborhoods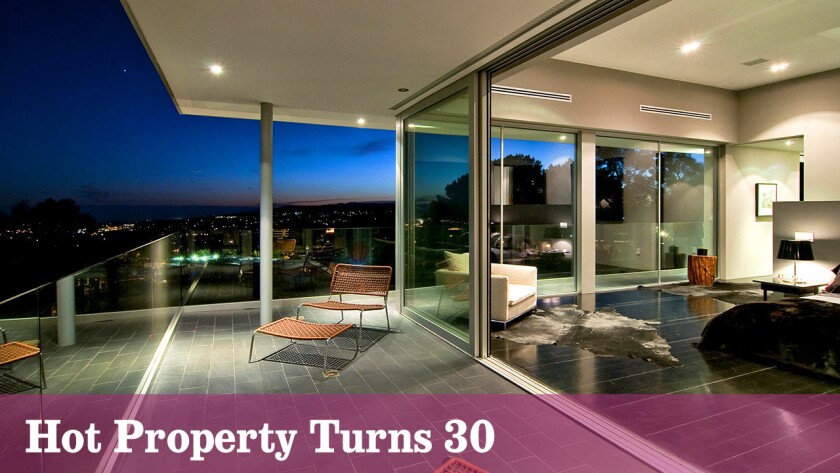 Southern California is littered with star-studded neighborhoods.
Some are established stomping grounds prowled by tour buses, while others are low-key enclaves where the famous blend anonymously in the throng.
Topping the marquee, Hollywood Hills has been attracting stars since comedian W.C. Fields, comic actor Groucho Marx and 1930s sex symbol Jean Harlow were in their heyday. Later generations of celebrity homeowners have included actors Ben Affleck, Ben Stiller and Renee Zellweger.
The Bird Streets section of Hollywood Hills, in particular, remains the favored home-buying locale of hip Hollywood.
"It still holds the title as most desirable place to live for younger celebrities," said Chad Rogers, a real estate agent with Hilton & Hyland. The location is central to major studios, trendy restaurants and nightlife, yet feels removed from the city with its perch in the hills.
Some young celebrities with families are moving to Pacific Palisades for a more private lifestyle away from the ever-present paparazzi, Rogers said. "Residents are close to the beach and some of the best hiking trails around."
There's a different level of star power in Holmby Hills and Bel-Air, with both old- and new-money multimillionaires and billionaires. "The A-plus listers," Rogers calls them. "It's a place where price really is no object."
Actors Tony Curtis and Gregory Peck and singers Sonny and Cher have owned homes in Holmby Hills, and singer superstars Jay-Z and Beyonce leased a newly built house listed at $45 million this summer.
Even with tour buses traveling up and down the winding streets and corner maps-to-the-stars sellers, Holmby Hills residents find privacy in their 10,000-square-foot-plus mansions behind the tall hedges and walls.
Former "Friends" star Jennifer Aniston bought a Midcentury Modern-style house in Bel-Air from former Maguire Properties Chief Executive Robert F. Maguire III two years ago. The restored 8,500-square-foot house on a three-acre-plus knoll with unobstructed ocean and city views, a guesthouse, a swimming pool and vineyards went for $20.97 million.
In contrast, relative bargains can be found just over the Sepulveda Pass in Studio City, which is particularly popular with musicians. Guitarist-songwriter Billy Howerdel, electronic music pioneer Erez Eisen and Strokes lead guitar player Nick Valensi have had homes there.
"You get so much bang for your buck," Rogers said. Compared with the Westside, "homes are a fraction of the price."
Artsy Los Feliz has had its share of big screen stars, yet it remains somewhat under the radar. That alone can attract a celebrity. Stars often retreat to second homes — preferably in Malibu.
A stretch of Carbon Beach is named Billionaire's Beach after its high-powered homeowners. Last summer, a home in Malibu Colony leased for $175,000 for one month.
Although most recently associated with dot-comers, Venice is also home to stars.
"Venice is a low-key place with a creative vibe. You are surrounded by people from all walks of life and from all over the world," said Tami Pardee of Pardee Properties. "People feel they can be themselves here and be left alone."
Among those drawn to the Bohemian-vibe are actors Elijah Wood, Matthew Modine and Tim Robbins.
But perhaps the best-kept secret is La Cañada Flintridge, said Boyd Smith of Podley Properties. Set at the base of the San Gabriel Mountains, the community has the charm and grace of a long-ago era.
"You might call La Cañada Flintridge the 'Mayberry' of Los Angeles," Smith said. "Hollywood has discovered this jewel."
Residents of note include actress Angela Bassett, comic actor Vince Vaughn and director Chris Buck, who won an Oscar for "Frozen."
Twitter: @LATHotProperty
---
Inside the homes of the rich and famous.
Glimpse their lives and latest real estate deals in our weekly newsletter.
You may occasionally receive promotional content from the Los Angeles Times.