Barack Obama lands in familiar Rancho Mirage as Donald Trump enters White House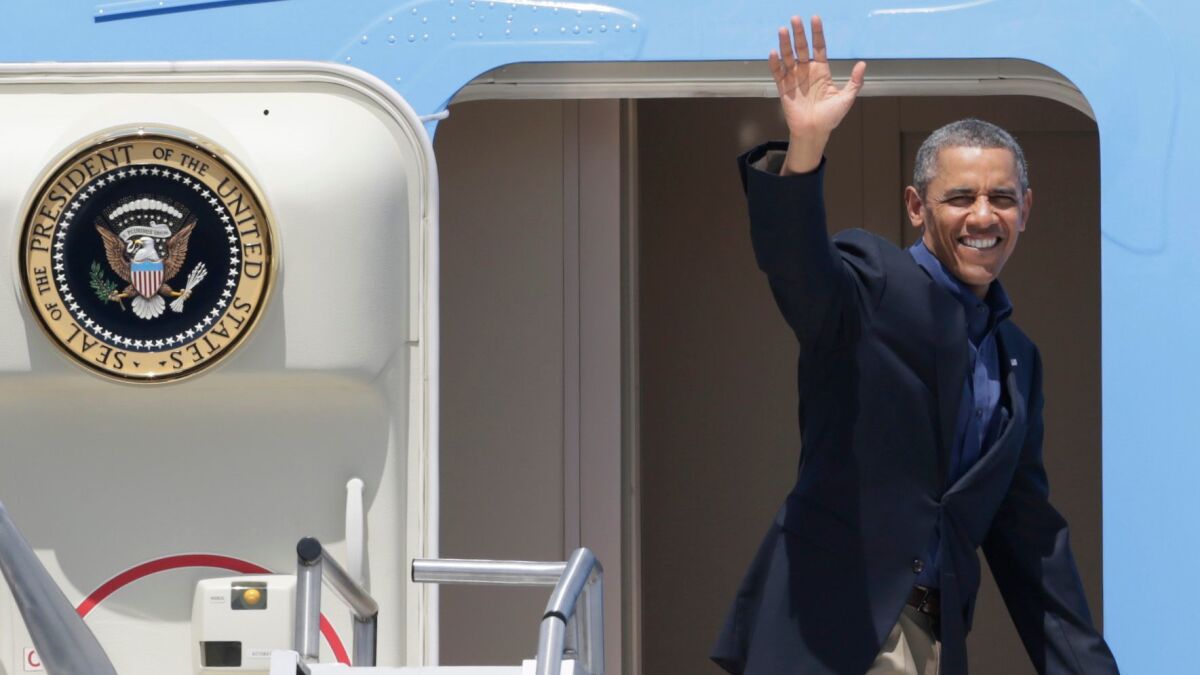 As new commander in chief Donald Trump settles into the White House, former resident and President Barack Obama has touched down in Southern California's Coachella Valley.
Obama and his wife, Michelle, on Friday arrived at Thunderbird Heights in Rancho Mirage, an affluent community near Palm Springs, where they will reportedly stay at the home of longtime friends James Costos, the former U.S. ambassador to Spain, and White House decorator Michael S. Smith.
Rancho Mirage has long been a favorite vacation spot for Obama, who traveled to the area six times during his presidency, according to the Desert Sun newspaper. During those trips he's mixed business with one of his favorite pastimes, golf, including rounds at Oracle co-founder's private course at the Porcupine Creek estate and at Sunnylands.
The trips have led many to speculate that Obama may buy a home in the area.
In 2014, it was believed the former first family was in escrow on an estate in a gated community where Frank Sinatra, Bob Hope and Bing Crosby once made their homes. The sale later closed with no apparent ties to the then commander-in-chief, but conjecture about an Obama purchase in the desert has continued ever since.
Costos and Smith's home, in particular, has been debated as a possible purchase option for the Obamas.
The 11,000-square-foot-plus compound, with a main house, a guesthouse, a tennis court, a swimming pool and a nine-car garage, has been shopped as a whisper listing in the $9-million range. But real estate agents aren't so sure that it would satisfy the Obamas' security needs; despite sitting on two lots totaling more than eight acres, the house sits near the road.
Should a purchase ever materialize, the Obamas would join a number of presidential families who have landed in Coachella Valley post-presidency.
After completing his time in office in 1977, former President Ford and Betty Ford moved to the Rancho Mirage area, buying a midcentury modern-style home designed by architect Welton Becket. A neighboring property was also purchased and used as a "Secret Service guard shack."
The Ford property, including the original furnishings, came up for sale five years ago for $1.699 million and eventually sold for $1.675 million.
Twitter: @NJLeitereg
MORE FROM HOT PROPERTY:
The U.S.' priciest house for sale is a Bel-Air mansion that includes 7 staffers and a helicopter
In quick move, San Antonio Spurs' LaMarcus Aldridge sells his Newport Coast house
Jane Fonda and Richard Perry seek $13 million for Beverly Hills home with glass elevator
Filmmaker Mike Medavoy sells his Beverly Hills home for $9.95 million