The U.S.' priciest house for sale is a Bel-Air mansion that includes 7 staffers and a helicopter
Los Angeles has just reached new heights in over-the-top real estate opulence.
The city now boasts the most expensive home for sale in the country: a newly built Bel-Air mega-mansion listed Wednesday at a quarter billion dollars.
It has all the hallmarks of a Big Deal house: 38,000 square feet spread across four floors, 12 bedrooms, 21 bathrooms, three kitchens, a 40-seat movie theater, an infinity pool with a swim-up bar and 270-degree hilltop views from downtown to the ocean.
That's just the house itself, though, and L.A. has a lot of nice houses. To snag a billionaire buyer, sellers of ultra-elite properties are throwing in a raft of stunning extras. It's become about selling a glamorous lifestyle as much as offloading the property.
Whereas average home buyers might be able to get the fridge thrown in with the sale, the fully furnished Bel-Air home comes with a $30-million fleet of exotic cars and motorcycles parked in the foyer, including a custom Rolls-Royce, a Bugatti and a vintage Allard. The four-lane bowling alley has shoes in every size, and the candy room is filled with towering cylinders of sweets.
Two wine cellars are stocked with hundreds of bottles of Champagne and wine. There are glass ping-pong and billiards tables that were custom-built, and 130 artworks collected from around the world.
Want even more status symbols? A helicopter is parked on the roof — craned in because the house doesn't have a permit for landings and takeoffs. A Hobie Cat sailboat sits on a deck ready for imaginary voyages. Stuck in the crocodile-embossed elevator? The house comes with seven full-time employees, who live in a separate staff wing.
The home "comes with everything," owner-developer Bruce Makowsky said. "You don't even need a toothbrush."
At this level of real estate, such exorbitant amenities help set properties apart from the competition.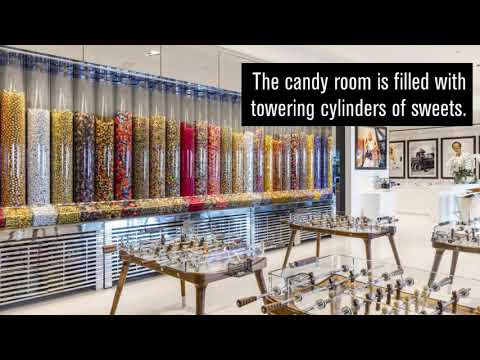 The mansion has a four-lane bowling alley, a candy room filled with towering cylinders of sweets and two wine cellars stocked with hundreds of bottles of Champagne and wine. (Jan. 19, 2017)
When NBA legend Scottie Pippen relisted his Florida home last year, the $10.9-million price included a bonus: his 55-foot VanDutch yacht. Another Bel-Air home for sale, developed by "Seinfeld" producer Andrew Scheinman and listed in October, comes with 14 flat-screen TVs and Minotti furnishings.
"It attracts buyers from overseas and carries cachet," Scheinman's real estate agent, Paul Czako of Gussman Czako Estates, said.
"My sellers went to a lot of open houses just to see what the other handful of developers were putting out," Czako said. "You definitely want to be one-up on the next person."
Makowsky is not one to be easily one-upped.
An outlandish bear of a man, the developer has a larger-than-life personality befitting the ostentatiousness of his homes.
The 60-year-old lives in a 27,000-square-foot Beverly Park mansion once leased by the late pop icon Prince and made his fortune selling handbags on QVC before turning to real estate six years ago. He's built nine homes so far and furnishes them to reflect his own extravagant travels, interests and tastes.
"I live the life," he said simply.
In 2014, Makowsky sold a Beverly Hills home to Minecraft founder Markus Persson for $70 million — a figure that was considered astonishing at the time.
But Los Angeles real estate has rocketed upward since then, propelled by a stable economy and an influx of wealthy, often foreign, buyers looking to buy a slice of sunny Southern California life.
Makowsky's latest creation was built "on spec," real estate lingo that means the developer makes all the decisions and designs a home without a buyer lined up. He is a risk-taker, with no outside investors, and spares no expense.
His development company, which builds only in a 10-mile radius centered around the most exclusive pockets of the Westside, caters to billionaires willing to fork over outrageous sums for move-in-ready homes stocked with designer wares made by Chanel, Louis Vuitton, Hermes and the like.
Makowsky led a group through the Bel-Air mansion last week, a sort of real estate Willy Wonka proudly showcasing the property's lavish, whimsical elements — a bedazzled sofa-sized camera sculpture, a $500,000 set of moving Seven Dwarfs images — while Beyoncé concert footage blasted on screens throughout the house.
The handbag tycoon said his vision for the property, which took four years and 250 workers to build, came from boats. Billionaires, he realized, spend eight weeks of the year on their hundred-million-dollar yachts "but then they only live in a $30-million home."
That discrepancy, he reasoned, didn't make sense, so he created a home with finishes and furnishings reminiscent of a mega-yacht and a matching price point to boot. Nautical themes are present, as are motifs that reflect Makowsky's love of collectible cars, guns and guitars.
For prospective buyers who might not share his taste for furniture, cars or helicopters, he's willing to negotiate.
If the property sells for $250 million, it will become the most expensive home ever sold in L.A. County. The current record stands at $100 million, notched twice last year in Holmby Hills: first for the Playboy Mansion, and later for a home on Carolwood Drive purchased by investor Tom Gores.
There are currently about a dozen homes for sale at $50 million or more in Los Angeles. The second-most-expensive home on the market is the former Candy and Aaron Spelling estate that listed in October for $200 million.
Setting a price for such a home is an arbitrary exercise, as there aren't comps that the property can be anchored against.
Bret Parsons of Coldwell Banker said potential buyers will make their own comparisons by looking at what other trophy homes sold for.
That could end up driving the sales price substantially lower: The Playboy Mansion, for instance, was listed for $200 million and the spec house on Carolwood Drive for $150 million.
Now the quarter-billion-dollar question is: Who will buy the Makowsky mansion?
Nine-figure price tags are accessible to only a handful of local residents and a small market outside of that. As of 2015, there were 585 billionaires in the U.S., according to the research firm Wealth-X, and about 2,500 worldwide.
"The air is very thin at this segment of the market," said Paul Habibi, a professor of real estate at UCLA.
But this is L.A. Fortune and wealth often can materialize overnight, whether from someone overseas or a tech titan riding the wave of a newly minted IPO.
Habibi doesn't expect the buyer to come from the old-money crowd.
"Anybody who has had money for a long time knows better than to spend it on a $250-million house," he said.
Makowsky, meanwhile, envisions a buyer who's a bit of a homebody, someone who appreciates a house on steroids and sees little reason to venture into town. "You're close to heaven, and you never want to leave," he said.
Tim Murphy, a real estate partner at Hall & Hall, said there are about 35,000 people in the U.S. who have liquid assets above $30 million, and probably only a small handful who could afford Makowsky's house. Still, he said $250 million is not out of the realm of possibility.
"The remarkable thing is it will probably sell," he said.
Hopefully soon. In the fast-moving luxury real estate market, something bigger and better is always around the corner.
Sure enough, Nile Niami, a film producer and speculative developer, is building his own Bel-Air showplace, a 100,000-square-foot giga-mansion with its own casino and a 30-car garage.
Target asking price: $500 million.
Twitter: @NJLeitereg
Click here for a Spanish version of this story
MORE FROM HOT PROPERTY
Buy a home now, move in after the seller dies
What's hot in home improvement trends this year
The trendiest venues for today's extreme parties: private homes
---
UPDATES:
2:05 p.m. This article was updated with additional details and quotes.
This article was originally published at 7:45 a.m.