Hot Property: Staying power
As we suspected, a gush of homes came on the market the Monday after the Super Bowl aired. Among them are some that haven't seen a "for sale" sign in eons. One is a Beverly Hills residence that was kept in the family of a well-known game show host for 55 years. Another, in Westwood, was owned by married actors for more than six decades.
For a look inside a celebrity home, our video takes you to the living room of an actress who is wild about the woods. The forest motif is enhanced with deer-patterned fabrics, a collection of old books and antlers.
Once you're done reading about these deals, visit and like our Facebook page, where you can find Hot Property stories and updates throughout the week. That's also a great place to leave us a tip about a celebrity home deal.
– Neal J. Leitereg and Lauren Beale
'Shield' actor stops a buyer
Michael Chiklis, the actor known for his television roles on "The Shield" and "Gotham," has ended his search for a home buyer in Sherman Oaks, selling his house on about half an acre for $4.778 million.
Built in 1946, the updated traditional-style house has four bedrooms, four bathrooms and nearly 5,800 square feet of living space. An attached guest suite with a separate entrance contains another en-suite bedroom.
A great room with a fireplace, a living room, a billiards room and a screening room are among the common areas.
A swimming pool and spa, a basketball half-court and lawns complete the grounds.
What's behind door No. 1?
The longtime home of "Let's Make a Deal" game show host Monty Hall is for sale in Beverly Hills at $6.399 million.
Built in the 1920s in classic Mediterranean style, the nearly 4,000-square-foot house has five bedrooms and five bathrooms, according to public records. The quarter-acre lot also contains a swimming pool.
The Hall family home for 55 years, it has been the frequent site of celebrity parties, gatherings with visiting dignitaries and charitable events.
Hall, who died last year at 96, was the co-creator and face of the popular game show, which started in 1963.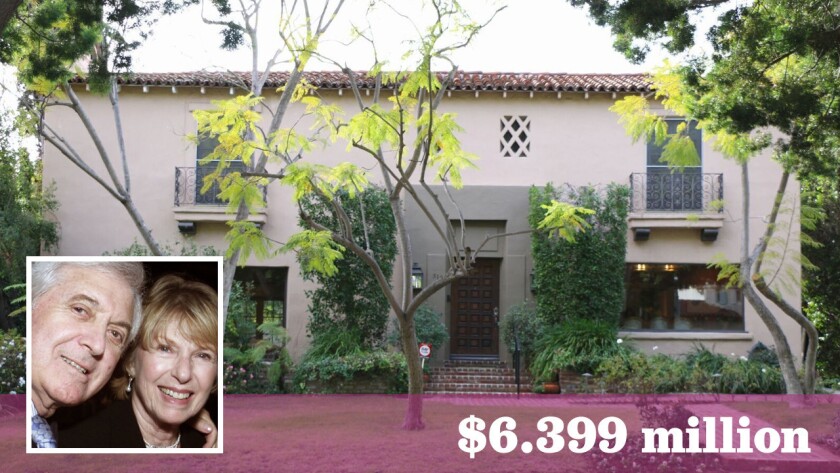 Pitcher is looking to close
Los Angeles Dodgers closer Kenley Jansen has put his home in Redondo Beach in play at $2.35 million.
Built in 2008, the upgraded two-story home blends East Coast-inspired elements with Craftsman style.
The 2,710 square feet of interior space includes living and dining areas, an office/den, four bedrooms and four bathrooms. French doors off the master bedroom open to a street-facing balcony.
Trellises top a patio area and an outdoor kitchen in the backyard.
The Dodgers pitcher has established himself as one of baseball's premier closers. He finished last season tied with Greg Holland for the most saves in the National League with 41.
Buyer falls for pretty digs
I. Marlene King, who was the showrunner for "Pretty Little Liars," has sold her home in Hollywood Hills West for $3.9 million.
Built in 1921, the East Coast-inspired traditional sits above the Sunset Strip on a third of an acre.
The three-bedroom, three-bathroom house includes a central hall, a living room with a brick fireplace, a den, a formal dining room and a family/media room within more than 3,500 square feet of living space.
A backyard swimming pool, decking, patios and an outdoor dining room complete the grounds.
King was a writer, director and producer on "Pretty Little Liars," which ended last year after seven seasons. Her current work includes the shows "Famous in Love" and "The Heiresses."
Decades of Hollywood glamour
The longtime home of actors Robert Sterling and Anne Jeffreys has come on the market in Westwood for the first time in more than 60 years at $2.875 million.
Set up from the street, the 1936 two-story features hardwood floors, crown moldings and a large living room fireplace.
The more than 3,100 square feet of living space contain a formal dining room, a paneled den, a bar, a sun room, four bedrooms and four bathrooms.
Sterling, who died in 2006 at 88, was in the films "Voyage to the Bottom of the Sea" (1961) and "Showboat" (1951), as well as scores of television shows.
Jeffreys, known for her stage, film and television work, died last year at 94. The couple appeared together in the 1953-55 sitcom "Topper." Her two-decade stint on "General Hospital" ended in 2004.
Her favorite room
Actress Natasha Leggero's favorite room in her Silver Lake home is the living room, which she calls "The Lodge." The woodland-themed space was inspired by a visit she made to Yosemite's Majestic hotel (formerly the Ahwahnee). "I wanted to create a little forest vibe where you can turn on the fire and read a book," said the co-creator and star of Comedy Central's "Another Period," currently in its third season.
From the archives
Ten years ago, Carlos Mencia, the wit behind Comedy Central's "Mind of Mencia," bought the Encino home of actor Eddie Cibrian for close to its asking price of $4.4 million. The walled and gated Mediterranean-style home, built in 1992, had a family room with a wet bar, a 15-seat home theater, six bedrooms and eight bathrooms within 8,500 square feet.
Twenty years ago, Paul Reiser, co-star of the sitcom "Mad About You," was spending his mad money. He bought a Beverly Hills-area home for just less than $6 million. The gated 17,000-square-foot house had a projection room and six bedrooms plus staff quarters.
Thirty years ago, comedienne Joan Rivers went bi-coastal, buying a place in New York City to go along with her Bel-Air residence. The new purchase was a flat in a grand old house on 5th Avenue for $2.4 million.
What we're reading
Talk about a wide screen. A 19,000-square-foot home for sale in the Hamptons includes a 110-seat movie theater, reports Newsday. Listed at $15.995 million, the house has served as a summer rental for numerous celebrities.
Kudos to Estately.com for spotting this legit "back to school" sale. The 1890 former school house in Howard City, Mich., is now a two-bedroom, 1,040-square foot home. Asking price: $110,000.
A skinny house in London, measuring just 91 inches across, is for sale at $1.4 million, according to Curbed.com. The Clapham-area home, known as the Slim House, has 1,058 square feet of living space.
---
Inside the homes of the rich and famous.
Glimpse their lives and latest real estate deals in our weekly newsletter.
You may occasionally receive promotional content from the Los Angeles Times.