Hot Property Newsletter: A walk down memory lane
Think that house looks familiar? Sometimes we report on homes that were once owned by someone famous, as we do this week. But every once in a while there's also a place that goes back into the hands of the earlier celebrity owner. We kick off with one such Thousand Oaks mansion, returning to the NHL Hall of Famer who built it.
For an armchair house tour, check out our contemporary Home of the Week in Brentwood. Automated pocket doors bring indoor and outdoor living together at this sleek house listed at $10.899 million. The Fox 11 video explores such sexy details as a lighted onyx bar, the floating glass staircase and the 360-degree-view roof deck.
Once you're done reading about these deals, visit and like our Facebook page, where you can find Hot Property stories and updates throughout the week.
– Neal J. Leitereg and Lauren Beale
Back home, again
NHL Hall of Famer Wayne Gretzky has reclaimed his former estate in Thousand Oaks, paying $13.5 million for the sprawling compound in an off-market deal.
The 6.5-acre property has had quite a journey since Gretzky sold it to ex-New York Mets star Lenny Dykstra in 2007 for $18.5 million. The financially struggling Dykstra lost the property to foreclosure, and the mansion sold at auction in 2010 for around $760,000.
The Richard Landry-designed home is fronted by a gated entry and a circular driveway. A remodel has brought a renewed elegance to the 12,000-square-foot floor plan. The space includes a living room, a formal dining area, a theater room, a gym, an office, six bedrooms and eight bathrooms.
Out back, a covered patio leads to a pool and spa. Elsewhere are a lighted and fenced tennis court and two guesthouses.
Gretzky, 57, spent 20 seasons in the NHL, and his record for most goals and assists in league history has earned him the nickname "The Great One."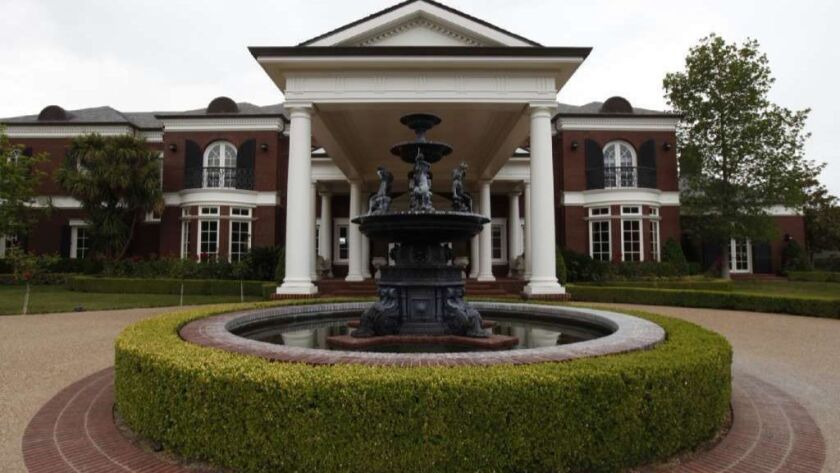 All that's missing is a bridge
File this one under "fascinating." A home that property records show was once owned in trust by late "Star Trek" actor Leonard Nimoy is for sale in Sherman Oaks at $1.785 million.
The traditional-style house, set on a quarter-acre of park-like grounds, was built in 1951 and has been updated.
The 2,112 square feet of living space includes an open plan living room-dining room layout, a family room with a fireplace, an office, three bedrooms and three bathrooms.
The entertainer's backyard has a swimming pool, a fire pit lounge area and an outdoor kitchen with a barbecue center.
Nimoy, who died in 2015 at 83, was known for his portrayal of half-human, half-Vulcan Spock on the 1960s "Star Trek" TV series and, later, in film. The Emmy Award winner also starred in two seasons of "Mission: Impossible."
The 411 on 'ER' star
Actress Sherry Stringfield of "ER" fame has put a home in Malibu on the market at $3.35 million.
Set on 1.5 acres, the modern ranch house has expansive wood decks to take in ocean and mountain views. Floor-to-ceiling retractable walls of glass bring the scenic setting into the 2,169 square feet of open plan living space.
White walls and minimalist décor add a sense of spaciousness to the interior, which features polished concrete floors. There are four bedrooms and three bathrooms.
Stringfield, 50, played Dr. Susan Lewis on "ER" in two stints from 1994 to 2009. More recently she has appeared on the series "Criminal Minds: Beyond Borders" and "Under the Dome."
James Bond listing spied
George Lazenby, who starred as secret agent James Bond in the film "On Her Majesty's Secret Service," has listed a mountaintop estate in Pearblossom at $3.49 million.
Totaling 480 acres and 12 parcels, the adobe-style ranch house has views that stretch to Edwards Air Force Base.
The home, which dates to 1954, was built without nails and retains its original roof and 15-inch-thick adobe walls. It has 1,969 square feet of living space, three bedrooms and two bathrooms.
Lazenby acquired the first parcel, which included the adobe house, roughly 40 years ago. He began accumulating the surrounding parcels after neighbors complained about his motorcycle riding.
The 78-year-old was the first actor to replace Sean Connery as 007. In addition to his lone turn as Bond, Lazenby has credits that include "Universal Soldier" (1972), "The Dragon Flies" (1975) and "Gettysburg" (1993).
'Flip or Flop' star relocates
Christina El Moussa of "Flip or Flop" fame has wrapped up some business in Yorba Linda, selling her home of five years for $2.925 million.
The 34-year-old reality television personality listed the 6,300-square-foot house for sale in March.
Built in 2004, the two-story Tuscan-style house sits on roughly half an acre with an 800-square-foot pavilion, a putting green and a rock-accented swimming pool with a waterslide. Set up for entertaining, the backyard space also holds an outdoor kitchen and a lounge with a fireplace.
There are five bedrooms and 8.25 bathrooms.
El Moussa, a real estate investor and HGTV star, began filming "Flip or Flop" in 2013 with her then-husband, Tarek El Moussa.
Where he bebopped a bit
Jazz and pop great Al Jarreau's onetime home in Tarzana has sold for $1.65 million.
Set on a cul-de-sac, the one-story 1966 house sold last year for $1.065 million and then underwent an extensive renovation.
The sleekly remodeled modern interiors of 3,148 square feet feature an open floor plan. There are five bedrooms and four bathrooms. A swimming pool sits out back.
Jarreau, who died at 76 last year, won seven Grammys during his five-decade career. Among his hits were 'We're in This Love Together," "Roof Garden" and "Mornin'."
From the archives
Ten years ago, New Age singer Dido sold her house in the Bird Streets area of Hollywood Hills for $4.45 million. The one-story, three-bedroom home was built in 1951 and had 3,739 square feet of living space.
Twenty years ago, international action hero Jackie Chan purchased a four-bedroom house in Beverly Hills for $3 million. The home had nearly 7,000 square feet, four fireplaces, a pool, a five-car garage and a motor court, all behind gates.
What we're reading
Just how hot are home sales in the super-charged Bay Area? A fire-ravaged house in San Jose recently sold for more than $900,000 — some $100,000 over its asking price — reports the Mercury News.
More senior communities are being built — not necessarily in the warmer climates where seniors have traditionally retired, like Florida and Arizona, but where economies are robust and booming, in places like New York, Denver, Chicago and Atlanta, reports the New York Times. The reason? To be near the kids.
---
Inside the homes of the rich and famous.
Glimpse their lives and latest real estate deals in our weekly newsletter.
You may occasionally receive promotional content from the Los Angeles Times.