Hot Property Newsletter: Do the math
One sure way to create fresh interest in a house for sale is to lower the price. This week's roundup includes reductions of $500,000 in Rancho Mirage and $25 million on the Westside. Now that's a price chop.
For a look inside a luxury home, check out our Home of the Week in Venice, listed at $4.25 million. The three-story free-spirited contemporary is topped by a glass-sided treehouse-like studio. For more details, take the video tour from Fox11.
Once you're done reading about these deals, visit and like our Facebook page, where you can find Hot Property stories and updates throughout the week.
– Neal J. Leitereg and Lauren Beale
Its latest grand entrance
The Manor in Holmby Hills, which had been listed at $200 million, is now up for sale at $175 million.
Previous owners TV giant Aaron Spelling and his wife, Candy, gave the estate its name.
That a new generation is in residence is evidenced by this peek at the renovated interiors. Heiress Petra Stunt has refreshed the once-dated 1988 décor to give the mansion a classic yet more contemporary feel. The daughter of Formula One billionaire Bernie Ecclestone bought the property in 2011 for $85 million.
The 56,500 square feet of living space has something for almost everyone. For entertaining, there's both a bar and a wine cellar with a tasting room. For those who are game, there's a two-lane bowling alley. For movie night, there's a screening room. For a big party, there's room to park 100 cars.
The Manor also has two swimming pools and a tennis court on its nearly 4.7 acres.
Birds of a feather
Russell Westbrook has joined fellow NBA superstar LeBron James in Brentwood, buying a newly built home for $19.75 million in an off-market deal.
Building permits reveal the home has about 9,000 square feet of living space on two floors plus a lower basement level with an additional 4,000 square feet of space.
The half-acre property also features a covered patio, a detached garage and a 38-foot-long swimming pool with a spa.
The dynamic point guard for the Oklahoma City Thunder is a seven-time all-star and the NBA's reigning Most Valuable Player.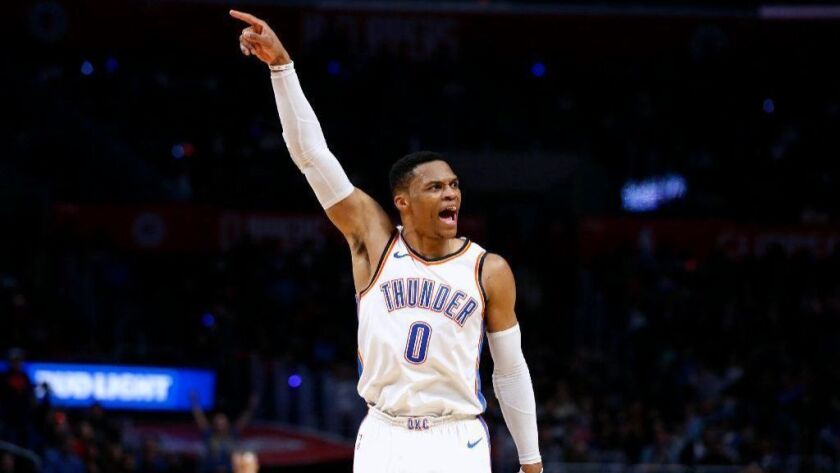 Taking another swing
Pro baseball player Coco Crisp has chopped $500,000 off the original asking price of his estate in the affluent Coachella Valley — listing it at $9.495 million.
A two-story foyer with two staircases sets the stage for what's inside the 17,870-square-foot Mediterranean, built in 2008. Among the amenities are a game room, a home theater with stadium seating and an octagonal wine cellar and tasting room.
A total of seven bedrooms and eight bathrooms include a detached guest house.
A wiffle ball field, a lake, a swimming pool and a tennis court are on the roughly 5 acres of grounds.
Crisp, 38, has played major league baseball for Cleveland, Boston, Kansas City and Oakland, winning a World Series championship with the Red Sox in 2007.
Wayne Brady makes a deal
Game and talk show host Wayne Brady has sold a home in Sherman Oaks he owned through a trust for $2.65 million.
The gated house, built in 1954, features beamed ceilings, hardwood floors and a skylight-lit entry within 4,202 square feet of living space. There are five bedrooms and five bathrooms.
French doors open to a terrace with a swimming pool and spa, a barbecue center and a fire pit.
The Emmy-winning Brady, 46, has been the host of "Let's Make a Deal" since 2009 and hosted the daytime talk show "The Wayne Brady Show" from 2001 to 2004.
And for his next feat …
Actor Kevin Sorbo, known for portraying Hercules and other strongman heroes, and his actress wife Sam have listed their Mediterranean-style villa in Westlake Village at $3.75 million.
A home theater with two tiers of seating, a game room, two offices, six bedrooms and eight bathrooms are within the 7,556 square feet of living space.
The nearly 1.5 acres of grounds include a swimming pool with a spa, a detached gym/pool house and a putting green.
Sorbo, 59, has had scores of acting credits since he starred as Hercules in "Hercules: The Legendary Journeys" (1995-99) and as Captain Dylan Hunt in "Andromeda" (2002-05).
Sam Jenkins Sorbo, 51, played Serena on "Hercules" and was in "Chicago Hope."
Buying near his pro roots
Jordan Clarkson may suit up for the Cleveland Cavaliers, but he's keeping a toehold where his professional basketball career began. The former Lakers guard has paid about $3.2 million for a home in Woodland Hills.
The two-story traditional-style house, built this year, sits behind gates on more than a third of an acre with a saltwater swimming pool.
Some 5,800 square feet of living space include a glass-enclosed wine room, a home theater, an office, five bedrooms and six bathrooms.
Clarkson, 25, is in the second year of a four-year, $50-million deal.
Aldous Huxley's onetime estate
A former home of the late writer Aldous Huxley and his violinist wife, Laura, has sold in Hollywood Hills for $4.3 million.
The renovated property, built in 1930, includes four bedrooms and five bathrooms within 4,066 square feet of living space.
The nearly 30,000 square feet of grounds and terraced gardens sit underneath the Hollywood sign. The property has an outdoor amphitheater.
Huxley, who died in 1963 at age 69, is remembered for a body of work including the 1932 futuristic novel "Brave New World." His final novel, "Island," was written when he lived in the home.
My favorite room
Photographer and "Pretty Little Liars" actor Keegan Allen makes the most of the living room at his Art Deco apartment in Hollywood. Because the light is good, he once moved all of the furniture out to lay out photos for his book, "Hollywood." Today the space blends comfort and luxury with such organic touches as rustic wood floors and a sisal rug.
The fireplace had been functional, but Allen closed it off because he worried that the cat he had at the time might go behind it.
(Jesse Goddard / For The Times)
The albums in the room are those that Allen listens to. Once he realizes "something has been sitting too long, it goes," he says.
(Jesse Goddard / For The Times)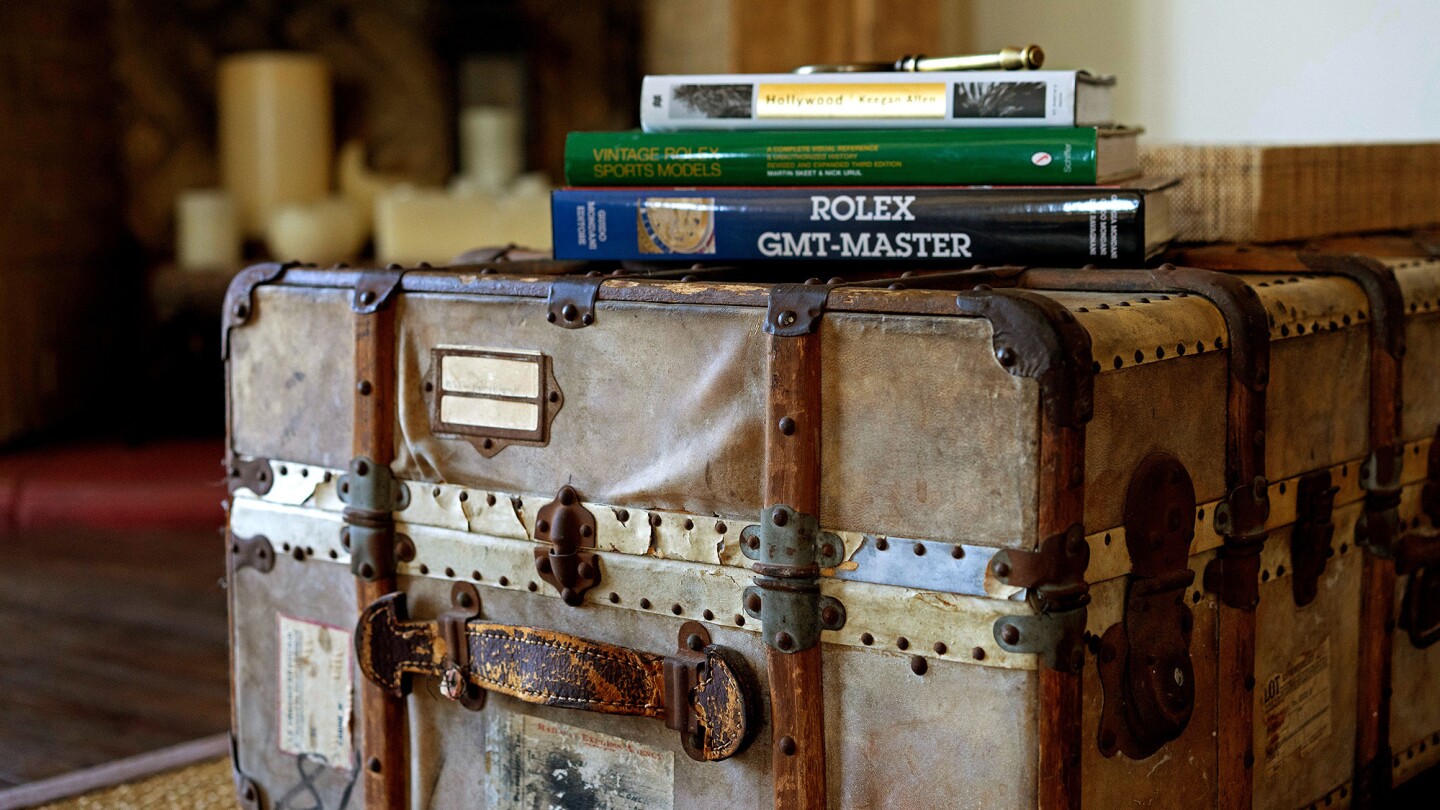 Allen says his apartment "mirrors the aesthetics of a really beautiful hotel somewhere like Venice, Italy."
(Jesse Goddard / For The Times)
From the archives
Ten years ago, singer Avril Lavigne listed her Beverly Hills-area mansion and received a cash offer of $5.2 million in 36 days. The 23-year-old's five-bedroom, six-bathroom house had 6,864 square feet.
Twenty years ago, Oscar-winning actor Al Pacino leased a gated Beverly Hills-area home for five weeks. The Country English-style house, on more than 1.5 acres, was furnished and cost $16,500 a month.
What we're reading
Media giant Oprah has doled out $8.275 million for a rustic 43-acre estate on Washington's Orcas Island, according to VelvetRopes.com. Among amenities are a wine cellar, a guest house, a craft room, a custom sauna, a tea room and an underground hut. What? We'd like to see that.
Californians are on the move. Las Vegas, New York and Phoenix are among their top destinations, reports Trulia.com.
---
Inside the homes of the rich and famous.
Glimpse their lives and latest real estate deals in our weekly newsletter.
You may occasionally receive promotional content from the Los Angeles Times.