Modern mansion goes for the gold with Cristal vault and two gilded sports cars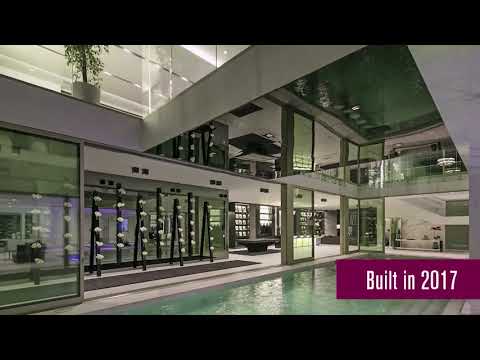 The 100-million home in Beverly Hills' "Billionaires Row" features a champagne vault, a day spa and two gold-colored sports cars.
The gilded flourishes at this newly built estate begin at the street, where a pair of golden gates mark the entrance to the 20,500-square-foot mansion. Set on "Billionaires Row" in Beverly Hills, a ridge-top street known for its affluent homeowners and jetliner views, the sleek contemporary has motorized walls of glass that open to indoor and outdoor swimming pools. A gold-colored Rolls-Royce Dawn and matching Lamborghini Aventador roadster are included in the nine-figure asking price.
The details
Location: 1175 N. Hillcrest Road, Beverly Hills, 90210
Asking price: $100 million
Year built: 2017
Architect: Paul McClean
House size: 20,500 square feet, seven bedrooms, eight bathrooms
Lot size: 1.05 acres
Features: Motorized walls of glass; 12-foot ceilings; custom suede and leather-lined doors; champagne vault and wine cellar; wellness center and salon; movie theater; two swimming pools; 20-foot waterfall feature; two sports cars; two motorcycles; contemporary art collection
About the area: In 90210 ZIP Code, based on 28 sales, the median sales price in June was $4.289 million, according to CoreLogic. That was a 20.8% decrease in median sales price year over year.
Agents: Drew Fenton, (310) 858-5474, Hilton & Hyland
To submit a candidate for Home of the Week, send high-resolution color photos via Dropbox.com, permission from the photographer to publish the images and a description of the house to homeoftheweek@latimes.com.
Twitter: @LATHotProperty
MORE FROM HOT PROPERTY
What $1 million buys right now in three O.C. neighborhoods
Former Encino home of Smokey Robinson seeks $8.75 million after renovation
Neighborhood Spotlight: Close-knit Leimert Park is primed to be well-connected again