Neighborhood Spotlight: Close-knit Leimert Park is primed to be well-connected again
Leimert Park is becoming more well-known to a younger demographic.
(Francine Orr / Los Angeles Times)
Bob Lee plays the upright bass while Ellen Cooper belts out a tune at the World Stage.
(Rick Loomis / Los Angeles Times)
The shop, which specializes in African and African American books, movies and music, has been in Leimert Park for decades.
(Luis Sinco / Los Angeles Times)
Customers look through the shelves at Eso Won Books.
(Rick Loomis / Los Angeles Times)
A dance is part of the warm-up for a beautification project in Leimert Park Village.
(Irfan Khan / Los Angeles Times)
The venue was built in the Vaudeville era.
(Christina House / For The Times)
In 1923, as Los Angeles continued the aqueduct-fueled boom that saw the city expand from its densely packed historic core to a sprawling metropolis, an enterprising Oakland real estate developer sought to capitalize on the frenzied demand for new homes.
Walter Leimert, having already developed tracts in Glendale and City Terrace, turned his attention to what was then considered the far west side of Los Angeles, where he was able to buy a 230-acre swath of the late Lucky Baldwin's Rancho La Cienega.
There, on fallow pastureland nestled in the flats below the Baldwin Hills, he envisioned a planned community consisting of homes, apartment buildings, schools and a small commercial district.
He brought in the Olmsted Brothers, with whom he had worked before, to create the tract's master plan, and engaged architects such as Gordon Kaufman (whose other works include the L.A. Times building and the Hoover Dam) to design model homes that would appeal to middle-income workers.
Leimert Park sold well right out of the gate. An extremely effective marketing plan trumpeted its relative proximity to the corner of 7th and Broadway, then the center of gravity for the city, as well as its tree-lined streets and the LARy Yellow Car line that serviced the neighborhood.
It also boasted of "restrictions," which had the effect of excluding anyone other than whites from Leimert Park. That began to change in the 1950s, as middle-class African-American and Japanese-American Angelenos began to move, tentatively at first, into the neighborhood.
They were met with a fierce backlash from some whites, and for a time a group called Neighborly Endeavors tried to intimidate new minority homeowners by burning crosses on their lawns. The campaign of terror was unsuccessful and, according to the city's SurveyLA study of the area, from 1950 to 1960 the number of African American residents grew from fewer than 100 to nearly 4,200.
Leimert Park would soon become a major center of African American arts and culture and a favored neighborhood to live and work for celebrities of all stripes, including legendary musicians Ray Charles and Miles Davis, and Mayor Tom Bradley.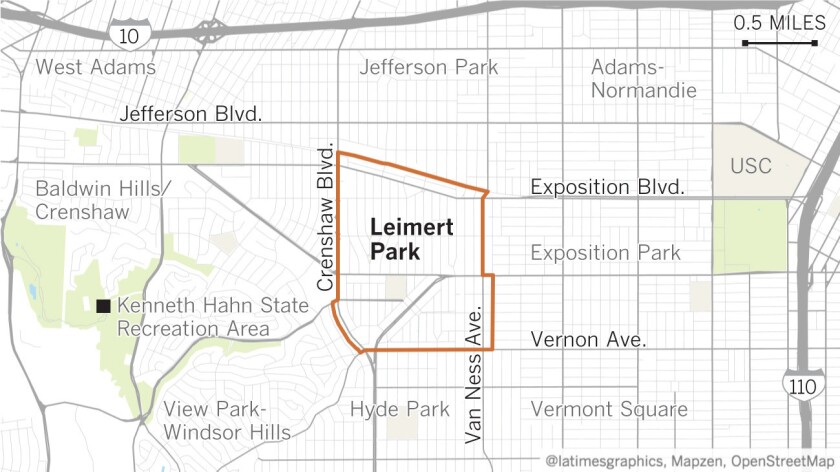 Neighborhood highlights
Living the L.A. dream: Leimert succeeded in his plan to build a great neighborhood in which to live and play. The tidy homes, plentiful trees and curved streets make Leimert Park a truly special place.
Historic and vibrant: Few neighborhoods in L.A. have been as well-preserved as Leimert Park. The original homes still stand, and the area around the plaza is still a thriving center of culture and commerce.
The return of the streetcar: Actually it's a light-rail train, but the new Crenshaw Line will reconnect the neighborhood to the city's rail system, just as it was in the 1920s.
Neighborhood challenges
Winds of change: Just as its proximity to downtown was behind its initial popularity, Leimert Park's short commute to red-hot Culver City is drawing more upscale buyers, spurring concerns about gentrification.
Expert insight
Rafael Oseguera, an agent with Century 21 Hollywood, said Leimert Park is a hidden gem that is family-friendly and becoming more well known, especially among the younger demographic.
"The community tends to stick together and bond, unlike other parts of L.A., where people do not usually venture out to get to know their neighbors," Oseguera said. "People will walk up to you and say hi to you."
Oseguera said homes in Leimert Park are unique in design and architecture, with many still obtaining aspects of their original design, such as stained glass.
Market snapshot
In the 90008 ZIP Code, which encompasses parts of Baldwin Hills, Crenshaw and Leimert Park, the median sales price for single-family homes in June was $750,000 based on 17 sales, according to CoreLogic. That was a 4.1% increase in median price year over year.
Report card
The Leimert Park area includes Forty-Second Street Elementary, which had a score of 641 out of 1,000 in the 2013 Academic Performance Index. Audubon Middle had a score of 696, and Tom Bradley Environmental Science and Humanities Magnate scored 687.
Nearby schools include Sixth Avenue Elementary, which scored 681, and Barack Obama Global Preparation Academy, which scored 620. Crenshaw High had a score of 550.
Times staff writer Rachel Spacek contributed to this report.
MORE FROM HOT PROPERTY
Giants pitcher Matt Cain ups the ante for his Arizona paradise
'Fashion Police' co-host's hunt for a home sale comes to an end
You're not the only one thinking about leaving L.A. because of rising rent prices
---
Inside the homes of the rich and famous.
Glimpse their lives and latest real estate deals in our weekly Hot Property newsletter.
You may occasionally receive promotional content from the Los Angeles Times.