Home of the Week: A Beverly Hills Tudor with a marquee of former star owners
The Tudor-style home in Beverly Hills, listed at $56 million, was built in 1934 for actors Fredric March and Florence Eldridge.
(Tyler Hogan)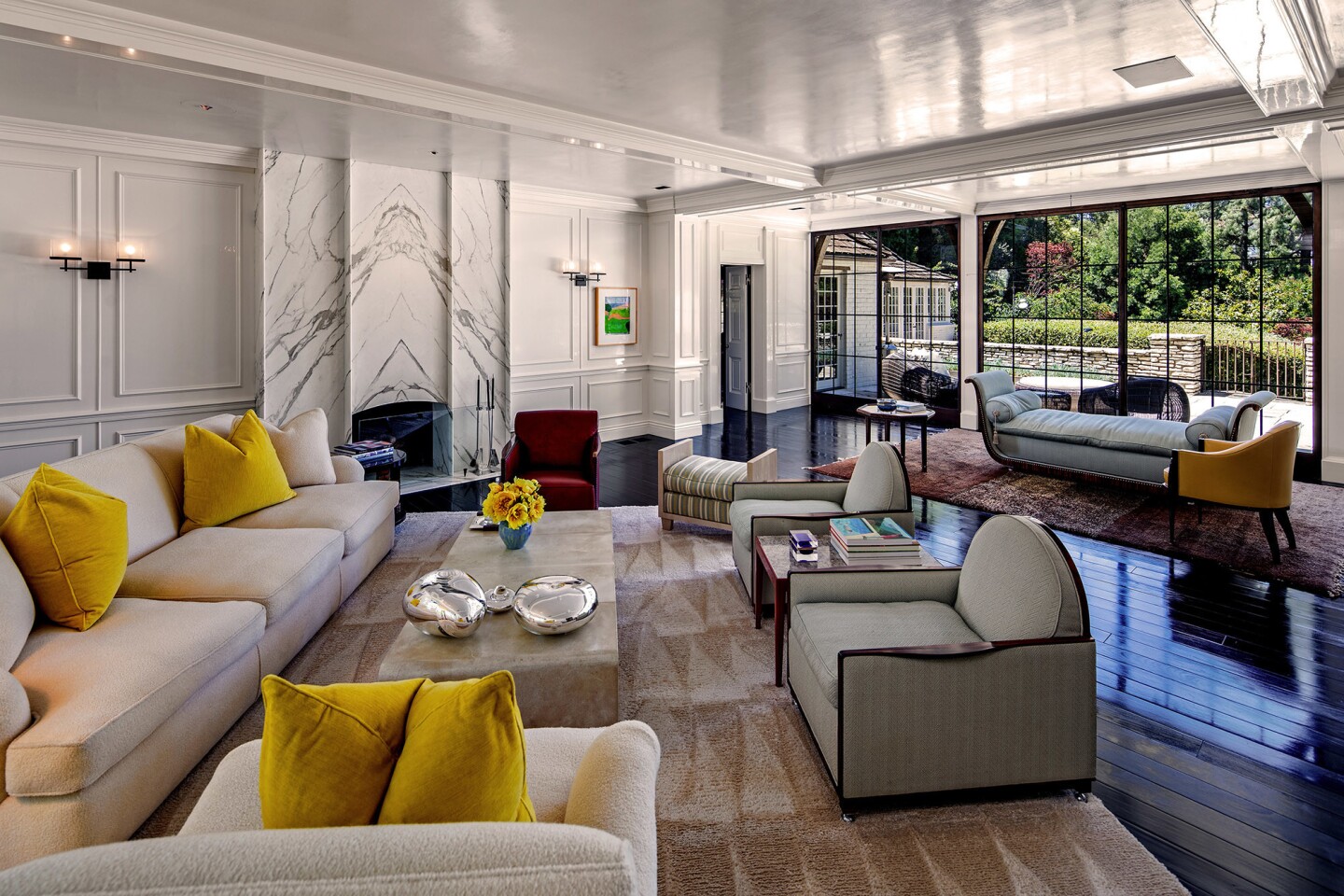 Vanderbilt scion Shirley Burden was a former owner of the estate, which features a tennis court, a tennis pavilion, a pool and a guesthouse on more than an acre.
(Tyler Hogan)
In the early 2000s, the Wallace Neff-designed house was owned by Brad Pitt and Jennifer Aniston, who updated the home during their ownership and added a screening room.
(Tyler Hogan)
The chef's kitchen.
(Tyler Hogan)
The screening room.
(Tyler Hogan)
The tennis court and pavilion.
(Tyler Hogan)
Stone details.
(Tyler Hogan)
Half-timber details and custom French doors.
(Tyler Hogan)
Swimming pool.
(Tyler Hogan)
Grand Tudor in Beverly Hills.
(Tyler Hogan)
Past owners of this grand Tudor in Beverly Hills read like a "who's who" of stars and moguls, beginning with actors Fredric March and Florence Eldridge, for whom the 1930s home was originally built.
The cachet continued through the decades when the acre-plus estate was owned by Vanderbilt scion Shirley Burden and, later, business titan Walter Annenberg. During the early 2000s, it was home to former "it" couple Jennifer Aniston and Brad Pitt, who added a private screening room to the 12,000-square-foot house.
The details
Location: 1026 Ridgedale Drive, Beverly Hills, 90210
Asking price: $56 million
Year built: 1934
Architect: Wallace Neff
Living area: 12,000 square feet, five bedrooms, 12 bathrooms
Lot size: 1.16 acres
Features: Half-timber details; stone finishes; custom French doors; vaulted ceilings; grand living room with floor-to-ceiling fireplace; formal dining room with fireplace; chef's kitchen; breakfast nook with fireplace; pub room/bar; home theater; swimming pool; tennis court with pavilion; two-story guesthouse
About the area: In the 90210 ZIP Code, based on 18 sales, the median price for single-family homes in March was $6.436 million, a 13.9% increase compared with the same month last year, according to CoreLogic.
Agents: Susan Smith, Hilton & Hyland, (310) 415-5175
To submit a candidate for Home of the Week, send high-resolution color photos via Dropbox.com, permission from the photographer to publish the images and a description of the house to neal.leitereg@latimes.com.
neal.leitereg@latimes.com | Twitter: @LATHotProperty
---
Inside the homes of the rich and famous.
Glimpse their lives and latest real estate deals in our weekly newsletter.
You may occasionally receive promotional content from the Los Angeles Times.