Oops! How you might be ruining an architecturally significant home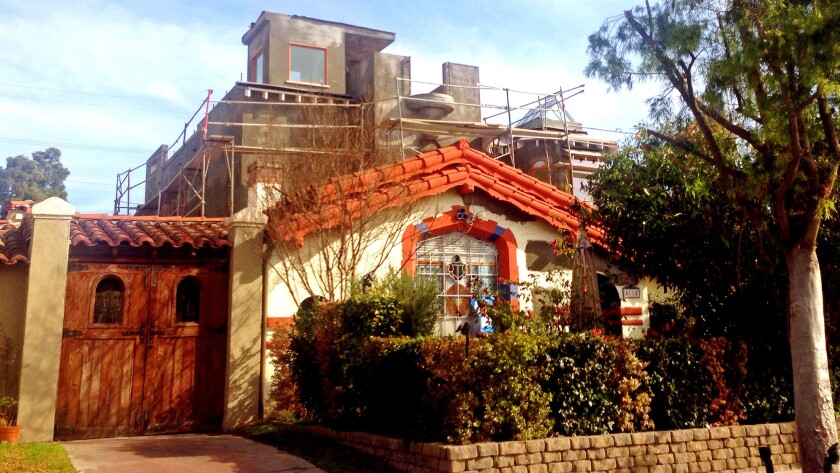 No homeowner sets out to willfully adulterate an architecturally significant home (we hope), but many accidentally do.
The examples of period homes corrupted by poor design choices are legion — and costly. A debased home's value may drop 20% to 30%, according to real estate agents who represent such properties.
"Architecture in L.A. can mimic fast-food culture — there's often not enough historical legacy to maintain these homes," said David Hertz, founder of Studio of Environmental Architecture in Venice. "There's a sense that buildings are simply disposable."
Bastardizing a home's singular style, in fact, is remarkably quite simple. Our advice? Don't follow these four easy steps.
Switching out the windows
"Windows are almost like the soul of a building," said Adrian Scott Fine, Los Angeles Conservancy's director of advocacy. Fine cites the "flipster crowd" (hipsters who flip homes) as prime window bashers.
"They paint the house white, put up a flipster fence, and then tear out the original wood casement windows and install new vinyl ones," Fine said. "If you mess with the windows, especially in a smaller house, you kind of lose the house."
Fine advises buyers to live with a new house for a time, rather than rushing to "Home Depot or putting in an Ikea kitchen," he said. "Get to understand it before you start to take away features you might regret later."
Modifying a home's facade
Altering the basic lines of a home's street profile quickly dilutes an original design. Fenestration — the design and arrangement of windows — is key to exterior appeal, but the wrong door or roof can also sour a vintage look.
Historic Preservation Overlay Zone guidelines suggest that historic doors be repaired or rebuilt in favor of replacing them with copies. Launched in 1979, such zones are designated historic districts, which require review of a home's proposed exterior alterations and additions.
"Buildings have been architecturally destroyed even with a mere coat of paint," said Christopher Carr, vice president of the John Lautner Foundation. "When it's painting raw concrete we're talking about, it's particularly serious."
Doubling the square feet
Home additions can bury a significant design. A theater and two-lane bowling alley were added to a Beverly Crest estate designed by Paul R. Williams for Bert Lahr, who played the Cowardly Lion in 1939's "The Wizard of Oz."
Since the original 1941 build, the currently listed $22.8-million property has more than doubled from 6,000 to 15,505 square feet of living space.
"The original house was Colonial Revival, kind of modest and homey with knotty pine and all that," said Williams' archivist Deborah Brackstone. "Now it's really not the same house."
Choosing questionable surfaces and materials
It's a safe bet that pecky cedar paneling and faux brick veneer may never return, even given a neo-retro twist on wall trends. Kim Cheselka and Mitch Dubin faced those style choices after buying their 1,600-square-foot Mar Vista Tract home in 1997.
Visionary architect Gregory Ain designed the community of 52 one-story "Modernique" homes in 1948; in 2003 the tract became Los Angeles' first post-World War II Historic Preservation Overlay Zone. "Essentially, we just had to take stuff away," Cheselka said. The couple removed outdated wall coverings, thick shag carpet and mirrors.
The couple also installed street-facing transom windows — changes that would not be allowed under today's historical-zone guidelines.
"There are purists out there who would say that we ruined the house," said Dubin, adding that most Ain fans would contend that the house remains largely unadulterated. "We felt the changes we made were in line with his vision."
MORE FROM HOT PROPERTY
Moroccan royal sells renovated Beverly Hills home for $12.5 million
La Quinta tennis compound features five homes and unlimited court time
Volleyball stars Casey and Kerri Walsh Jennings buy a plantation-inspired home in Manhattan Beach
---
Inside the homes of the rich and famous.
Glimpse their lives and latest real estate deals in our weekly newsletter.
You may occasionally receive promotional content from the Los Angeles Times.