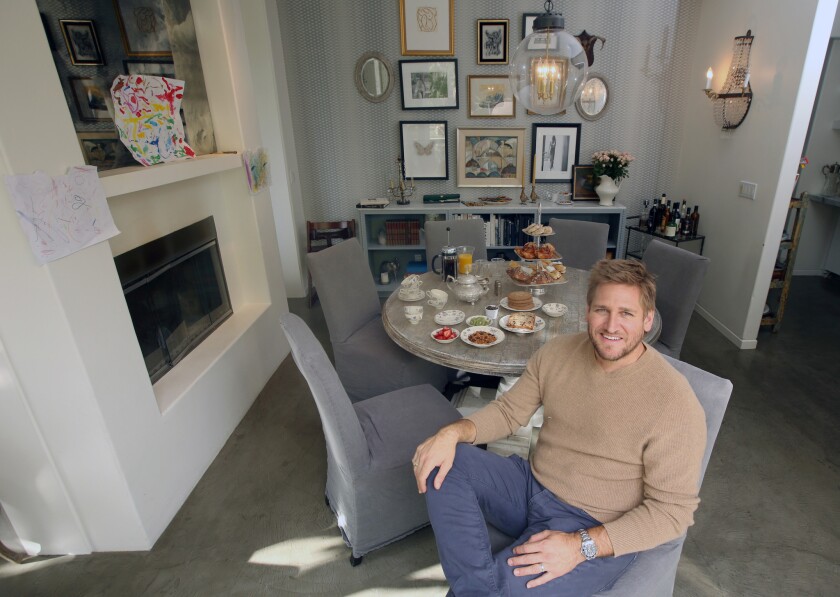 Curtis Stone's home dining room has seen plenty of action: massive buffets for a hundred people, intimate dinner parties, family feasts and trial runs for dishes he serves at his Los Angeles restaurants Gwen and Maude.
"That's the great thing about the dinner table — you experience all sorts of emotions together — you celebrate, have serious family discussions, go through a million different things," the Australian chef said.
Stone — a frequent television personality dubbed "the Quiet Terminator" after a stint on "The Celebrity Apprentice" — lives in a six-bedroom, 4,200-square-foot home near the Hollywood Reservoir. He shares the house with his two sons and wife Lindsay Price, who, in addition to being an actress, serves as Stone's go-to taste tester.
He is currently hosting and judging "My Kitchen Rules" on Fox.
Why is the dining room so special to you?
It's not the most grand or exciting room design-wise, but it's the one I like being in the most. There's this game we call "best and worst" — it was passed on to me by my mum, and I play it with my kids in there. We talk about the best and worst things that happened to us that day, and it gives an understanding of what's going on in everyone's lives.
What's the feel of the room?
One wall is glass and opens up onto the swimming pool, so it's airy and light. The opposite wall is solid, with a marble countertop built into it with cabinets underneath. There's an opening to the kitchen, so I can be in there talking to my family as they start their dinner.
Who's responsible for the decor? You or your wife?
Her, all of it. She's the one with all the style. I know how to pick out beautiful plates, but I would never have the guts to make the design decisions she does. She wallpapered the far wall, and it works really well.
Any favorite pieces?
I'm a bit of a hoarder when it comes to old plates and steak knives.
Best memories from the room?
Watching your kids grow up is an interesting thing, especially in the context of the dining room. It's a big accomplishment to go from being held to sitting in a high chair. The first time that happens, even when there's food all over the floor, it's unbelievable.
And then you watch them progress to where they can feed themselves and they start liking certain things. Then they're sitting up like big boys, learning to set a table, learning table manners, helping to contribute, taking dishes to the sink.
You opened Gwen with your brother, Luke, who used to work at one of Australia's biggest flower companies. Does he always bring over flowers?
He's got good taste. It's nice to have his influence in the restaurants, and personally. Mum was a florist, so we love having fresh flowers in the house. They're always on the dining table.
MORE FROM HOT PROPERTY
Hip-hop producer Mike Dean drops $2.5 million on comic's Studio City digs
Aussie singer Delta Goodrem sells her Hollywood Hills home for $3.4 million
Ousted 49ers General Manager Trent Baalke seeks $3.3 million for Bay Area home
---