My Favorite Room: Family life comes together in Jaime Camil's living room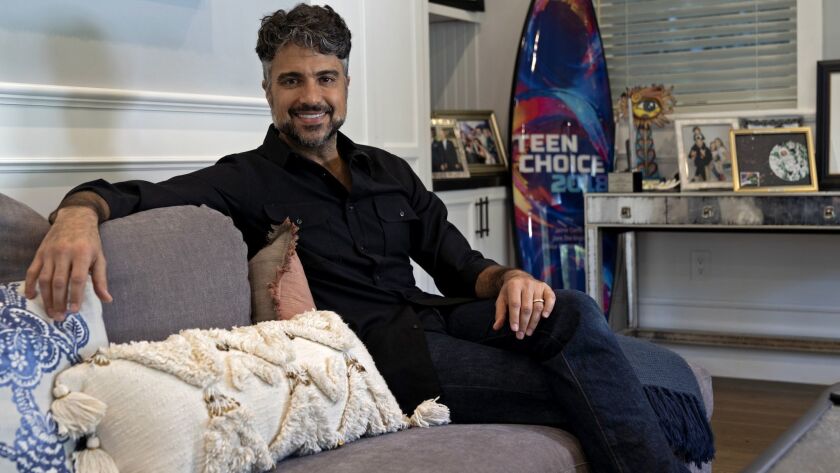 When Jaime Camil talks about the living room of his Studio City home, he is hard-pressed to give it only one role: "It's the family room, the war room, the chaotic room, the full-of-happiness room. It's where we all love to be."
The Mexican actor, 45, is best known for playing the flamboyant and charismatic telenovela star, Rogelio De La Vega, on "Jane the Virgin," which begins its fifth and final season on the CW network March 27. Camil is also set to star in and executive produce a new comedy, "Riches to Rags," on CBS.
But during his downtime, he likes relaxing in the living room of his 3,700-square-foot Cape Cod with his wife, actress Heidi Balvanera, and their 7-year-old daughter and 4-year-old son. The newly constructed home didn't need much work when they moved in about five years ago. But they did enlist interior designer Roxy Sowlaty to help furnish it, adhering to a mostly muted palette, with some beloved pieces and a focus on comfort.
Why is the living room your favorite room?
It is a room that is full of life and joy and laughter. And some disasters too. My son was playing and he hit his forehead; there was an open wound and we ended up in the emergency room. But it has given us many special moments. About 99% of them are joyful.
What sort of look were you going for?
Roxy knows our family dynamics and how we roll. She thought of this room as the heart of the house, that connects to all the arteries. She knew it was a place where we would interact with our kids. She had to get a comfortable couch for us to lounge on, but sturdy enough for the kids to jump on.
Did you bring much furniture from your previous homes?
We used to live in a very modern loft in Los Angeles, but we sold all our furniture with the house. None of it would work here.
What are some special pieces in this room?
We of course have a lot of framed family photos, like some taken at Eva Longoria's wedding; she's practically family. And some of the second time I met President Obama and Vice President Biden at the White House.
There seem to be a lot of awards and trophies.
I call this my ego area. I have Mexican TV awards, and this surfboard from the Teen Choice Awards. It's an amazing award to receive, but an awkward one to find a place for.
And the coffee table looks like it is covered with…
That's faux manta ray. At least, it better be fake — we take our respect of wildlife and marine life seriously. We're conflicted about taking our kids to Sea World.
Your character on "Jane the Virgin" is flamboyant, and so is his house, with lots of bright colors and arches. Did any of that seep into your design plan for this house?
Rogelio is crazy. His house on the set of "Jane," it's like — imagine going to Mexico and wanting to stay in a typical hacienda with all the cliches. That was the thought behind designing that house. I'm a little more mellow.
Favorite memory?
We once tried to do a family sleepover in this room. We knocked all the cushions off the couch and rearranged everything to make a big bed in here. But in the end we said, "Forget it, let's go upstairs."
hotproperty@latimes.com
---
Inside the homes of the rich and famous.
Glimpse their lives and latest real estate deals in our weekly newsletter.
You may occasionally receive promotional content from the Los Angeles Times.