My Favorite Room: Katee Sackhoff loves her Westside home — finally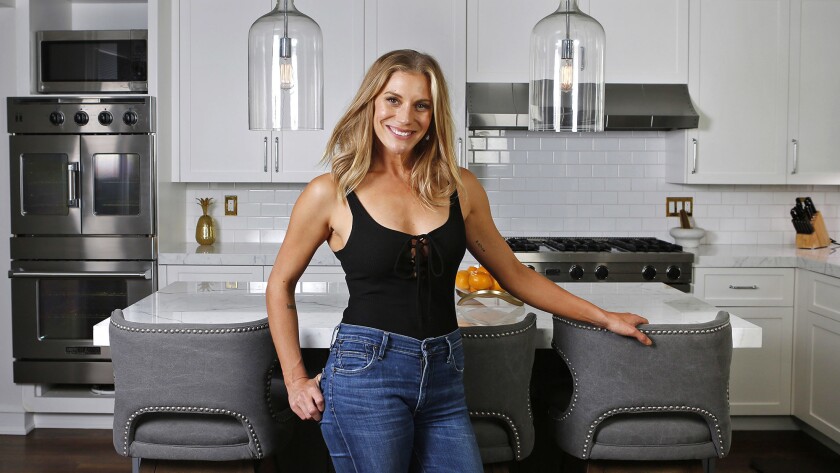 Seven years ago, actress Katee Sackhoff bought her "first big-girl home," a beach house on the Westside.
But it took a long time for it to become her dream home.
"It was gorgeous, but it wasn't me," she said. "People had done little remodels to it as they moved in and out, so there wasn't a uniform feel to it. The house was completely confused."
Sackhoff — known for playing Lieutenant Kara "Starbuck" Thrace on the Sci-Fi channel's "Battlestar Galactica" — wanted to do a major overhaul but kept putting off the project out of concern for her elderly dog, Meatball.
"He lived down here because he couldn't do stairs," she said of the ground floor of her 4,000-square-foot home. "I went to Home Depot and bought disposable runners because he couldn't get traction on the hardwood floors. I didn't see that floor for years. I put him down in the house, and it was really beautiful. That was the catalyst for renovating. It was time."
In March 2015, Sackhoff began getting rid of the home's "1986 flair," which included maroon and pink speckled granite countertops and yellow hardwood floors. She plans to add a fifth bedroom to the house, which has 4.5 bathrooms.
Now "I really love my house," said Sackhoff, 36, who plans to continue the renovation while she stars in the Netflix crime drama "Longmire" next year. "It's the best money I've ever spent."
What's your favorite room?
It's sort of like a three-in-one family room, dinette and kitchen. It's one big room. It's where I spend most of my time other than in my bedroom. It's where I entertain, where people come over and I cook and we all have drinks.
What was your design inspiration?
I chose not to work with a designer — I met with a couple of them but found them trying to convince me that I was wrong. So I decided to go it alone, which made it harder because I had to source everything myself. I went with my gut, and it came out exactly the way I wanted.
And that also allowed you to better control your budget?
I had custom couches made — I had found some at HD Buttercup that were $10,000 each and I needed two. I was like, "That's a car." So I went to Sofa U Love, and they made a couch for an eighth of the cost, if not less.
Did you have any outside input?
My sister helped me pick out an aqua rug — I was terrified, almost had a heart attack. But she was right. It makes the room — injects it with this element of beachy cool, soft fun.
What's with the action figure of your boyfriend [actor Karl Urban of "Lord of the Rings," "Star Trek" and "Dredd" fame] on the bookshelf?
When we first started dating, I went to Paris with two of my girlfriends and one of their husbands. He couldn't go, so I took one of his action figures and have images of it, like in front of the Eiffel Tower with me. I never intended to keep his action figure, but you can't throw it away. It's bad mojo for a relationship.
What's the most expensive item?
My oven. It's so stupid. My father thought I was out of my mind. I cook a lot. I was staring at this oven for seven years. I wanted it so badly. It's an American Range double oven with French doors [priced at $8,500].
I hired and ultimately fired some contractors. They broke everything. They didn't put grounding in with the oven, and it fried out the whole thing. I spent nearly half of what the oven was worth getting it to work again. It's one of those things where you live and you learn.
---
Inside the homes of the rich and famous.
Glimpse their lives and latest real estate deals in our weekly newsletter.
You may occasionally receive promotional content from the Los Angeles Times.