Neighborhood Spotlight: Chatsworth keeps one foot in the Old West
A year-and-a-half ago, DJ Mustard paid $2.36 million for this property in Chatsworth.
(Juwan Li Photography)
A climber scales a boulder at the L.A. city park, which also has hiking and equestrian trails.
(Genaro Molina / Los Angeles Times)
Horse owners go through a residential area to head to the hills for their weekly ride.
(George Wilhelm / Los Angeles Times)
While construction of California's high-speed train lurches in fits and starts, it's worth remembering that those taking the original overland route between San Francisco and Los Angeles considered themselves lucky to have made it in fewer than three bone-jarring days of stagecoach travel.
From 1861 to the late 1870s, the Santa Susana Stage Road, which traced the route of an ancient Chumash trail, was the ultramodern manner by which mail and passengers made their way into the western San Fernando Valley and from there on to L.A.
The place where the trail emerged from its grueling journey through the winding defiles of the Santa Susana Mountains — a passage so steep and treacherous that stagecoach drivers were often obliged to blindfold their horses before attempting the crossing — was a remote, sparsely settled agricultural area.
It wasn't until 1880 that the population of settlers became large enough to support the area's first schoolhouse, whose schoolmarm also functioned as a bus driver of sorts, driving a carriage around the countryside to pick up children and deliver them to the school.
Once the transcontinental railroad arrived in Los Angeles, the resulting land boom brought with it the first subdivision of the land. Envisioned as a settlement of 10-acre homesteads, Chatsworth Park was born in 1888. Its isolated location left it underdeveloped until a railroad spur from Burbank was built in 1893, at which time its population boomed to 23 souls.
The semirural character of the town, accentuated by the surrounding rugged terrain, made Chatsworth a popular filming location for westerns. After the genre ran out of steam in the 1960s, Charles Manson and his "family" squatted at one of its abandoned movie ranches while they terrorized the city with a string of sensational murders.
Although the postwar development of the Valley wiped out many remnants of Chatsworth's pioneer past, including its old stagecoach inn, the town's horse-driven heritage lives on, thanks to equestrian-friendly zoning and an extensive network of bridle paths.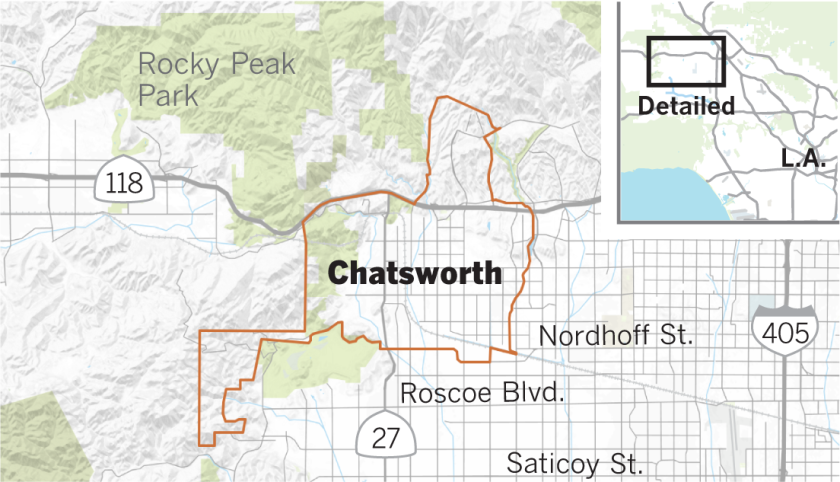 Neighborhood highlights
Experience the "Old West": Many of Chatsworth's movie ranches are now parkland, including the rock where the Lone Ranger reared Silver in the opening credits of the eponymous TV show.
The horse you rode in on: History buffs who also own horses can ride the Old Stagecoach Equestrian Trail. Those who do not are welcome to hike it while watching where they step.
Celebrate America's suburb: The Valley Relics Museum in Chatsworth offers a fascinatingly collection of everything from historic neon signs to neon-colored BMX bikes.
Neighborhood challenge
Watch the road: Street racing has been a public-safety issue in the Valley for decades, but a recent wave of stunt driving incidents has Chatsworth residents fearing that the problem is growing worse.
Expert insight
Marc Schwartz, a Berkshire Hathaway agent with 28 years of experience in the area, said space is at a premium, so developers are building up into the hills.
"All the flat land is gone, and any raw land is too expensive to buy and build a single home on," Schwartz said.
As a result, some areas are getting a little cramped. A lot that once housed a single-family home is being developed into 12 town homes, Schwartz said.
He added that people are flocking there for a reason. Chatsworth Park is a big draw for hikers and climbers, and despite newer styles replacing many of the ranch-style homes, the neighborhood still carries an equestrian charm.
Market snapshot
In the 91311 ZIP Code, based on 22 sales, the median sales price for single-family homes in March was $650,000, down 3.4% year over year, according to CoreLogic.
Report card
Of the seven public schools in the Chatsworth boundaries, four scored more than 800 on the 2013 Academic Performance Index, including Superior Street Elementary at 920 and Germain Street Elementary, at 866.
Other standouts are Chatsworth Park Elementary and Ernest Lawrence Middle, which scored 827 and 810, respectively. The area's high school, Chatsworth Senior High, scored 717.
Times staff writer Jack Flemming contributed to this report.
MORE FROM HOT PROPERTY:
Pharrell to hang his hat at Tyler Perry's L.A.-area mansion
'Deadpool 2' actress Morena Baccarin ready to part with Spanish duplex in Atwater
Rams' Jared Goff completes a quick strike in the Ventura County housing market
Longtime Westlake Village home of entertainer Mickey Rooney seeks $2.9 million
---
Inside the homes of the rich and famous.
Glimpse their lives and latest real estate deals in our weekly newsletter.
You may occasionally receive promotional content from the Los Angeles Times.