Neighborhood Spotlight: San Pedro's working to add leisure to its to-do list
A hobbyist launches a glider from a park cliff.
(Francine Orr / Los Angeles Times)
Mariachis entertain at a birthday celebration at San Pedro Fish Market.
(Francine Orr / Los Angeles Times)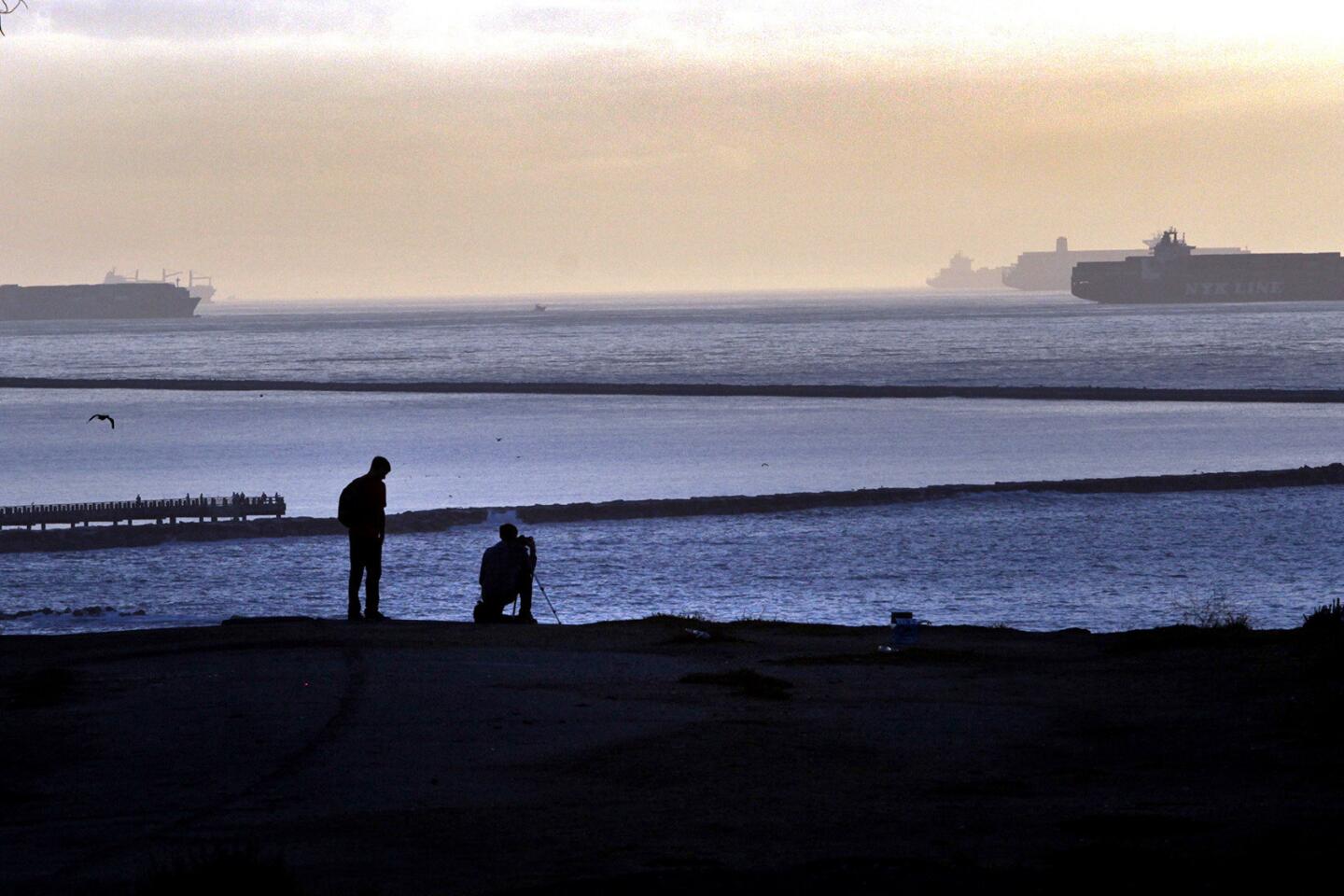 Container ships just outside the Angels Gate entrance to the Port of Los Angeles.
(Bob Chamberlin / Los Angeles Times)
San Pedro is working to add "leisure destination" to its resume.
(Katie Falkenberg / Los Angeles Times)
When the sailing vessel Pilgrim arrived at San Pedro to trade for cattle hides in 1834, seaman Richard Dana was struck by the area's desolate quietude: It was, he wrote, "entirely bare of trees and even shrubs; and there was no sign of a town, — not even a house to be seen."
To Dana and his crew mates, who carried their cargo by hand across the rocky beach and up the slippery, mustard-covered hills to be loaded onto carts bound for the pueblo, San Pedro Bay's shortcomings as a harbor were clear. It was too shallow, too small and too exposed. There wasn't even a wharf.
That didn't stop boosters 50 years later from dreaming big things for their muddy little harbor. Phineas Banning had shown them the way in 1871 when he dredged a channel from the bay to Wilmington. With enough money, men and steam power, a mud flat could become a shipping hub for the ages.
Congress gave San Pedro the decisive edge in the battle of the ports in 1897, naming it the official port of Los Angeles. Within the span of 15 years, the port was fully dredged, the breakwater was constructed, the town of San Pedro was annexed by Los Angeles, and goods began flowing into the harbor via the newly constructed Panama Canal.
The neighborhood thrived as the commercial fishing and cargo handling industries boomed, and the Army base expanded on the bluffs overlooking the harbor. A bustling commercial district stretched west from the water's edge, with 7th Street and its beautiful Warner Grand Theatre at the heart of it.
Homes bought by the dockworkers were built within walking distance (or a short streetcar ride) from the waterfront. A ferry ran from the mainland to Terminal Island, for those workers who had cars. San Pedro, part of L.A. but wholly apart from it in so many ways, developed its own distinctive, proudly blue-collar vibe.
Massive cargo container ships, increased mechanization of ship loading and unloading, and the collapse of the fishing and shipbuilding industries brought hard times to many in San Pedro, even as the port itself became more central to the economy of L.A. and the nation as a whole.
Meanwhile, the city is reinvesting in the waterfront, hoping to position it as a leisure destination.
Neighborhood highlights
Down to the sea in ships: To grasp the historic achievement the port represents, follow a visit to the L.A. Maritime Museum with a waterfront stroll as ships from around the world steam in.
At land's edge: Point Fermin and Angels Gate Park offer stupendous ocean views, and Cabrillo State Beach has sandy shores on both sides of the breakwater.
Neighborhood challenges
A long haul: Pedro's relative isolation creates a unique sense of place, but your commute will be brutal if you work downtown or on the Westside.
Expert insight
Development of Ports O' Call has invigorated the San Pedro's housing market, says Alice Rodriguez, an area resident and agent with Keller Williams Realty.
"My clients want to buy in the lower harbor area because they're getting in at a lower price today," Rodriguez said. "They know what's coming in the next three to five years, and they know real estate prices will be competitive with median prices in the city."
Investors aren't the only ones flocking to the area in search of a good deal, she said. In the past three years, she's seen an upswing of people migrating from Orange County, Manhattan Beach and Hermosa Beach.
"It's the same ocean, and they can get a home for $1.5 million in San Pedro that would cost them $4 million in Orange County," she said. "I always say, 'It's Palos Verdes views at San Pedro prices.'"
Market snapshot
Portions of the 90731 and the 90732 ZIP Codes overlap the San Pedro area. In February, based on 20 sales, the median sales price for single-family homes in the 90731 ZIP was $533,000, up 2.4% year over year, according to CoreLogic. In the 90732 ZIP, based on 13 sales, the median sales price was $825,000, a 27.4% increase year over year.
Report card
There are more than a dozen public, private and charter schools within the boundaries of San Pedro.
Among them is Park Western Place Elementary, which scored 953 out of 1,000 in the 2013 Academic Performance Index. White Point Elementary had a score of 895, Seventh Street Elementary scored 876, and Leland Street Elementary scored 793.
Port of Los Angeles High scored 834, and San Pedro High had a score of 718. Richard Henry Dana Middle scored 752.
MORE FROM HOT PROPERTY
Manhattan Beach house has more than a few extras in store
What about $875,000 buys right now in three L.A.-area housing markets
L.A. Galaxy's Jermaine Jones lists his home field in Encino for $4.5 million