Neighborhood Spotlight: Seal Beach has a Mayberry feel but an oceanfront price tag
A Laguna Beach resident gets some air time off of Seal Beach.
(Mark Boster / Los Angeles Times)
The site is 1.4 acres near the pier.
(Robert Gauthier / Los Angeles Times)
During a period of high-surf threat, a ditch protects homes.
(Irfan Khan / Los Angeles Times)
A cocktail at the popular restaurant.
(Don Bartletti / Los Angeles Times)
The city has California's second-longest wooden pier.
(Don Kelsen / Los Angeles Times)
Although it may be small in terms of population, Seal Beach is home to some major California landmarks, including an enormous wooden pier and the Boeing plant where rocket boosters that carried humans to the moon were built.
The eponymous seals? Not so much.
Their modern-day absence notwithstanding, the sea mammals were heavily marketed by the town's developers. The former Bay City was renamed after the pinnipeds that thronged nearby Alamitos Bay, and the tiny burg nestled between Long Beach and Huntington Beach was positioned as a summer resort after the arrival of the Pacific Electric Railway red cars in the 1910s.
Ads of the day trumpeted the imminent opening of a nearby "seal farm … where seals and sea lions are to be tamed and trained to perform" and extolled the "undertow-free" waters that could be enjoyed by city folk lacking the appropriate attire via the rental of bathing suits at 25 cents an hour.
The town also saw the construction of the Joy Zone, Orange County's first seaside amusement park, which sat at the head of the Seal Beach pier. It boasted two bowling alleys, a dance hall and a secondhand wooden roller coaster procured from San Francisco.
When the stock market crashed in 1929, bringing the tourism trade down with it, the area around the defunct Joy Zone — and Seal Beach in general — became a place notorious for its brothels and speak-easies. Boats regularly ferried high rollers from the pier to offshore gambling ships, and a general state of lawlessness prevailed.
During World War II, the Navy provided Seal Beach an infusion of economic activity — and a rich source of customers for its less savory establishments — when it established a munitions dump for the Pacific Fleet on downtown-adjacent Anaheim Bay.
In 1960, Leisure World, one of the first planned senior living communities in the U.S., began construction north of town. Boasting innovations such as guarded gates and on-site medical facilities (two ambulances are stationed in the neighborhood at all times), it was a smash hit with the retirement set.
The addition of large numbers of retirees may or may not have been directly responsible for the shift, but today the former home of brothels, gambling dens and speak-easies is often referred to as Mayberry by the Sea.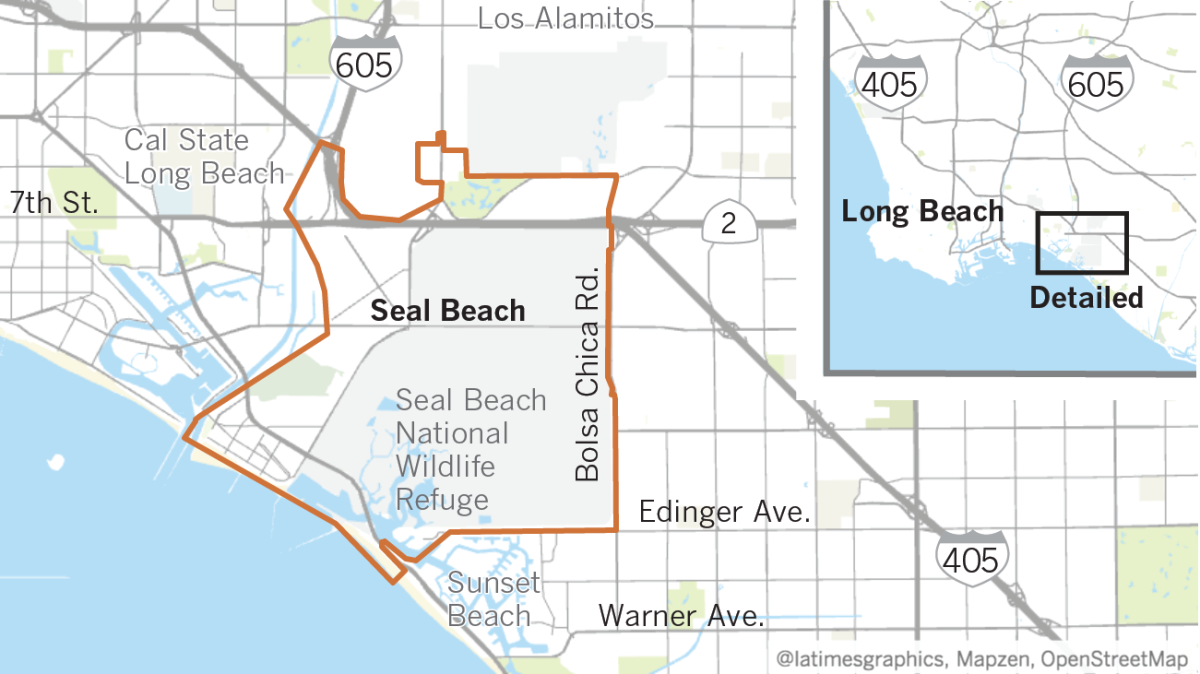 Neighborhood highlights
A small-town vibe: Seal Beach feels like the small town it is, complete with walkable Main Street lined with shops, restaurants and bars.
Surf 'n' sun: A broad, sandy beach and California's second-longest wooden pier make Seal Beach a popular spot to while away warm summer days.
Where the O.C. meets L.A. County: Close to Long Beach and Orange County hot spots, Seal Beach makes a great home base to enjoy nearby shopping, dining and entertainment options.
Neighborhood challenge
Oceanfront prices: Although Leisure World offers good deals for older home buyers, non-retirees looking for homes close to the beach can expect to pay well north of $1 million.
Expert insight
Jim Klisanin of Baytown Realty has been selling homes in Seal Beach for four decades.
Architecturally, he said, Seal Beach has two defining areas. The Hill holds many suburban-style, three-bedroom homes set on larger lots; Old Town sits closer to the beach and features small lots with a variety of styles that include 1940s bungalows.
"People like the variation," Klisanin said. "Each area of the neighborhood has its own character."
He added that although neighbors such as Long Beach and Huntington Beach have grown significantly, the city leadership of Seal Beach and its residents "have worked to maintain the small-town feel."
Market snapshot
In the 90740 ZIP Code, based on 11 sales, the median price for single-family homes in September was $942,000, down 0.9% year over year, according to CoreLogic.
Report card
Each of the four public schools in the Seal Beach area scored more than 920 in the 2013 Academic Performance index. Jack L. Weaver Elementary scored 990, and Rossmoor Elementary scored 965. Francis Hopkinson Elementary and J.H. McGaugh Elementary scored 963 and 926, respectively.
Times staff writer Jack Flemming contributed to this report.
MORE FROM HOT PROPERTY
T. Boone Pickens lists his massive Texas ranch for $250 million
Guess co-founder Paul Marciano sells Beverly Hills estate for $18.25 million
'American Idol' winner Jordin Sparks lists Hollywood Hills home for $1.85 million