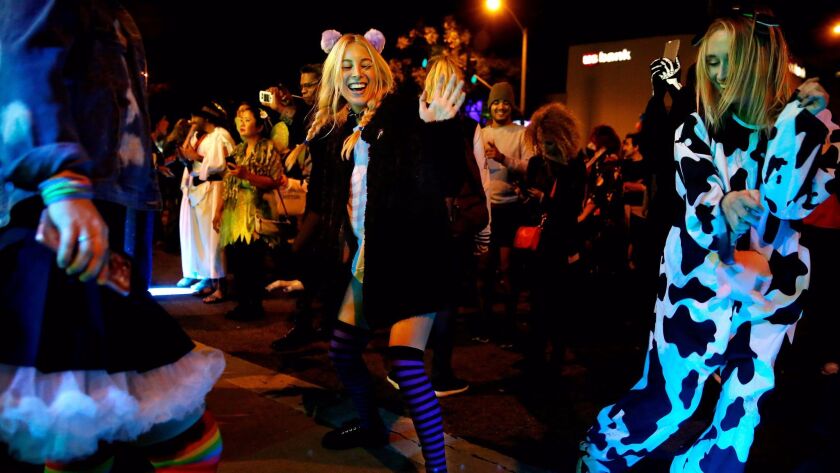 In the late 1800s, when an ambitious group of would-be railroad tycoons began laying the hundreds of miles of track that would connect a fast-growing Los Angeles with its surroundings, a raucous town sprang up at the intersection of two of those newly laid rail lines.
Moses Hazeltine Sherman was the man behind those routes. One stretched east all the way to Pasadena, and the other was the famous Balloon Route, which provided steam and electric rail service from downtown L.A. to the sea. The maintenance facilities he built to serve his expanding rail network gave rise to the town, and Sherman gave the town his last name.
The railroad workers who called Sherman home were a rough bunch, and the town's location in an unincorporated area of the county allowed for a certain lawlessness. Sherman soon became notorious for its saloons and anything-goes atmosphere.
As the motion picture industry began to move to Hollywood, the little town's location between Beverly Hills and the studios, combined with lack of a dedicated police force, made it a popular spot for nightclubs catering to the extravagant tastes of performers and studio execs.
As the Sunset Strip developed as a world-renowned center of nightlife, the town of Sherman embraced its location, renaming itself West Hollywood. Artisans and tradespeople who worked at the dream factories to the east began to move into newly built neighborhoods of modest bungalows.
Their creative energy and West Hollywood's live-and-let-live attitude also led to large numbers of gay Angelenos making their homes there, where they were free from the incessant anti-gay harassment of the LAPD vice squad.
In the 1960s, the popularity of rock 'n' roll led to a rebirth of the fading Sunset Strip, which had suffered with the rise of Las Vegas as the place to go for the black-tie nightclub set. Hip new clubs such as the Whisky became the center of gravity for youth culture well into the 1970s.
In the 1980s, West Hollywood finally incorporated as a city. Gay activists and older long-term residents came together to create the new city as a way to preserve local control and to implement quality-of-life improvements such as the transformation of the former streetcar rail bed down Santa Monica Boulevard into a landscaped median with broad sidewalks on either side.
Neighborhood highlights
Eat, drink, etc.: Whether you prefer the grit and glitz of the Sunset Strip, or night club-hopping on Santa Monica Boulevard is more your speed, WeHo has you covered for nightlife options.
Walk score 100: With plenty of dense, walkable neighborhoods, West Hollywood is a New Urbanist's dream.
Neighborhood challenges
That traffic: Unfortunately, West Hollywood bears the brunt of L.A.'s crosstown traffic, which generates twice-daily gridlock on its east-west arteries.
Owning versus renting: Housing prices are high for an area with a relatively low median income and a huge percentage of renters. The city's strict rent control laws have made it easier for many retired residents to age in place.
Expert insight
Frank Bruno of Keller Williams Realty-Hollywood Hills has been operating in West Hollywood for 12 years.
"You have anything your heart desires within a half-mile radius of where you live," Bruno said. "If you take advantage, you can eliminate driving and the need for a car."
Architecturally, much has changed in the last decade, he said.
"There's a clear trend toward building modern homes, while other trends like Spanish-style homes are fading," Bruno said.
Market snapshot
The majority of West Hollywood is split into three ZIP Codes.
On the east side, 90046, the median sales price in August for single-family homes was $1.375 million, based on 30 sales, according to CoreLogic. That's a 12.1% decrease in median sales price year over year.
On the west side, 90069, the median sales price was $2.663 million, based on 14 sales, a 15.8% increase year over year.
The southwest corner of West Hollywood, 90048, saw a 19.6% increase year over year, with the median single-family home selling for $1.86 million, based on 18 sales.
Report card
There are four public schools within the West Hollywood boundaries. They include West Hollywood Elementary, which scored 926 in the 2013 Academic Performance Index, and Rosewood Avenue Elementary, which scored 836.
Times staff writer Jack Flemming contributed to this report.
---