Redfin tries out 1% home listing fee for the first time in California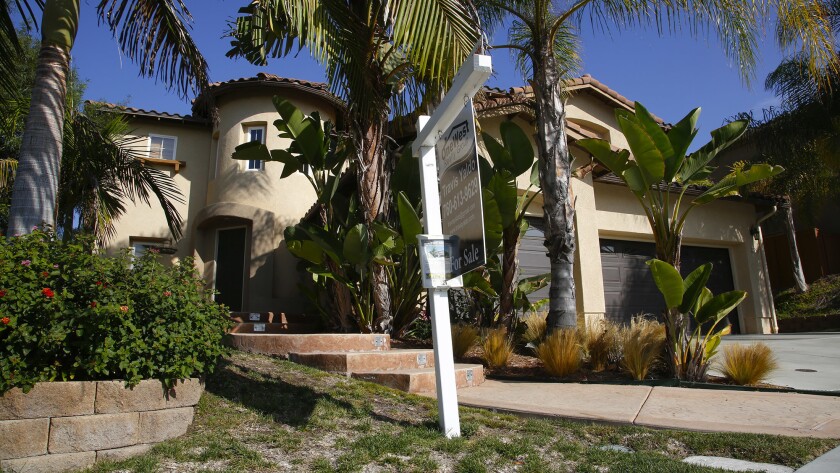 Real estate website and brokerage Redfin has launched a 1% listing fee for the first time in California, which could save home sellers hundreds of dollars in commission costs.
The reduced listing fee rolled out in San Diego in the spring. Redin has tested a 1% listing fee in other places, including Seattle, Denver and the Washington, D.C., area. The real estate brokerage typically charges a 1.5% listing fee in the more than 75 markets where it operates.
Low listing fees are often associated with agencies that don't do as much for clients. But Redfin said its business model enables it to charge less and do as good a job as traditional agencies.
The typical listing fee is about 2.5%, which can mean thousands of dollars in a high-priced market and also usually means an additional 2.5% for the buyer's agent.
For a San Diego County median-priced home of $525,000, a buyer would typically expect to spend around $26,000 in commission fees. Under Redfin's deal, one could conceivably save nearly $8,000.
Redfin spokeswoman Alina Ptaszynski said the move is possible because of the website's emphasis on technology and a different real estate agent model.
"We're delivering the same level of service — we would argue higher level of service," she said.
Critics say limited-service agencies that offer lower listing fees, such as ipayOne, are less likely to spend more on extras such as brochures or host multiple open houses the way traditional agents do.
"They know we are going to do everything that is necessary … until we close escrow," said Kent Dial, a veteran real estate agent with Coldwell Banker in San Diego. "There's nothing we won't do. We do everything that has to be done."
Redfin said its fees cover the same services offered at traditional agencies, including free professional photography, open houses (as many as necessary), online marketing, print brochures and a 3-D walk-through online tour.
Redfin agents are paid differently from a typical real estate agent. They receive a salary and benefits, rather than a commission, and get bonuses based on customer satisfaction.
There are signs that commissions for traditional agents could be lowering, based on data from industry watcher Real Trends Consulting reported by the Washington Post. Real Trends said the average commission in the United States was 5.26% in 2015, a steady decline from the 1990s, when rates reached 7% in some areas.
Most of the top-selling real estate agencies in San Diego County don't have set listing fees, instead describing the fee process as negotiable.
Michael Carunchio, president of the North San Diego County Assn. of Realtors, said it is important for sellers to ask real estate agents exactly what work will go into their listing and how they will market it.
"A good local Realtor will not depend on the Internet to correctly price a property," he said.
Redfin said the lower listing fee is being offered on a trial basis without an end date. It offered the 1% listing in October 2014 in Washington, D.C., and it is still available.
The company does not give out market share data but said growth in markets where it has the 1% listing fee has outpaced growth in areas where it charges 1.5%. In Washington, D.C, Redfin said, it nearly tripled its market share between 2014 and 2016 after introducing the lower listing fee.
Molnar writes for the San Diego Union-Tribune.
MORE FROM HOT PROPERTY
Modern home is the new kid on the walkstreet in Venice
Cypress Hill's B-Real sells Northridge home for $1.3 million
WNBA star Candace Parker looks to court a buyer for Encino estate
---
Inside the homes of the rich and famous.
Glimpse their lives and latest real estate deals in our weekly newsletter.
You may occasionally receive promotional content from the Los Angeles Times.