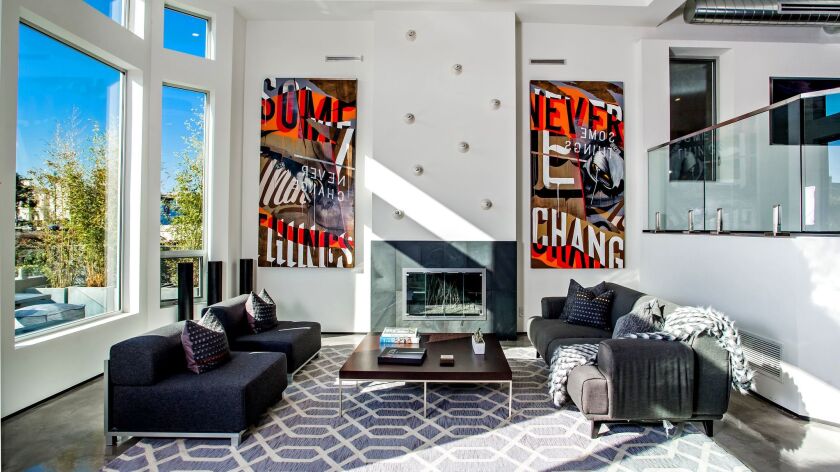 An indoor fireplace is an investment in atmosphere: The crackling warmth can evoke holiday cheer, cozy family gatherings, even Burt Reynolds splayed on a bearskin rug.
But although the feeling may be timeless, the packaging isn't. Changing tastes and government regulations are causing fireplace design to shift from the traditional brick-lined box to contemporary showpieces that involve new materials, fuels and formats.
"In Europe, it was a sign of prestige to have a fireplace in every room," said Michael DiGiorgio, manager at Okell's & Wilshire Fireplace in Hermosa Beach. "But in L.A., people don't care as much about the heat. They care about it looking cool."
Nearly half of new single-family homes in the U.S. include a fireplace, according to the most recent Census Bureau data. And more than half of homes purchased come with the feature — with 61% of buyers in the West springing for the option — according to the National Assn. of Realtors.
Fireplaces are more common in higher-priced properties — multimillion-dollar homes recently sold by celebrities such as Alexis Bellino, Alyson Hannigan and Russell Peters included fireplaces faced with marble, granite, slate and more.
Among buyers who chose a home sans fireplace, 40% told the Realtor trade group that they would've paid $1,400 extra for the feature. That's a larger premium than air filtration units, walk-in closets and kitchen islands commanded.
Adding or updating a fireplace can cost homeowners anywhere from a few hundred dollars for a prefabricated insert slipped into an existing cavity to tens of thousands of dollars for a customized hearth with an upscale stone mantel and ventilation construction.
On average, fireplace upgrades cost $1,918, according to 695 homeowners who divulged their experiences on HomeAdvisor.com. In Los Angeles, the average cost was $2,322.
"I wish I had one," said Jessica Lautz, who manages consumer survey research for the Realtors trade group. "There's a premium for fireplaces not only because they heat your home but also because they provide comfort and luxury and relaxation."
Classic fireplaces are wood-burning, but an evolution in home design and building regulations are sparking innovation.
Lighting up logs requires a flue and chimney that can require expensive masonry and installation. And the ambience comes with residual smoke and soot that only regular Cinderella-caliber cleanings can remove.
Check with homeowners associations, local fire departments and city planning offices on whether wood-burning fireplace remodels are legal. Some companies build so-called fireplace retrofits that can be customized or factory-made to reduce smoke pollution by up to 70%. The federal Environmental Protection Agency keeps a list of models that meet its emissions guidelines.
Generally, in California, wood-burning fireplaces are only allowed inside older homes where the feature was pre-existing. For new homes and major remodels, look at direct-vent, sealed-combustion units.
These pyres rely on a vent cut through an exterior wall to pipe in air and let out exhaust. Typically fueled by natural gas or propane, they tend to be more efficient heaters than their wood-burning cousins and require less construction and maintenance. Some accommodate gas logs that mimic the look of wood.
Hire professionals to adjust gas lines or position propane tanks and install oxygen-depletion sensors and carbon monoxide detectors.
Electric fireplaces are also gaining traction. These units resemble wood or gas-burning fireplaces but plug into electrical outlets. Wayfair has 250 options online, mostly priced at less than $1,000. Lowe's has versions built into entertainment consoles, with the flame display flanked by bookshelves and television stands.
"It's game-changing; Realtors are starting to be careful about what they call a fireplace," DiGiorgio said. "That's a misnomer: It's really a wall heater, a decorative gas appliance."
Modern designs with a metal border flush with the wall are increasingly popular, as are stone veneer and concrete. Many interiors feature driftwood or logs designed to look like reclaimed wood over a bed of white sand.
"Long, linear fireplaces seem to be a hot item, no pun intended," Di Giorgio said. "It's kind of a fusion between a traditional look with contemporary flair. Clean is the way it's happening."
MORE FROM HOT PROPERTY
Hip-hop producer Mike Dean drops $2.5 million on comic's Studio City digs
Aussie singer Delta Goodrem sells her Hollywood Hills home for $3.4 million
Ousted 49ers General Manager Trent Baalke seeks $3.3 million for Bay Area home
---