Start-up points city dwellers toward the suburban havens that suit them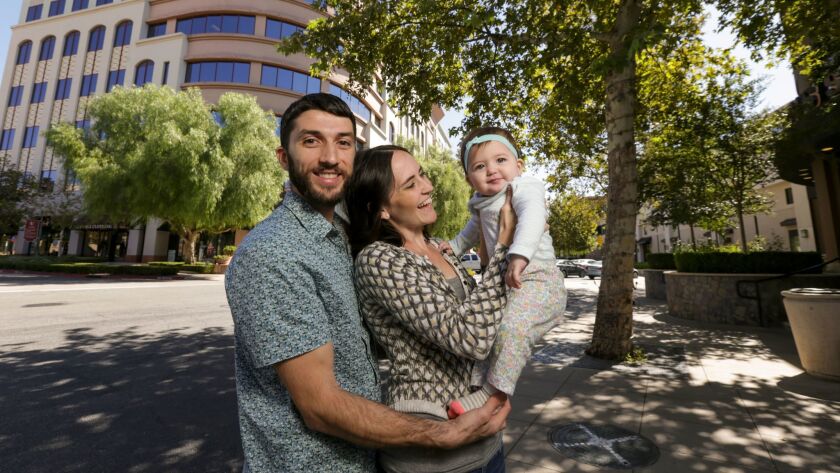 After their daughter was born eight months ago, Audrey and George Amirian knew they wanted to move out of their 900-square-foot, one-bedroom North Hollywood apartment.
They just didn't know where they wanted to move to.
So the couple enlisted the help of Suburban Jungle, a New York-based company that expanded to Los Angeles this year. The start-up specializes in helping city-based families identify suburban areas to move to and connects them with local real estate agents.
In L.A., the prime customers are people who live in fast-paced, expensive areas such as downtown and Hollywood but who are ready for smaller, more affordable communities with quieter streets, less traffic and a more neighborly vibe.
"We need more space in an area with good schools and a small-town feel but which is still close enough to Los Angeles," said Audrey, 25, a stay-at-home mother.
Suburban Jungle clients are assigned a strategist who sends over a detailed questionnaire to determine what they expect from a new living environment, what their definition of a good school is, what they like to do on weekends, and where they might shop or dine.
The company then prepares a home search strategy focusing on two to six potential towns, with details that include taxes, length of average commute and distance to preferred gyms and grocery stores.
For the Amirians, that became Santa Clarita, Valencia, Westlake Village, Moorpark and Oak Park.
The service is free. Founder and President Alison Bernstein, who describes the company as "relocation for the noncorporate employee," said her company doesn't do transactions.
Instead, the client is directed to a reputable agent in a particular area. Once a client buys a home, Suburban Jungle collects a commission from the seller's broker.
"Our clients go out to look at houses with the agent directly," Bernstein said. "We're happy to go with them too, but we don't want to be breathing down people's necks."
Instead, Bernstein and her team focus on the deep-dive of a particular suburb while letting a broker handle such things as comps and open houses.
"We don't locate the house," Bernstein said. "We help the client understand the town and who lives there, the context of where they might move to, from the sort of nursery schools in the area to whether there's a good dog groomer. It goes far beyond just real estate."
Audrey Amirian said those are the kinds of details she might otherwise have overlooked as she and husband George search for the right home, which they are doing with the help of Kelly Sedano, Suburban Jungle's head strategist in L.A.
"She knows that we try and have a healthy lifestyle and eat organic food, so she researched how far those grocery stores are from the areas we are looking at," Audrey said. "She arranged town tours, and we looked at everything from the hospitals to the theaters. It's not just house hunting."
Bernstein said she wanted to establish a presence in Los Angeles — in late September she opened an office in Hollywood — because of people moving to the region from other big cities.
"There seem to be a lot of people expressing a desire to move to Los Angeles," Sedano said. "They don't know what to expect in these different neighborhoods, which have a different look, pace and vibe from each other. Cities and towns change every 15 years, and everyone is trying to figure out where best to raise their kids."
Suburban Jungle also operates in Chicago, Boston, San Francisco and Dallas, with Washington D.C., Philadelphia, Atlanta and London soon to follow.
MORE FROM HOT PROPERTY
Actor-director Mark Duplass seeks a buyer for his 'Creep' cabin
Onetime Encino estate of Smokey Robinson fetches $8.25 million
Former 49ers linebacker Ahmad Brooks lists San Jose home for almost $2 million
---
Inside the homes of the rich and famous.
Glimpse their lives and latest real estate deals in our weekly newsletter.
You may occasionally receive promotional content from the Los Angeles Times.