How I Made It: Jordan Cohen scores as real estate agent for professional athletes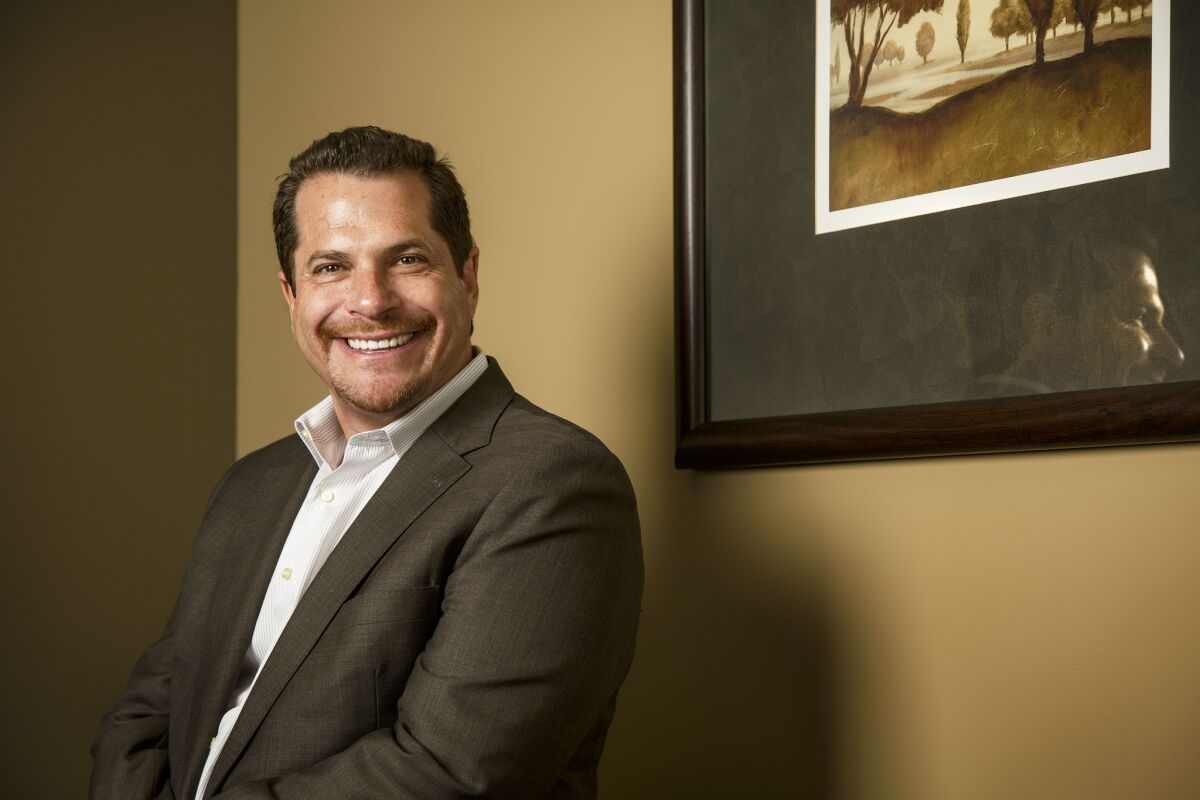 The gig: Jordan Cohen, 48, is the estate director for RE/MAX Olson & Associates Estate Brokerage in Westlake Village. He has one employee, longtime assistant Kristi Dougherty. Last year, he entered the world of men's high fashion as a founding partner of the underwear company Kings & Jaxs. Former UCLA guard and NBA All-Star Russell Westbrook is the face of the brand.
Box score: Cohen has represented more than 50 professional athletes, including Reggie Bush, Pete Sampras, Marcus Allen and Kobe Bryant, as well as dozens of celebrities and Hollywood executives in real estate transactions. He annually brokers deals totaling more than $100 million.
Bleacher seats: Cohen's parents helped cultivate his love of sports at an early age as season-ticket holders of the Los Angeles Rams. "Going to the Coliseum to see the Rams, we never missed a game," Cohen recalled. He took his love of football to the field at Granada Hills High School, where he managed to obtain First-Team All-League honors as an offensive lineman, despite standing just 5-foot-7.
Turning pro: Born and raised in the San Fernando Valley, Cohen graduated from Cal State Northridge in 1990 and went directly into residential real estate, which he says was far from the norm at the time. "A 23-year-old in the office, I was rare," Cohen said. "Nowadays, with reality shows and things like that, you get a lot of people going right into real estate. It's a young man's game."
Hard knocks: Cohen came away empty-handed on the first two listing appointments he ever made, both modest, $200,000 homes. "I failed because I didn't know what I was doing," he said. "The commission was only $6,000 for each property, but at the time, that would have doubled my net worth." The dose of humility led him to create marketing scripts and dialogues that he would practice over and over again with his wife. "I read those scripts every night and developed my pitch until I could perform with confidence," he said.
Bounce pass: Cohen received an assist from Dana and David Pump, childhood friends and founders of Double Pump Inc., who referred him to his first professional athlete client, UCLA basketball great Don MacLean. As a sports fan, the chance to represent a local basketball legend was exhilarating; however, the transaction also opened his eyes to the potential in estate properties. "That was not only my first athlete deal, but my first million-dollar deal," Cohen said. "After that I was hooked." After the sale, he uprooted his family and business and moved to Westlake Village.
Full-court press: Despite a movement toward digital marketing, Cohen says he's stuck to what sells — print media advertising. "I don't agree that print is dead," said Cohen, who puts six figures a year into his marketing efforts, much of which is in high-end publications. "When I listed Marilyn Manson's home in Chatsworth, it was on the market for weeks without any offers," Cohen recalled. "After I got the OK to do Hot Property (the Los Angeles Times' real estate blog) and that hit, I was inundated with calls and it sold for the list price within 24 hours." To broaden his reach, 20% of his budget is now earmarked for global advertising. He's also jumped on the drone bandwagon, investing in fly-by videos for his estate listings.
Tweet game: In December, Shaquille O'Neal sent a tweet that endorsed Cohen to his more than 9 million followers on Twitter. The message was retweeted dozens of times within minutes. Similarly, Reggie Bush tweeted a comparable message to his 3 million followers after the sale of his home in Hollywood Hills West. Cohen sees social media as being less of a sales tool and more about elevating his brand. "When I was just starting out, we weren't even using computers," he said. "I'm new to Twitter and Instagram, but I've embraced it. I'm both feet in."
Bonding exercise: Beyond referrals and repeat business, Cohen says the friendships that he's forged with many of his clients far outweigh any real estate transaction. He recounts his friendship with Kobe Bryant and the time that the basketball superstar helped out with his son's birthday: "He let me bring 10 7-year-olds to the Staples Center, had it opened up two hours early, met with the kids and let them take shots on the court. It was really special."
Coaching up: "Real estate didn't come naturally to me — I had to train myself," Cohen said. "My advice is this: Know what you're going to say before you walk into an appointment or any situation, for that matter. Whether it's selling $300,000 homes or $30-million homes, if you are passionate and confident about what you do, you'll be successful."
Home and away: Cohen lives in Oak Park with his wife of 22 years, Rebecca, who volunteers her time as an advocate for abused and neglected children. They have two children: Cameron, a freshman at Chapman University, and Cassidy, a high school sophomore. He enjoys traveling around the country, particularly to see many of his clients play in person, and volunteering for the Harold and Carol Pump Foundation, which has raised millions of dollars in the fight against cancer.
Twitter: @NJLeitereg