Hurley House in Hollywood Hills is for sale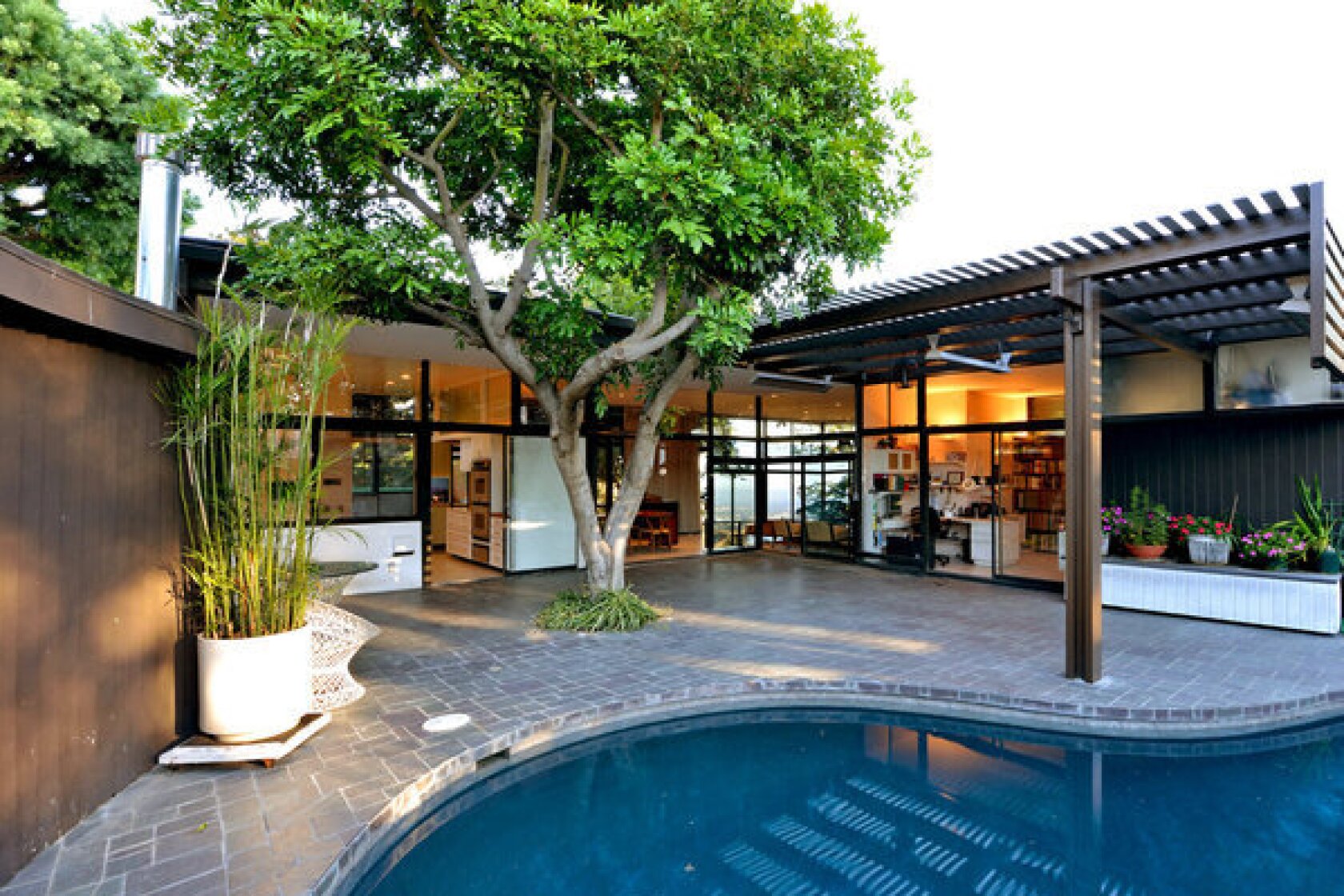 One side of the home is cantilevered so the pool and patio could go on the flat part of the lot.
(Chad Z. King / Abirdseye.com)
This is the first time the Hurley House, built in 1958, has come on the market.
(Chad Z. King / Abirdseye.com)
Designed for indoor-outdoor living, the late '50s home has a timeless feel.
(Chad Z. King / Abirdseye.com)
There are four bedrooms in the Modernist residence.
(Chad Z. King / Abirdseye.com)
Clerestory windows bring light into one of the four bathrooms.
(Chad Z. King / Abirdseye.com)
The living room has views of the city.
(Chad Z. King / Abirdseye.com)
A kidney-shaped swimming pool is among the amenities.
(Chad Z. King / Abirdseye.com)
The lot size is about a third of an acre.
(Chad Z. King / abirdseye.com)
The Hurley House in Hollywood Hills, one of the largest and most extravagant homes designed by Swede Greta Magnusson Grossman, is on the market for the first time since it was built in the late 1950s. Grossman brought a Scandinavian sensibility to Southern California's indoor-outdoor lifestyle in this open-plan Midcentury Modern house, which is cantilevered to allow space for a swimming pool and patio.
Location: 3320 Wonder View Drive, Los Angeles 90068
Asking price: $1.795 million
Year built: 1958
House size: Four bedrooms, four bathrooms, 2,684 square feet
Lot size: 15,198 square feet
Features: Glass walls, floating-style fireplace, built-in cabinetry, study/library, city views, basement.
About the area: In the first half of the year, 190 previously owned single-family homes sold in the 90068 ZIP Code at a median price of $960,000, according to DataQuick. That was a 1.4% price increase from the first half last year.
Agents: Peter Lavin, (323) 376-1964, and Alastair Duncan, (323) 640-2232, Beachwood Team at Links Real Estate
—Lauren Beale
To submit a candidate for Home of the Week, send high-resolution color photos via Dropbox.com, permission from the photographer to publish the images and a description of the house to homeoftheweek@latimes.com.
---
Inside the homes of the rich and famous.
Glimpse their lives and latest real estate deals in our weekly Hot Property newsletter.
You may occasionally receive promotional content from the Los Angeles Times.