Hot Property: Dennis Quaid sells Pacific Palisades estate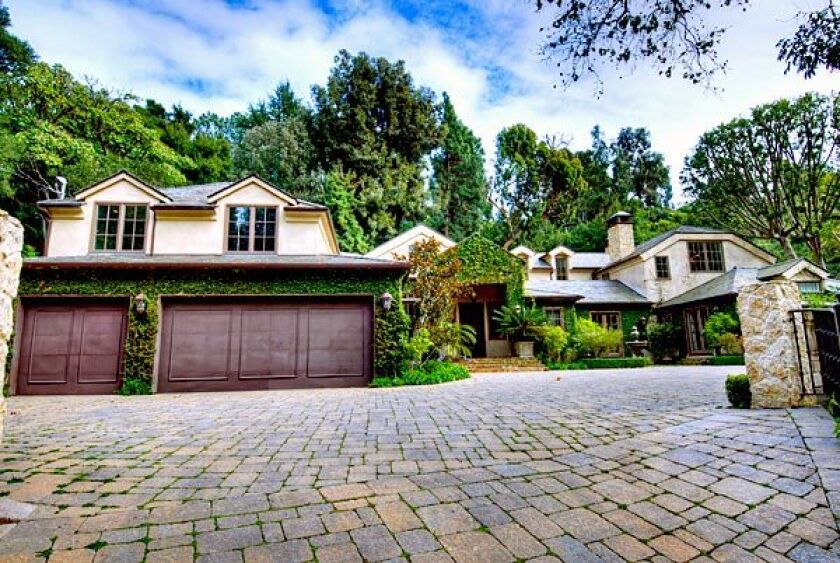 Actor Dennis Quaid has sold his equestrian estate in Pacific Palisades for $9.5 million.
The French country-style main house, built in 2004, sits on two acres with a second house, a studio, a barn, a corral and a year-round creek. A beam-ceilinged living room, formal dining room, family room, office, wine cellar, eight bedrooms and nine bathrooms are part of the 8,400-square-foot main house. Maids' quarters above the kitchen have been converted to a gym.
The second house and studio contain 2,158 square feet of living space. A covered loggia with a fireplace overlooks the swimming pool and spa.
Quaid, 57, stars in the thriller "Beneath the Darkness," to be released this week, and the comedy "What to Expect When You're Expecting," due in May. He starred this year in the "Footloose" remake and "Soul Surfer."
The actor sold the estate because he spends most of his time living in Texas closer to family. The property came on the market in March at $16.9 million and had been reduced to $10 million.
Kathrin Nicholson of Westside Estate Agency was the listing agent. Leslie Kavanaugh of Sotheby's International Realty in Beverly Hills represented the buyer.
Der Bingle's former estate finds buyer
A Toluca Lake home still referred to as the Bing Crosby Estate despite a succession of other entertainment industry owners has been bought for $4.02 million. The property came on the market two years ago at $10 million.
The singer and actor lived on the property from 1936 until early January 1943, when the 20-room house there was gutted in a Christmas tree fire, according to Los Angeles Times archives. Crosby was out at the time of the fire. His wife, Dixie Lee, and their four sons escaped injury.
The damage to the structure and its contents was estimated at $200,000, and the family's cocker spaniel, a complete collection of Crosby's recordings, his golf trophies and his pipe collection were lost. Among items recovered from the ruins was $2,000 in cash in the pocket of one of Crosby's coats.
The rebuilt Southern Colonial that stands on the site has six bedrooms, 51/2 bathrooms and five fireplaces in 7,132 square feet. There is a living room with marble fireplace, a billiards room and a den with a wet bar.
The two acres of gated grounds include rose gardens, fruit trees, a tennis court with grandstands, a swimming pool, a 21/2-bathroom cabana with changing rooms, sitting area and a kitchen, and a two-bedroom, two-bathroom guesthouse with a kitchen.
The estate was a childhood home of Micky Dolenz, the Monkees' drummer and singer.
Subsequent owners included actor Andy Griffith in the 1980s and actor Jerry Van Dyke and his wife, Shirley, who sold the home in 1997 for $1.93 million, public records show.
Crosby won a best actor Oscar for "Going My Way" (1944) and was paired with Bob Hope in the "Road" movies from 1940 to 1962.
His recording of Irving Berlin's "White Christmas," featured in the movie "Holiday Inn," became a No. 1 hit in late 1942 and stayed there for 11 weeks.
Shirley Duenckel and Jon Molin of Ramsey-Shilling Associates in Toluca Lake were the listing agents. Anthony Marguleas of Amalfi Estates represented the buyer.
A reboot of sorts in Beverly Hills
Former Yahoo Inc. Chief Executive Terry Semel and his wife, Jane, have sold their estate in Beverly Hills for $9.1 million.
The 1987 contemporary, designed by Robert Offenhauser, features a two-story entry with a skylight and floor-to-ceiling glass and iron doors. There are vaulted ceilings, gallery-size walls, four bedrooms, 61/2 bathrooms and 8,800 square feet of living space. The master bedroom suite, with a sitting area, fireplace, dual bathrooms and dual dressing rooms, opens to a covered patio. A detached screening room includes a kitchen, shower, sauna and steam room.
On nearly three-quarters of an acre, the estate has a gated, circular driveway and a swimming pool. The trophy home is in the "flats" of Beverly Hills.
Semel, 68, left Yahoo in 2007 after six years at the helm. He is also the former chairman of Warner Bros.
The property came on the market in October at $12.75 million. Public records show the couple bought it in 2005 for $8.3 million.
Judy Feder of Hilton & Hyland, Beverly Hills, was the listing agent. Fariba Meskin of Nourmand & Associates in Beverly Hills represented the buyer.
Farrah Fawcett condo is sold
The Wilshire corridor condominium owned by the late actress Farrah Fawcett has been purchased for $1.55 million.
The 2,767-square-foot unit in the Wilshire building features a direct-access elevator, a master suite with three walk-in closets, an office that can be converted to a third bedroom and 21/2 bathrooms.
The 97-unit building was constructed in 1991. It features concierge service, valet parking, 24-hour security, wine storage lockers, a gym and a swimming pool.
Fawcett, one of the original "Charlie's Angels" (1976-80), died in 2009 at 62. Her work included starring roles in the TV movies "The Burning Bed" (1984) and "Nazi Hunter: The Beate Klarsfeld Story" (1986).
The condo came on the market this spring priced at $1.885 million.
Spencer Krull of Teles Properties, Beverly Hills, was the listing agent. Erika Kita of Keller Williams Realty in Beverly Hills represented the buyer.
---
Inside the homes of the rich and famous.
Glimpse their lives and latest real estate deals in our weekly newsletter.
You may occasionally receive promotional content from the Los Angeles Times.