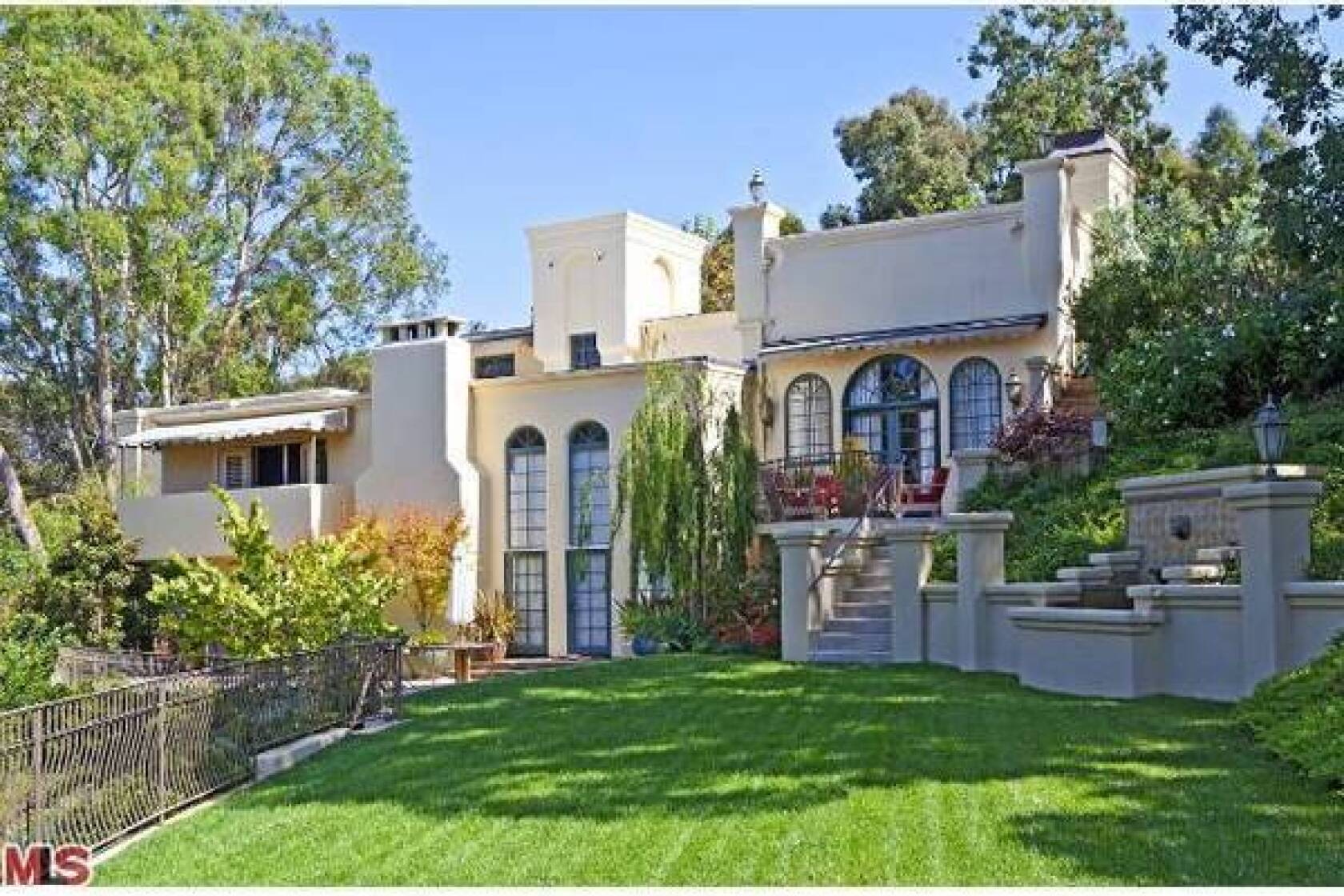 Listing details describe the villa's style as Tuscan.
(Via Realtor.com)
Patio space surrounds a large outdoor fireplace.
(Via Realtor.com)
A double-door entry steps down to the foyer.
(Via Realtor.com)
The main living spaces open to one another.
(Via Realtor.com)
There's ample room for a pool table in the step-down game room.
(Via Realtor.com)
A dining area overlooks the living space below.
(Via Realtor.com)
A fireplace and a wood-beam ceiling are among features of the living room.
(Via Realtor.com)
There is a center island in the eat-in kitchen.
(Via Realtor.com)
The master bedroom includes a seating area.
(Via Realtor.com)
The grounds include fountains and a swimming pool.
(Via Realtor.com)
Among outdoor amenities is a barbecue center.
(Via Realtor.com)
The one-bedroom guesthouse can double as a music studio.
(Via Realtor.com)
Pop and classical singer Josh Groban has listed his gated house in Malibu at $5.475 million.
The crooner put the Tuscan-inspired home up for lease a few years ago at $23,000 a month after it failed to sell at $6.1 million. Perhaps this time around it will hit all the right notes with a buyer.
A long brick driveway leads to the multi-level house, which was built in 1976 and sits on 1.8 acres.
The mountain-view property includes the main house, a guesthouse, a swimming pool and spa with a waterfall, a lighted tennis court and an outdoor fireplace. Among features are a two-story entry hall, a wine cellar, a music room/studio, a game room with a bar, four bedrooms and three bathrooms.
Groban, 32, has sung for U.S. presidents and Olympians. His hits include "To Where You Are," "February Song" and "I Believe." He released the pop-rock album "All That Echoes" this year.
Among his TV performances, he sang "You Raise Me Up" on "Dancing With the Stars" last year and "You're Still You" on "Ally McBeal" (2001). The sometime actor played a barista in the summer comedy "Coffee Town."
The musician, who has sold more than 25 million albums nationwide, also owns a penthouse in Beverly Hills. His net worth is estimated at $30 million.
He bought the Malibu property in 2005 for $4.125 million.
Christopher Cortazzo of Coldwell Banker is the listing agent.
Cast change in Studio City
Jeffrey Dean Morgan, who stars on the Miami mobster series "Magic City," has sold his Mediterranean-style home in Studio City for $2.115 million.
The character-infused five-bedroom, five-bathroom house, built in 2008, features wainscoting, beamed ceilings, wrought-iron stair railings and balconies.
The family room of the 4,320-square-foot home opens to the backyard, which includes a swimming pool and outdoor fireplace. There are fireplaces in the family room, living room and master bedroom.
Morgan's film credits include "The Possession" (2012), "The Losers" (2010) and "Watchmen" (2009). He will star next year in the thriller "The Rut." The 47-year-old actor has appeared in the series "Grey's Anatomy" and "Supernatural."
He bought the property in 2008 for $1.9 million, public records show.
Adrienne J. Kessler and Michael Bergin of Rodeo Realty were the listing agents. Michel Bron of Keller Williams Realty represented the buyer.
Rock star retreat up for grabs
Patrick Stump of Fall Out Boy, recently seen rocking out with Taylor Swift at the annual Victoria's Secret Fashion Show in New York, has listed his Hollywood Hills home at $2.275 million.
The contemporary house, built in 1969 and newly renovated, features a recording studio. The custom-built studio is soundproofed and has a separate guest entrance.
A floating-style staircase, concrete floors and open floor plan give the place a "rock star" vibe. The 2,509 square feet of living space includes a corner study, three bedrooms and 3.5 bathrooms.
Set on a promontory of more than a quarter acre, the home has views of the city, the Hollywood Reservoir and the Hollywood sign.
Stump, 29, is the lead singer, a guitarist and a composer for the punk pop band, whose albums include this year's "Save Rock and Roll," "Infinity on High" (2007) and "From Under the Cork Tree" (2005). Their top 40 radio hits include "Sugar, We're Goin Down" and "Dance, Dance."
Stump released the solo album "Soul Punk" in 2011 while the so-called emo-sound band was on hiatus.
He bought the property in 2005 for $1.975 million, public records show.
Jodi Rubin of Sotheby's International Realty is the listing agent.
Lyricist sells WeHo condo
Well, hello, Ole. Broadway composer and lyricist Jerry Herman has sold his West Hollywood condo for $3.2 million. The buyer is Danish restaurateur Ole Strecker.
The chic double unit, created by combining two condos, contains three bedrooms, five bathrooms and 4,000 square feet of living space.
Features of the updated home include a media room, an office, a den and a terrace.
The building, constructed in 1962, has concierge service, 24-hour valet parking and a rooftop pool. There are city and mountain views.
Herman, 82, won Tony Awards for best composer and lyricist for "Hello, Dolly!" in 1964 and for original score for "La Cage aux Folles" in 1984. He has moved to Florida.
Public records show he bought the property in 2010 for $3.875 million.
Jade Mills and Joyce Rey of Coldwell Banker were the listing agents. Albert Hughes represented the buyer
Quick move for basketball duo?
Candace Parker, who plays for the L.A. Sparks, and her husband, pro basketball player Shelden Williams, listed their home in Playa Vista at $1.499 million last month and it is already in escrow.
The Mediterranean-style three-story house, built in 2007, features a den/office, a bar, four bedrooms, three full bathrooms and two powder rooms. There are 3,766 square feet of living space.
The pair reworked the master bedroom shower to accommodate their 6-foot-4 and 6-foot-9 heights and personalized it by adding their first initials in tile.
Parker, 27, won the Women's National Basketball Assn. most valuable player award in 2008 and again this year. She also plays for the UMMC Ekaterinburg team of Russia. Williams is a power forward with Tianjin Ronggang of China.
The home's proximity to the airport has made it a convenient base of operations for the couple. Parker described the location as "a great environment to raise our daughter and walk our dogs."
Williams bought the property in 2008 for $1.779 million, public records show.
Kofi Nartey of the Agency is the listing agent.
Twitter: @LATHotProperty
---