Housing tear-downs on the rise as real estate rebounds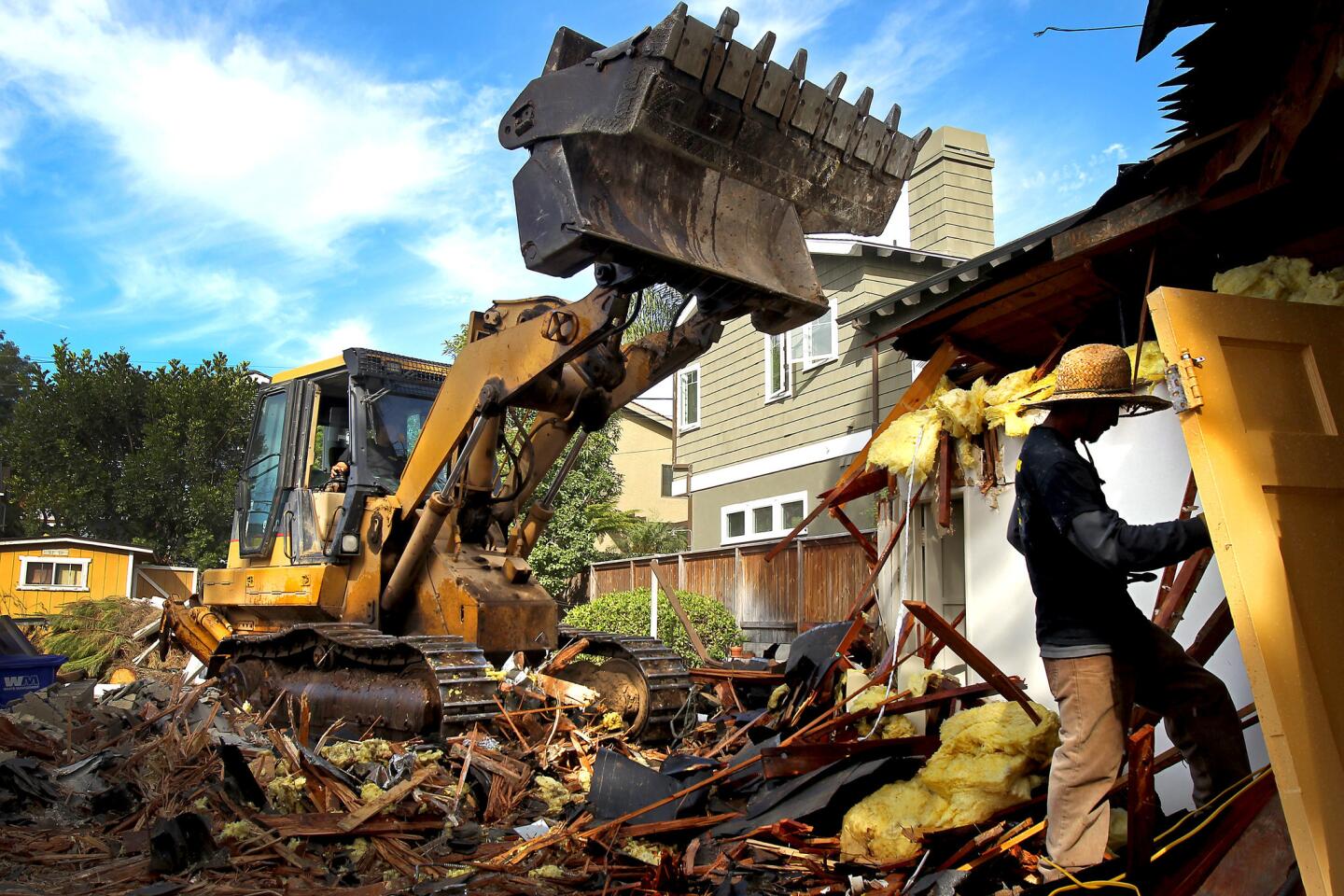 A demolition crew razes a 782-square-foot cottage in Manhattan Beach in October to make way for a 3,300-square-foot Cape Cod mansion.
(Rick Loomis / Los Angeles Times)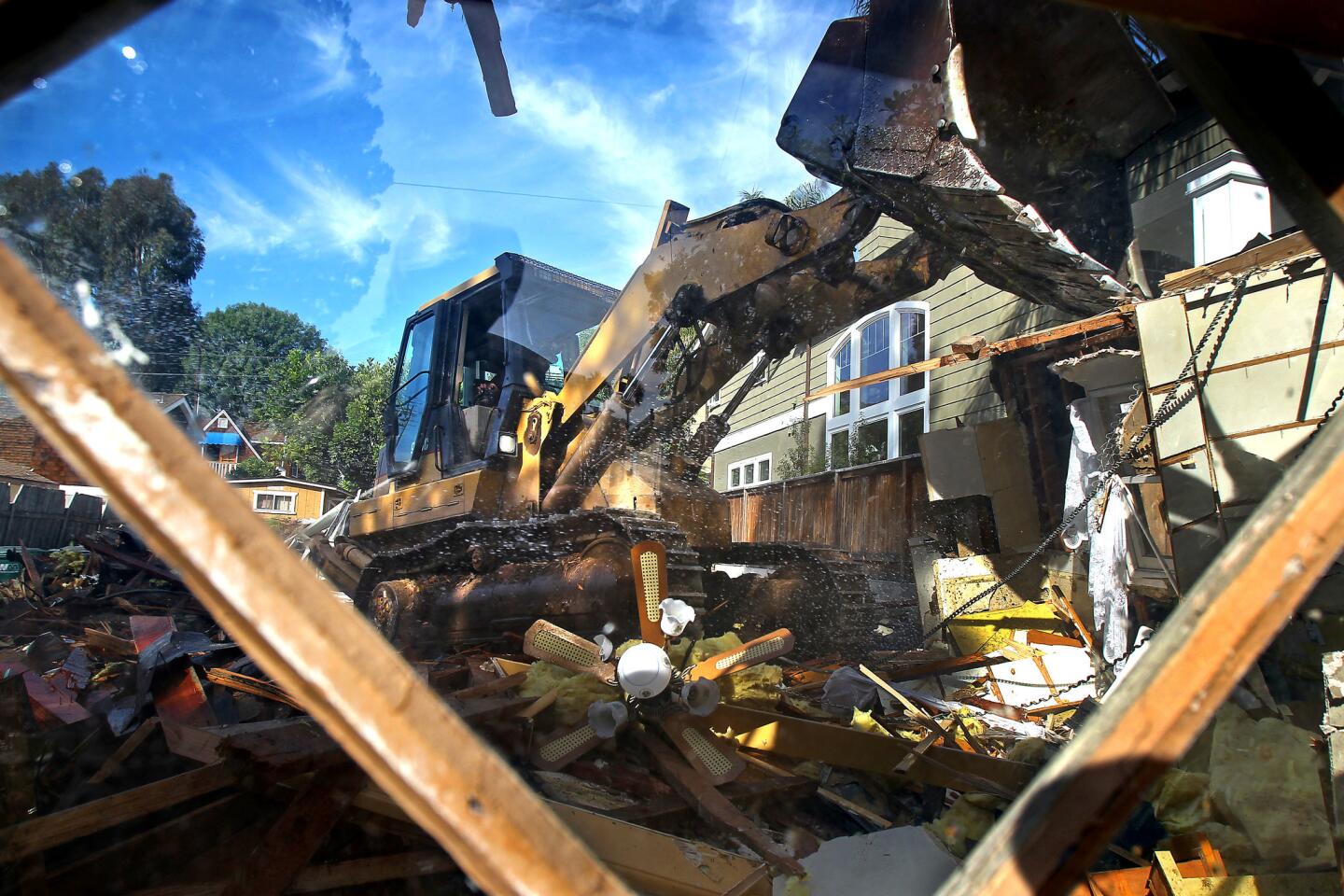 In August, a Manhattan Beach City Council member described the city's ongoing construction as a "tsunami."
(Rick Loomis / Los Angeles Times)
A rebounding housing market has led to an increase in tear-downs as wealthy buyers seek to build larger, opulent homes.
(Rick Loomis / Los Angeles Times)
Builders in Manhattan Beach pulled permits to demolish 84 residential units from July 2012 to June 2013, the latest available data. That's nearly double the number pulled for the same period a year earlier.
(Rick Loomis / Los Angeles Times)
A fixture hangs from the ceiling of a Manhattan Beach home moments before a demolition crew leveled the 1950s cottage in October.
(Rick Loomis / Los Angeles Times)
A rotary telephone clings to the wall of the Manhattan Beach home before the October demolition.
(Rick Loomis / Los Angeles Times)
The front-end loader swung to the right and took a bite out of the shingled roof of the quaint cottage. The roar of the engine and crackle of buckling lumber carried down Elm Avenue in Manhattan Beach.
Within 40 minutes, a demolition crew reduced the 1950s one-story to rubble. The 782-square-foot house would be replaced by a 3,300-square-foot Cape Cod.
"It feels exactly like the good old days," said the property's developer, Mike Leonard.
Those days of booming demolition and construction came during last decade's housing bubble. Now, tear-downs are again on the rise in Southern California's affluent communities, as a rebounding housing market triggers a residential reconstruction boom.
With little vacant land left, developers and wealthier buyers are snapping up small, older houses in sought-after locales, then leveling them to build modern mansions.
The wave of demolition has revived criticism that the new homes tower over those next door and clash with neighborhood character. Residents complain that their once-quiet streets have become perpetual construction zones.
The upscale South Bay town of Manhattan Beach exemplifies the trend. Builders in the city pulled permits to demolish 84 residential units from July 2012 to June 2013, the latest available data. That's nearly double the number pulled for the same period a year earlier. In August, one Manhattan Beach City Council member described the ongoing construction as a "tsunami."
That force has rattled Manhattan Beach homeowner Jane Guthrie. This summer, she said, workers hammered large metal beams into the ground a few houses away from her one-bedroom house, shaking the walls. Workers, she said, were installing a deep basement for a 3,500-square-foot, three-level house that replaced a small 784-square-foot cottage near the beach.
"It was like having an earthquake in your living room — for six hours a day," said Guthrie, a retired art director for ad agencies.
The rebounding housing market has sparked the demolitions. In November, the median price for a home in Southern California was $385,000, up nearly 20% compared with the same month a year earlier, according to research firm DataQuick. Builders such as Leonard are constructing houses "on spec," confident that they'll find buyers.
In other cases, wealthy homeowners are buying cottages, then hiring builders to knock them down and erect dream homes.
"You've got an amazing increase in new construction coming on the market" in Santa Monica, Brentwood and Pacific Palisades, said F. Ron Smith, a founding partner at high-end real estate brokerage Partners Trust.
In the city of Los Angeles last year, builders received approval to raze 1,227 houses and duplexes from January through mid-December, according to Department of Building and Safety records. That's 29% higher than in all of 2012, though still well off the pace of more than 3,000 in 2006, during the housing bubble.
Developer Igal Azran recently built a five-bedroom house near the Beverly Center in Los Angeles. The 5,000-square-foot mansion replaced a modest, one-story Spanish-style home. With glass walls and vaulted ceilings, the modern two-story towers over the adjacent 1920s homes with red-tile roofs. Public records show Azran bought the property — then a 2,180-square-foot duplex — for $856,500 in 2011. The house he built sold in October for $3.5 million.
Construction of new, high-end homes raises property values for neighborhoods, Azran said. Those building their homes shouldn't be confined to the sizes and styles favored by their neighbors, he said.
"People like different things — people like Spanish, modern, French-style," he said.
But many longtime residents resent the scrapping of quaint, older homes, including Clark Carlton, 57, who lives near Azran's project. He says he's growing his hedges higher to regain privacy lost to another newly constructed mansion.
"I am at the point now I have to make sure I am decently clothed to cross my backyard," he said.
Carlton and his neighbors want the city to take action. They are pushing Los Angeles to tighten the so-called anti-mansionization ordinance passed in 2008. Critics say it has failed to stop the construction of outsized homes that rob views, block sunlight and alter the character of established neighborhoods.
In October, the Los Angeles City Council imposed additional size limits on new houses in the Beverly Grove neighborhood. But the changes don't mandate a particular style.
"The new restrictions will support long-term property values," said neighborhood activist Shelley Wagers, who pushed for the measure. "Mansionization has been a matter of profiteering, and has made quick money for a few people at the expense of their neighbors."
Tear-downs have long stirred controversy, especially in beach communities — once-funky towns that have seen property values skyrocket over the years amid an influx of wealthy residents, chic boutiques and cafes. Many who grew up in the area have moved out, unable to afford a house with an ocean breeze. Many who did own homes couldn't resist cashing in.
Death often precedes a tear-down. For example, when an elderly homeowner passes away and children choose to sell rather than live in the property. The competition for what developers call lots — because the land is more valuable than the house — is fierce.
Prominent Manhattan Beach builder Matt Morris recalled a lot he purchased in the spring.
"I overpaid, in my mind, by $250,000," he said.
The day after he went into escrow, Morris said, another developer offered to pay $150,000 more for the property. He declined the offer. There are simply too few lots available. And Morris believes he stands to make more upon selling the newly built house.
Manhattan Beach, which long ago morphed from a quaint beach town to ritzy burb, has recently been debating tightening its anti-mansionization ordinance, which aims to reduce the visual bulk of new homes and preserve older ones.
Leonard, the developer who demolished the Manhattan Beach cottage in October, said he is "ambivalent" about the new restrictions under consideration.
"As long as it satisfies the residents," said Leonard, who has constructed many Cape Cod-style houses throughout the city. "If the city and residents want small, I build small. If they want bigger, I build bigger."
Other local developers, however, have criticized the proposed changes. After the push-back, the City Council voted in November to send the proposals to the Planning Commission for further study.
Richard MacKenzie worries about what will come next on the empty dirt lots across from his 1955 house. He said he believes construction of a planned deep basement on the land will shift the ground and damage his house, as well as those of neighbors.
The project's developer declined to comment. But plans filed with the city describe a 9,000-square-foot, three-story mansion with an elevator, wine cellar, bar and game room. The master bedroom will have an expansive outdoor deck with a spa tub.
MacKenzie said such giant luxury homes, and the Kardashian lifestyle they represent, threaten the community's beach vibe along with the landscape. To him, Manhattan Beach is starting to feel more like Beverly Hills.
"Why move to the beach?" MacKenzie asked. "You used to walk on the beach and say hi to people. Now people have their own worlds they live in."