A fresh start begins with two quick bathroom remodels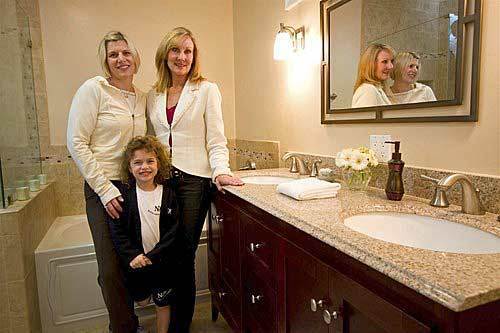 Los Angeles
homeowner Meg Moreta, left, her daughter Madeline, 5, and designer Lisa Tanner show off Moreta's new master bathroom, which was gutted and redone in nine days. One of Moreta's chief goals was to remodel her bath with the least amount of stress. To do so, the designer first studied photos of bathrooms Moreta liked, then brought samples of wood, counters, knobs, etc., to the house so Meg could make selections.
(Rod Foster)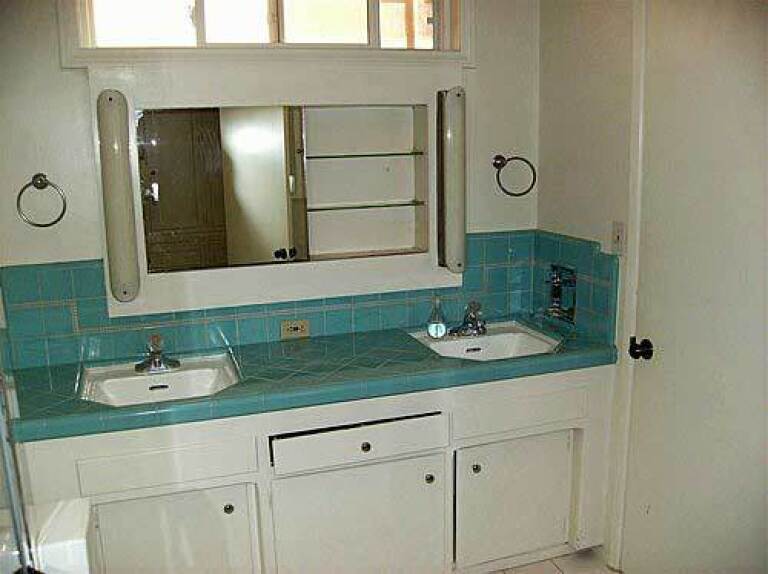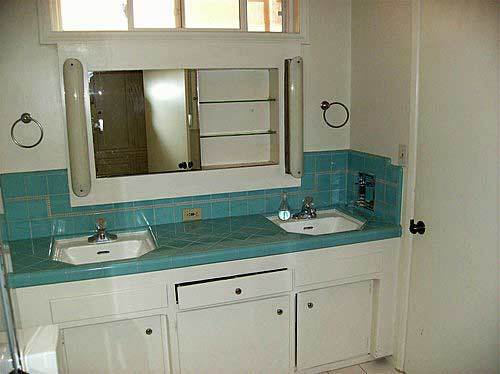 The original master bath had a certain vintage charm, but it reminded homeowner Meg Moreta of difficult times when she was battling cancer. After hitting her five-year mark being cancer-free, she wanted a total bathroom makeover.
(Rod Foster)
For the master bath, Moreta chose ceramic tile with a strip of stone and fixtures of brushed nickel. To accomplish the remodel in nine days, the contractor, One Week Bath, spent a lot of time determining the design and prepping the materials in advance.
(Rod Foster)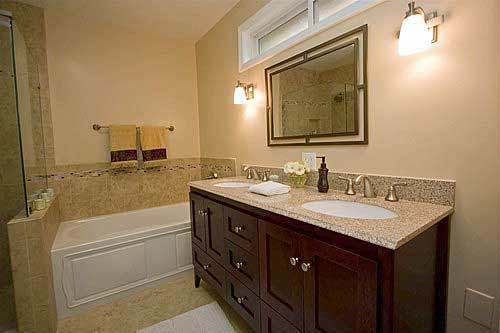 One Week Bath, based in Gardena, typically remodels a bathroom in five days or less. But when a room has a tub and shower, the job can take up to two weeks, the company says. In the case of Meg Moreta's master bath, the remodel was done in nine days for $30,000.
(Rod Foster)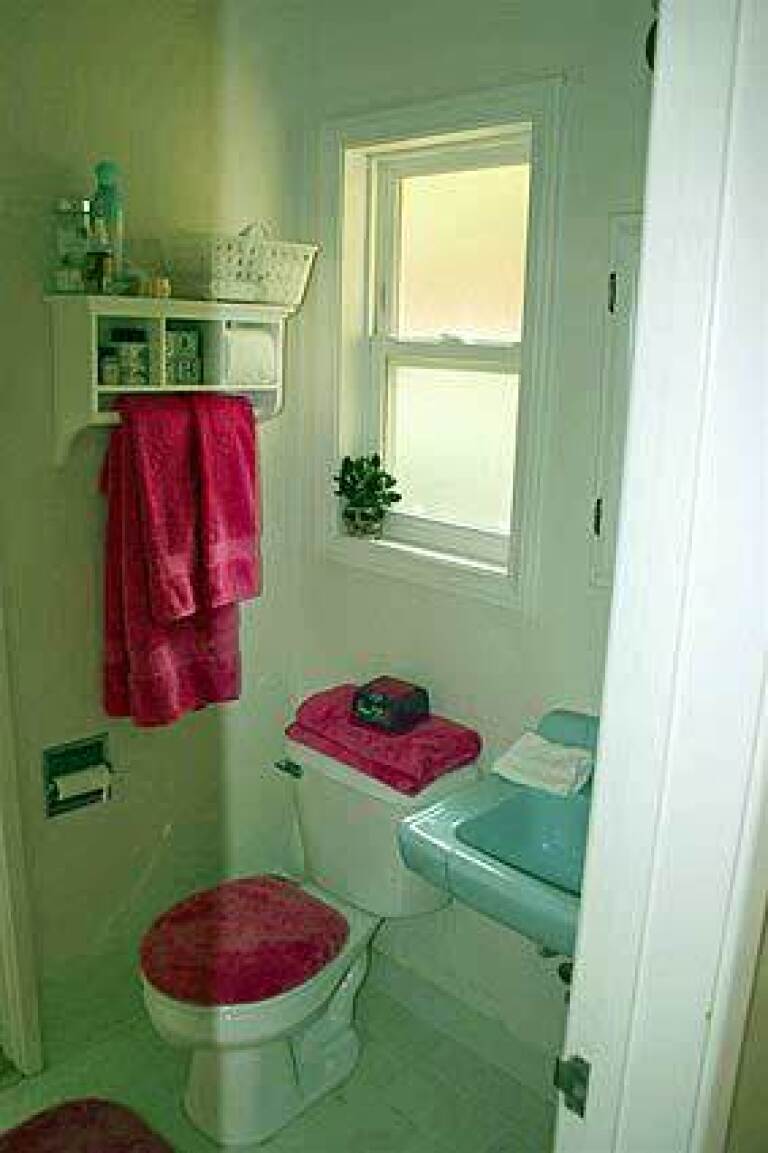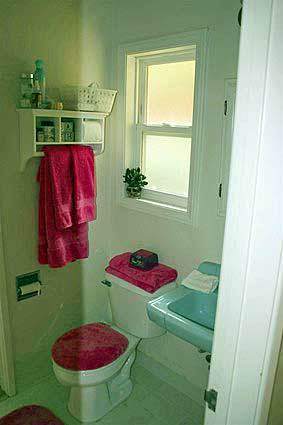 Turquoise must have been in when the "before" bathroom, the smaller of the two, was originally constructed, around 1950.
(Rod Foster)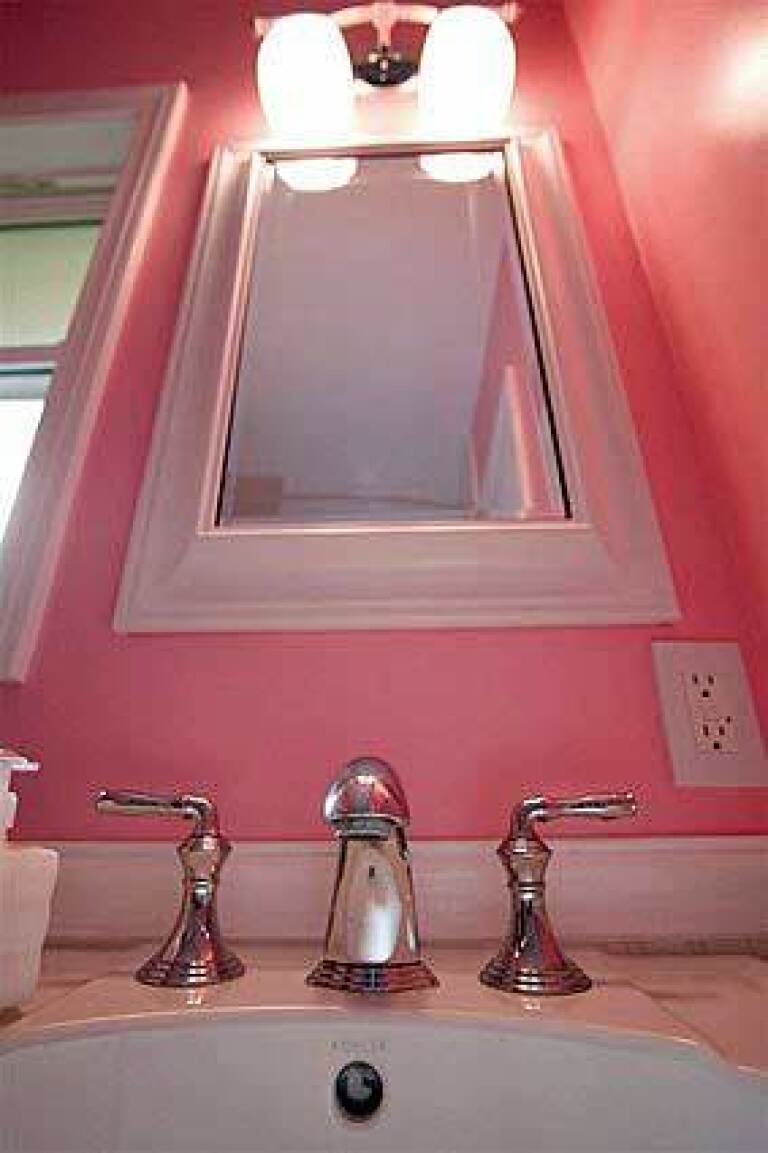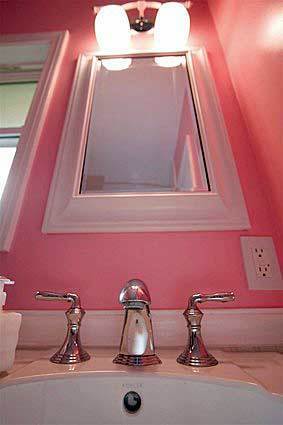 The chrome fixtures help provide the old-time feeling homeowner Meg Moreta was after.
(Rod Foster, xx)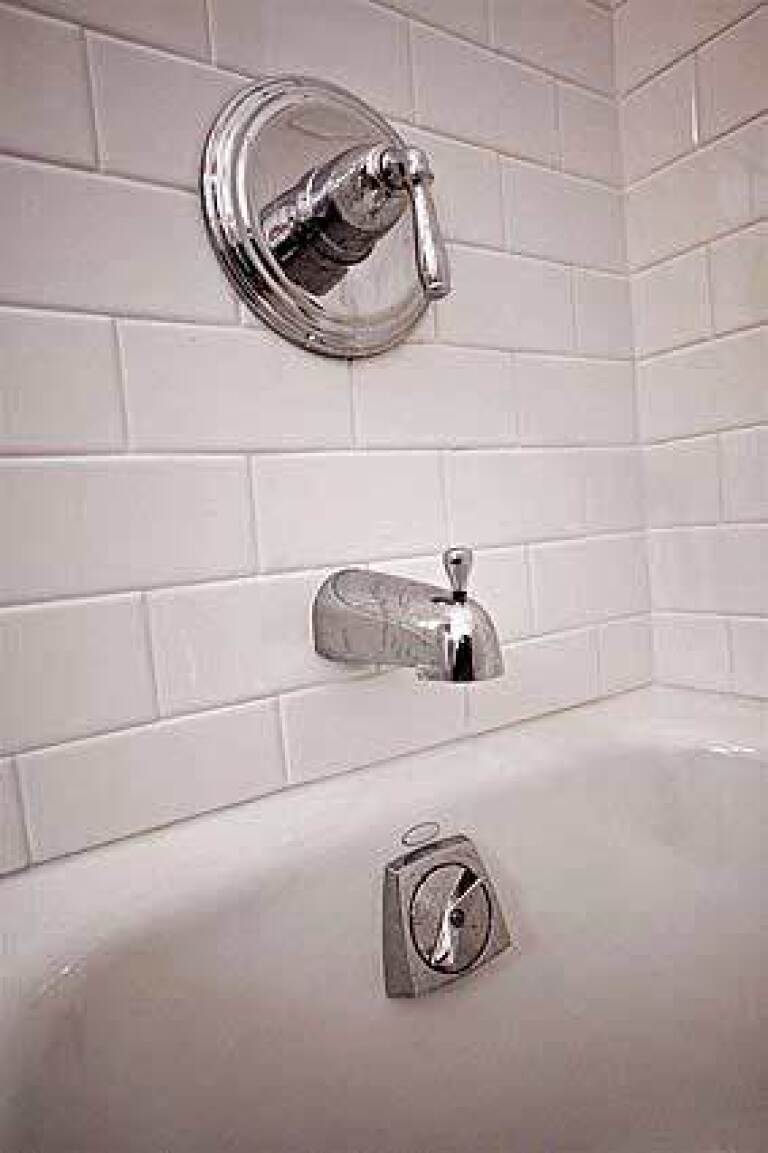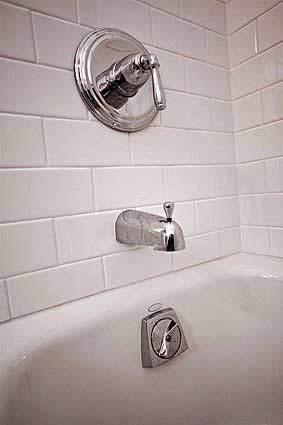 White tile and chrome fixtures give the space a clean look — and the theme and decor of the bathroom can be changed with wall color and accessories.
(Rod Foster)
The beadboard wainscoting, or decorative paneling, gives the small bathroom extra character.
(Rod Foster)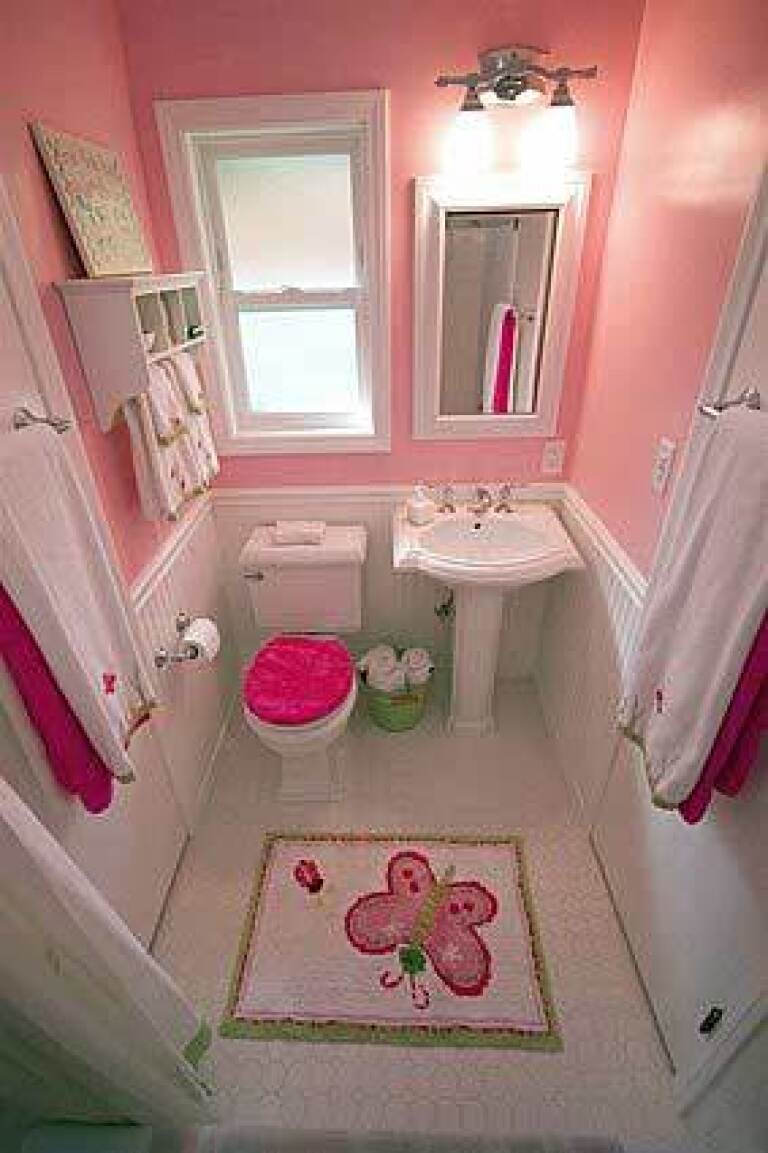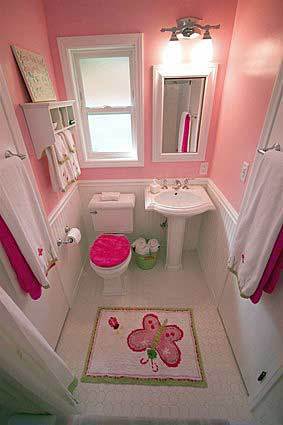 Because of this bathroom's small size, the homeowner figured that remodeling it would be inexpensive. Yet, the job cost $14,300 because of the complexity of gutting and completely redoing the room -- and because of the four-and-a-half day turnaround time.
(Rod Foster)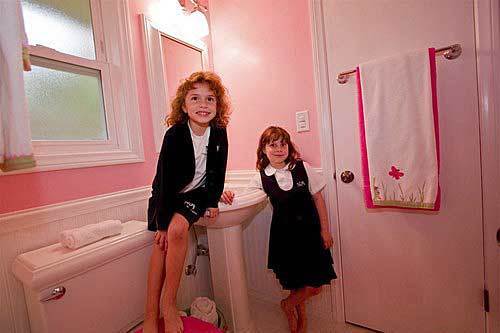 Sisters Madeline, left, and Gabrielle enjoy their new pink bathroom. All the fixtures, tile and flooring are white so that as the girls grow, the walls can be painted different colors to accommodate their changing tastes.
(Rod Foster)
Special to The Times
The impetus to remodel is not always about trendy bathroom tile or increased property values.
For Los Angeles homeowner Meg Moreta, a 43-year-old dietitian, it was her long battle with stage 3 ovarian cancer.
"I had to start anew," Moreta said, who recently passed the five-year mark of being cancer-free.
Among her first projects were painting some rooms and clearing away years of clutter.
She also wanted to gut and redo the master bathroom, which held memories of hard times.
"The bathroom was just that gross place where I was sick," she said. But Moreta's desire to remodel the master bathroom, and her daughters' bathroom as well, was tempered by her need to avoid unnecessary stress.
She didn't want to find herself standing in a fixture store, for instance, overwhelmed with myriad choices in faucets. She didn't want workers in her house for weeks or months. And she didn't want to be waiting around for subcontractors to show up.
Then, last summer, Moreta spotted a truck on the road emblazoned with the name One Week Bath, and she was intrigued with the idea of a remodel done that quickly.
The idea slipped her mind until three weeks later when she spotted another One Week Bath truck parked in the driveway of a nearby home.
A couple of weeks after that, while searching the Internet for information for her mother's remodeling project, she came across One Week Bath again.
"This is a sign," she recalled thinking, and e-mailed the company.
A few days later, designer Lisa Tanner came for a visit, took photos and sought to determine how serious Moreta and her husband, Luis Moreta-Sainz, a physician, were about going forward.
Tanner studied magazine pictures that Moreta showed her of the looks she was after -- a traditional style for the master bath and a vintage crisp white look for the kids' bathroom. The smaller bathroom could be remodeled in one week, the designer told her, but remodeling the master bath, which has both a shower and a bathtub, was considered a two-week project.
On her second visit, Tanner brought design catalogs and boxes of samples -- tiles, granite, knobs, etc. -- for the couple to choose from.
All were in the styles Moreta had requested, which simplified the process and helped prevent the selections from being overwhelming.
For the master bathroom, the couple selected a dark-stained double vanity with Craftsman-style doors and legs. It looks like a piece of furniture. For the counter, Moreta first wanted dark granite, but Tanner persuaded her it would be too dark, so Moreta chose something lighter. She selected a tan, stone-like ceramic tile for the walls, as well as for the bath and shower surround, and a band of stone and glass accent tiles. Other touches included knobs and fixtures of brushed nickel, sconces and a mirror with a dark metal finish.
For the kids' bath, Moreta wanted all the surfaces except the walls to be white so the bathroom could evolve with the girls -- Gabrielle, 7, and Madeline, 5 -- as they grew. She chose white subway tile and white wainscoting as well as a white-tile floor with a vintage look. Chrome fixtures added metallic accents.
After the selections were made and before construction began, Budgee Hill, technical sales manager, came out to make final measurements and work out any last details.
On the Monday the small-bathroom remodel began, One Week Bath parked a construction trailer in Moreta's driveway, where it would remain for the week, and set up work and storage areas in the garage and backyard. A portable toilet was set up outside for the workers.
From the moment demolition started on Monday until the job was done at midday Friday, Moreta recalled, the three-man crew, led by Oscar Herrera, worked nonstop except for breaks.
"They worked constantly," she said.
The following Monday, the crew started on the master bathroom and completed it in nine days.
Glitches in both projects were quickly resolved. In one case, the glass tile running in a band around the kids' bath surround was a smaller size than the couple had specified, made up of 1-inch tiles rather than 2-inch tiles. To make up for it, even though Moreta didn't think it was a big deal, the company installed the wainscoting for free.
In another instance, Moreta noticed one morning that the new toilet installed in the master bathroom was the wrong fit and style. By noon, it had been replaced with the correct one.
Moreta is thrilled with the new bathrooms and thinks the prices were reasonable: The girls' bathroom cost $14,300 and the master bathroom, $30,000. But just as important for her, and her health, was the easy process.
"I had no stress," she said.
Moreta said she plans additional improvements to the 1,800-square-foot, four-bedroom ranch-style house that she and her husband have owned since 2000.
In her life and her home, transformation is now her theme.
"Eventually," Moreta said, "it will all be changed."
To comment on this article, or to reach Kathy Price- Robinson, go to kathyprice.com. If you would like to have your remodel considered for use in Pardon Our Dust, please send before and after images and a brief description of the project to Real Estate Editor, Los Angeles Times, 202 W. 1st St., Los Angeles, CA 90012.
---
Inside the homes of the rich and famous.
Glimpse their lives and latest real estate deals in our weekly newsletter.
You may occasionally receive promotional content from the Los Angeles Times.