Caltech wins a $1.1-billion patent verdict against Apple and Broadcom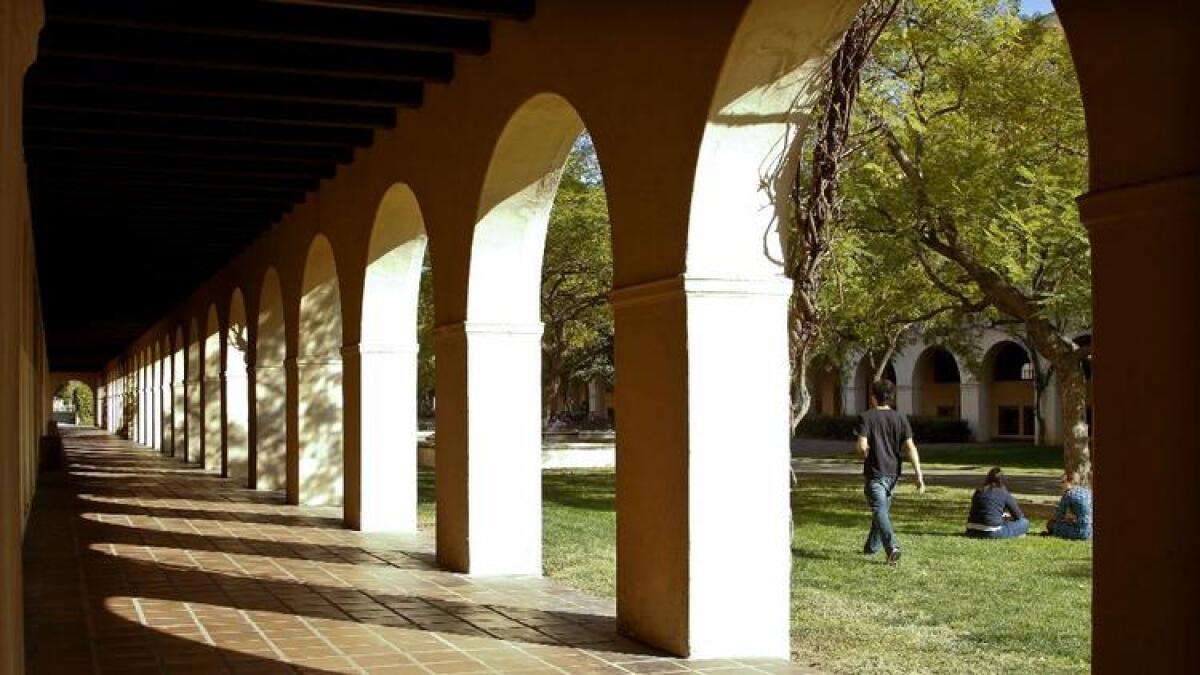 Apple Inc. and Broadcom Inc. must pay $1.1 billion in damages for infringing Caltech patents on Wi-Fi technology, a federal jury in Los Angeles ordered.
Apple was ordered to pay $837.8 million while Broadcom was hit with a $270.2-million verdict, according to lawyers for Caltech. The school sued the technology companies over patents related to wireless data transmissions.
It's the biggest jury verdict of any kind so far this year and the sixth-largest patent verdict of all time, according to Bloomberg data.
Apple said it plans to appeal the Caltech verdict. Broadcom said that it also plans to appeal, and that it disagreed with the factual and legal basis for the verdict.
Lawyers for the two companies have denied infringing the patents and said the school wasn't entitled to significant damages even if they were using the inventions.
Caltech filed the lawsuit in 2016 and named iPhones, iPads, iPods, Apple Watches, Mac computers, HomePod smart speakers and the since-discontinued AirPort wireless routers as devices using the infringing Broadcom components.
Apple and Broadcom previously said in court filings that the accusations against Apple are "based solely on the incorporation of allegedly infringing chips" in Apple products.
The only issues before the jury were whether the Broadcom chips used the university's patents and, if so, how much in damages was owed. The verdict against Apple marks one of the biggest against the Cupertino, Calif., technology giant in its history.
But if any company knows how to get rid of a billion-dollar patent-infringement verdict, it's Apple.
In the last decade, the iPhone maker has evaded a $533-million verdict over controlling digital content, a $506-million judgment over microprocessor technology and a $625.5-million verdict over a way to display documents. In cases Apple hasn't won, the company keeps fighting — it has been embroiled in a decade-long fight to avoid paying as much as $1 billion to VirnetX Holding Corp. over secure communications technology.
Apple is "certainly one of the most targeted entities out there, so it makes sense for them to aggressively defend themselves when they don't see a path to settlement," said Jonathan Stroud, chief intellectual property counsel for Unified Patents, which challenges patents used in litigation against its members, including Apple. "Otherwise they'll be seen as an ATM and continue to be targeted regardless."
Led by Chief Litigation Counsel Noreen Krall, Apple's strategy has been geared toward maintaining the company's high profit margin. That means waging a years-long battle with Samsung Electronics Co. when Apple thought the Korean electronics maker had copied iPhone designs and a no-holds-barred fight with chipmaker Qualcomm Inc. to lower royalties it pays on crucial telecommunications technology.
The cases don't always end in complete victories. Apple kept losing market share to Samsung, and its battle with Qualcomm ended in a settlement in which it paid the chipmaker billions of dollars and agreed to start using Qualcomm's chips again.
"This is just the starting point," Bridget Smith, a lawyer with Lowenstein & Weatherwax in Los Angeles, said of Wednesday's verdict. "They're still going to have to win on appeal."
Apple also has been accused of being a bully when it comes to using other companies' inventions. Medical device maker Masimo Corp. says Apple stole health-monitoring technology, and a Florida company that makes "virtual iPhones" to test for flaws has accused Apple of trying to control security research.
The big-dollar verdicts against Apple are in part because of its size. The $838 million won by Caltech is less than two days worth of sales for Apple and equal to less than 2% of the company's $55.3-billion net income in fiscal 2019.
Broadcom's share of the verdict could mean a bigger rap to that company's bottom line. The San Jose chipmaker reported $22.6 billion in sales in the fiscal year that ended Nov. 3, and net income of $2.7 billion. Broadcom shares slipped $2.31, or 0.7%, to $315.20 on Thursday.
Caltech said it is "committed to protecting its intellectual property in furtherance of its mission to expand human knowledge and benefit society through research integrated with education."
District Judge George Wu, who presided over the trial, has ordered a telephone conference Feb. 6 to determine the next steps in the case.
No $1-billion-plus verdict has ever stood in a U.S. patent-infringement case: They are tossed on appeal or settled for a lower amount.
"Less than a hundred million, there's not a lot of attention," said Bernard Chao, a professor at the University of Denver Sturm College of Law. "But when you get in excess of nine figures, I think you start raising eyebrows and drawing attention."
The biggest decision won by a university was a $1.17-billion verdict in favor of Carnegie Mellon University against Marvell Technology Group Ltd. in 2013. An appeals court later ordered that damages be recalculated, and the case was settled for $750 million.
"When you have a number that big, the courts scrutinize the verdict and say, 'Is this legit?'" said Patrick McElhinny of K&L Gates in Pittsburgh, who represented Carnegie Mellon. "They typically are. As long as they are grounded in the record, they are perfectly appropriate."
For years, Apple and other Silicon Valley companies have been trying to lower how much patent owners can collect in damages. They have argued that too often juries are awarding big awards when the invention is for a tiny component in a complex device.
The concern, said Timothy Holbrook, a professor at Emory Law in Atlanta, is "giving too much weight to the value of this technology as it relates to a broader product."
Working to limit damages is at the heart of a Supreme Court petition Apple has filed seeking to overturn a $439-million judgment won by VirnetX. In a second case involving the same patents but newer products, a federal appeals court ordered a recalculation of a $503-million verdict.
Even as tech companies want to avoid paying high royalties, universities are trying to collect more money from their research, with recent lawsuits filed by the University of California against Abbott Laboratories over an infant formula and against lighting companies and retailers over LED bulbs, along with a cross-country battle among research institutes over who will get royalties on ground-breaking gene-editing technology.
Universities are seen as the incubators for new ideas and have to rely on a sometimes fickle federal government for funding, said Peter Corless, a patent lawyer with Mintz Levin in Boston who often represents universities.
"Everyone is so under pressure to come up with funds to be more competitive and put together better packages for incoming professors," Corless said. The universities nonetheless have been asking themselves, "If we start asserting some of our patents against blue-chip corporate America, is that appropriate for us and who we are?"
Many legal experts predict the damages award will be cut if Apple doesn't get an outright victory, but Corless said Caltech won't give up without a fight.
"It's a big deal," he said. "It would change an institution if they get the money."
Decker, Lopez and Bultman write for Bloomberg.