Microsoft will seek to reboot Activision Blizzard's culture after $68.7-billion acquisition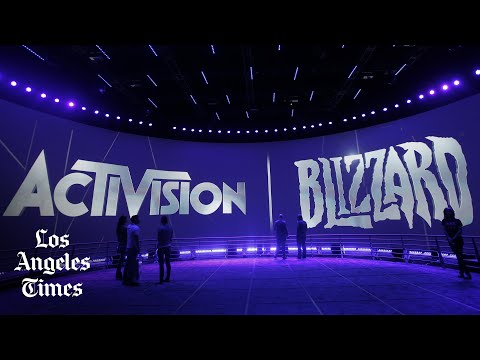 Microsoft would gain access to games such as 'Call of Duty' and 'Candy Crush,' as Activision remains in turmoil over claims of misconduct and unequal pay.
After announcing his company would be buying Activision Blizzard for $68.7 billion — its biggest acquisition to date — Microsoft Chief Executive Satya Nadella delivered a message to the game studio's roughly 10,000 employees: change is coming.
The Santa Monica video game company has had a tumultuous year. California's Department of Fair Employment and Housing filed a lawsuit against the firm last summer, alleging that senior leaders allowed sexual harassment and pay discrimination to continue unchecked throughout the company for years. A Wall Street Journal investigation in November showed that Activision Chief Executive Bobby Kotick knew about sexual harassment allegations for years. Nearly a fifth of the firm's staffers signed a petition calling for Kotick's resignation.
In an early-morning call Tuesday, Nadella made it clear he was aware of the company's failings and the anger they have engendered internally. "We believe it's critical for Activision Blizzard to drive forward on its renewed cultural commitments," Nadella said. "We are supportive of the goal and the work Activision Blizzard is doing, and we also recognize that after close, we will have significant work to do in order to continue to build a culture where everyone can do their best work."
To the workers who have been pressing for reform at Activision, news of the acquisition brought mixed feelings. On one hand, Kotick is expected to leave after the deal is completed, according to Blomberg, and Microsoft doesn't have a reputation for an abusive workplace culture. On the other, Kotick's presumed departure will come with a nine-figure golden parachute, and workers who've been struggling for protections including increased job security now face the prospect of post-merger streamlining.
For gamers, meanwhile, the merger could mean that more of Activision's back catalog becomes available, and the company's tentpole franchises such as "Call of Duty" and "World of Warcraft" could become more easily accessible via Microsoft's cloud streaming technology — assuming they're willing to buy Microsoft hardware or join its gaming subscription service.
If approved by antitrust watchdogs, the combination would make the Seattle software giant the third-largest gaming company by revenue, behind Japan's Sony Group and China's Tencent Holdings.
Following a report that Activision CEO Bobby Kotick was aware for years of sexual misconduct claims, employees are demanding the company replace him.
The acquisition comes at a time of financial vulnerability for the gaming company. Activision's share price had dropped 30% in the last six months, after news of the California lawsuit first broke. Microsoft agreed to pay $95 per share in the merger, however, nearly 45% above the stock price before the deal was announced, valuing Activision at a premium over its pre-lawsuit price, though below its February 2021 peak above $103 per share.
Microsoft has been on an acquisition spree in recent years, with Nadella looking to invest its $130 billion in cash reserves. In 2020, the company held talks about acquiring TikTok, as the Trump administration pushed the Chinese social video app to sell to an American company, before that deal fell through.
The video game industry has also been booming during the pandemic, with profits driven to new heights as consumers spend more time at home due to COVID-19 precautions, and has seen a number of mergers as studios look to invest. Last week, "Grand Theft Auto" creator Take-Two Interactive announced a deal to buy mobile game company Zynga for more than $11 billion. In 2021, Electronic Arts bought Codemasters, a racing game company, for $1.2 billion, and Microsoft bought Zenimax studios, the company behind "Doom" as well as the "Elder Scrolls" and "Fallout" franchises, for $7.5 billion in 2020.
Microsoft's video game strategy depends on having exclusive in-house titles to build up its subscription service, Game Pass, for which users pay a monthly fee to access the company's catalog of games. Although its games division only brings in 7% of Microsoft's total revenue — $11.5 billion of $168 billion in 2021 — the subscription business is growing fast. Phil Spencer, Microsoft's gaming chief, has said that he sees a major growth opportunity in Microsoft's cloud computing capability, which allows users to stream games on any computer, rather than requiring a powerful desktop machine or Xbox console.
"Players everywhere love Activision Blizzard games, and we believe the creative teams have their best work in front of them," Spencer said in the announcement. "Together we will build a future where people can play the games they want, virtually anywhere they want."
Activision's stock surged 26% in trading Tuesday on news of the acquisition, while Microsoft shares dropped more than 2%. Analysts broadly described the deal as a sensible move for Microsoft — and welcome news for Activision employees looking for real change at the company.
"Bobby was probably looking for some sort of exit, and Microsoft happens to be in a position to have the patience and ability to fix it," said Andrew Uerkwitz, an analyst with Jeffries. "Employees are probably breathing a sigh of relief that they work for Phil [Spencer] now and Bobby's stepping down." He noted that Microsoft's subscription model and scale of operations takes some of the urgency out of hard deadlines.
The newest version of "Halo," one of the Xbox's flagship games since its 2001 debut, is a case in point. After the pandemic hit in early 2020, Microsoft made the call to push the game's release by a full calendar year to allow its developers to adjust to remote work and work through snags in the game's development. "Activision never would have done that with 'Call of Duty,'" its flagship title, Uerkwitz said, with the company's financial performance lashed to tentpole releases.
That newfound flexibility under Microsoft might also allow Activision to revive smaller titles in its back catalog, Uerkwitz said. Just as the steady cashflow and retention model of a subscription user base has allowed Netflix and HBO to fund mid-budget films, the Game Pass model means that "Microsoft doesn't need only triple-As, they need double-As and smaller titles, and can tap into that catalog to find smaller-scoped games that fit in a subscription service."
The early-morning news came as a surprise to workers at Activision Blizzard, who expressed ambivalence about the deal. Jessica Gonzalez, a former employee at the company and organizer with the worker group A Better ABK, which led the effort to push for Kotick's resignation and an employee walkout last year, said this doesn't change anything for the group's objectives.
"A Better ABK will still push towards worker representation, no matter who owns Activision Blizzard," she said. "Nothing changes organizing efforts, we hope Microsoft will honor employee representation but will move forward either way."
Gonzalez expressed disappointment at what she described in a tweet as a "golden parachute" for Kotick, whom workers have been calling on to step down for months. If Kotick leaves within 12 months of the acquisition and is not fired for cause, he will receive a total compensation of more than $292 million, according to a compensation chart in the company's 2021 annual shareholder report.
Xbox creator Seamus Blackley said on Twitter that he was "sickened that the reward for years of despicable practices toward developers seems to be a huge payday for its perpetrators. My hope is that the acquisition will cause the Activision culture to change, and may catalyze some accountability for those who have so far avoided it."
Unrest at the game company extends beyond the allegations of harassment and discrimination detailed in the California lawsuit. Workers at Raven Software, the Activision division that leads "Call of Duty" development, walked off the job in early December after several members of the quality assurance department were let go at the end of their contracts. Between 70 and 75 workers from Raven and other parts of Activision Blizzard are still on strike.
One of the workers who had been on strike, Alex Dupont, said the news didn't change much for his colleagues in the short term given the 2023 timeline for the deal.
Dupont resigned last week, saying that he "didn't want to be with a company that disposes a third of a department and won't tell those remaining why," and said he was "a tad wary" of the implications of the deal for working conditions at Activision. He cited Microsoft's policy of allowing contractors to work only 18 months at a time with six-month breaks in between, a major stumbling block in the development of the game "Halo Infinite," as a source of concern. He is optimistic, however, about Xbox's history of buying studios and "giving them a lot of autonomy" in day-to-day operations, he said.
Microsoft said that the deal is not expected to close until fiscal 2023, with the expectation that regulators will take some time to examine the antitrust implications of the merger. In an open letter to employees, Activision's Kotick wrote, "Microsoft recognizes the commitment to excellence and creative independence that sets us apart, and we anticipate minimal changes for our workforce following the close of the transaction," and said the company will continue to operate independently of its new parent.