Fed Chair Jerome Powell: Strong hiring could force further rate hikes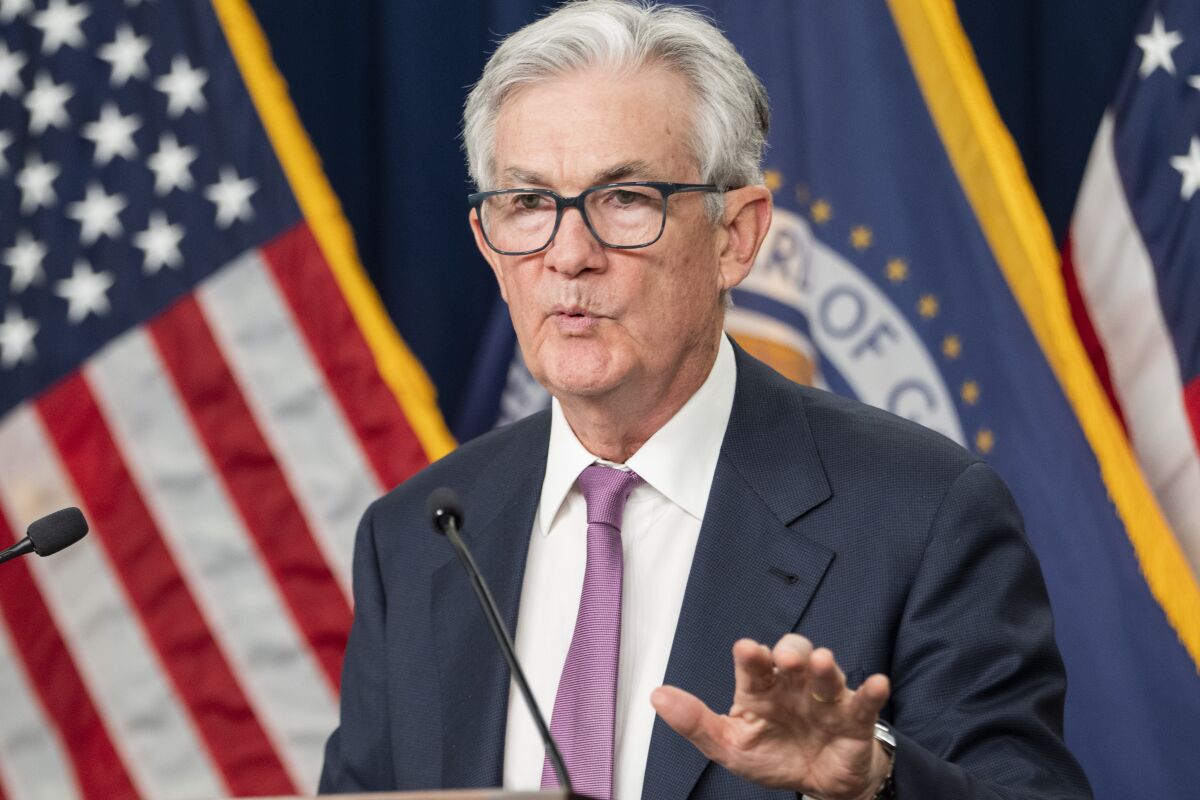 Federal Reserve Chair Jerome H. Powell said Tuesday that that if the U.S. job market further strengthens in the coming months or inflation readings accelerate, the Fed might have to raise its benchmark interest rate higher than it now projects.
Powell's remarks followed the government's blockbuster report last week that employers added 517,000 jobs in January, nearly double December's gain. The unemployment rate fell to its lowest level in 53 years, 3.4%.
"The reality is if we continue to get strong labor market reports or higher inflation reports, it might be the case that we have to raise rates more" than is now expected, Powell said in remarks to the Economic Club of Washington.
Though price pressures are easing and Powell said he envisions a "significant" decline in inflation this year, he cautioned that so far the central bank is seeing only "the very early stages of disinflation. It has a long way to go."
Even as the Fed has raised rates dramatically — by 4.5 percentage points, to a range of 4.5% to 4.75%, the fastest increase in four decades — the job market has remained surprisingly resilient. In addition, inflation, though still high, slowed to a year-over-year rate of 6.5% in December from 9.1% in June.
America's employers added a stunning 517,000 jobs in January, a surprisingly strong gain in the face of the Federal Reserve's higher interest rates.
The slowdown in inflation, even while the economy has stayed healthy, has raised hopes in financial markets that the Fed might be able to achieve its goal without having to raise borrowing rates so high as to cause a steep recession.
But Powell brushed aside that notion Tuesday.
"There's been an expectation that it'll go away quickly and painlessly," Powell said. "I don't think that's at all guaranteed."
Instead, he warned that in his estimation, "it will take some time, and we'll have to do more rate increases and then we'll have to look around and see if we've done enough."
Inflation has slowed at the same time that the unemployment rate has declined — a trend that defies most economic models. Powell said that phenomenon reflects the unique nature of the post-pandemic U.S. economy.
Inflation has a way of affecting nearly every aspect of your finances, including the size of your tax refund and your retirement contributions.
"It's just confounded all sorts of attempts to predict what it will do," he said.
Powell's remarks Tuesday followed the moderately optimistic note he struck at a news conference last week. Speaking to reporters then, Powell noted that high inflation had begun to ease and said he believed the Fed could tame spiking prices without causing a deep recession involving waves of layoffs.
But the Fed chair warned that the job market was still out of balance, with robust demand for labor and too-few workers in many industries leading employers to sharply raise wages, a trend that could help keep inflation high.
Some Fed officials have already said the stronger-than-expected jobs report made it more likely that the central bank will have to keep raising its benchmark rate, which affects the rates on many consumer and business loans.
Neel Kashkari, president of the Federal Reserve Bank of Minneapolis, said Tuesday morning in an interview on CNBC that January's outsize hiring gain showed that the Fed's higher rates have so far had only a limited effect in slowing the economy.
"We need to raise rates aggressively," Kashkari said, "to put a ceiling on inflation, then let monetary policy work its way through the economy."
Sign up for the California Politics newsletter to get exclusive analysis from our reporters.
You may occasionally receive promotional content from the Los Angeles Times.