U.S. solar surge collides with higher rates and shifting economics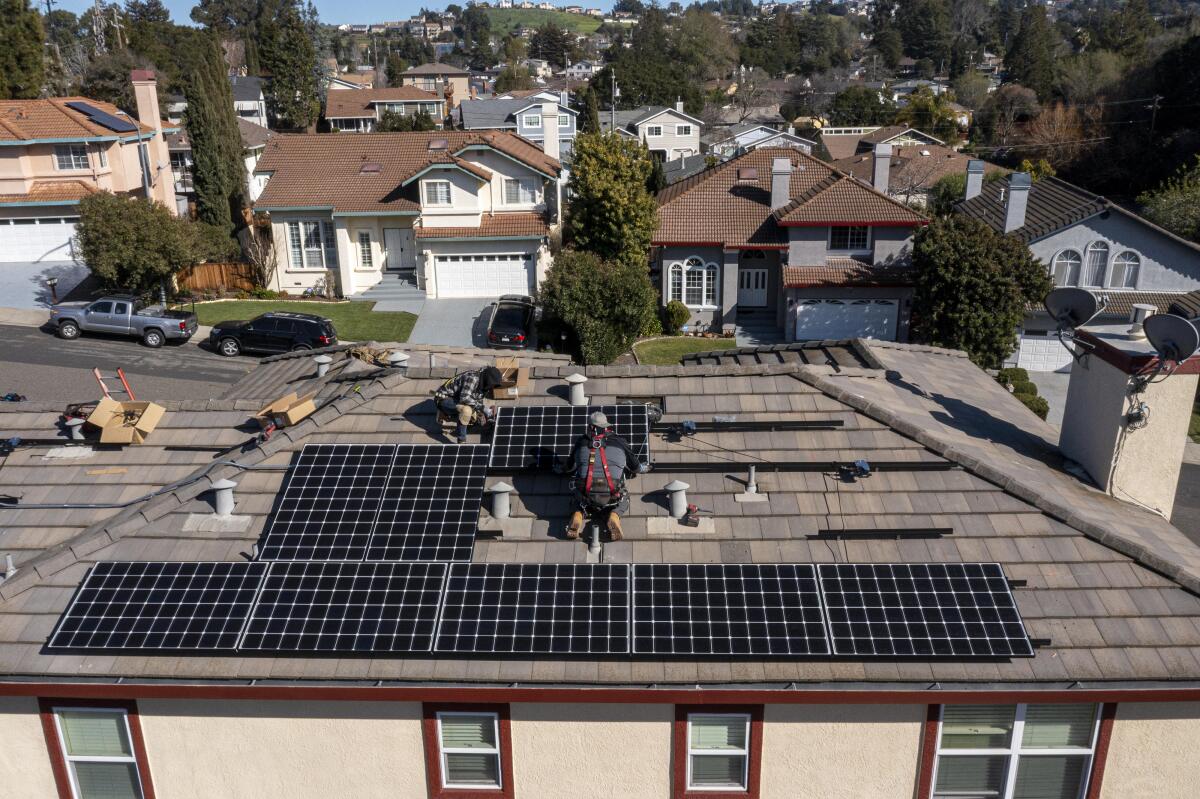 The booming U.S. residential solar market is at a crossroads. It's being supported like never before by expanded federal funding and fears of increasingly fragile grids and volatile fuel prices. But solar also faces unprecedented headwinds, including soaring interest rates, state subsidy cuts, a weaker economy and historic rainstorms.
Investors got an early look Wednesday at which trend may win out, as SunPower Corp. kicked off a weeklong period in which three of the biggest U.S. residential solar companies report earnings. SunPower said it sees more growth ahead. But the market has been less sanguine, with shares of SunPower and fellow home solar companies Sunnova Energy International Inc. and Sunrun Inc. down at least 28% since President Biden signed the Inflation Reduction Act in August.
"These are serious headwinds, but they are reversible headwinds," said Pol Lezcano, an analyst at BloombergNEF. "There are ways for the industry to adjust to keep the market at reasonably high levels of activity."
The bumpy start to the year follows a banner 2022. The U.S. residential solar sector almost certainly set an annual record for installations last year — potentially as much as 30% growth, according to Lezcano. Even with a possible economic slowdown, 2023 may still top last year's deployment total, though it would be tougher for the country to meet Biden's lofty climate goals.
Hopes for expanded deployment are being buttressed by Biden's new climate law, which is ushering in billions of dollars in new clean energy funding. They're also being supported by fuel costs that have caused electricity prices to surge in many regions, along with potential energy shortages that have led to more frequent threats of blackouts in grids such as California's and Texas'.
"Utilities keep sending us new customers," John Berger, Sunnova's chief executive, said in an emailed statement. "Last year, the price of electricity went up more than in the previous 10 years combined."
At the same time, rising interest rates are increasing the cost to finance panel purchases. And California, by far the biggest market in the U.S., is facing a deep cut to subsidies, heavy rains that slowed installations in January and widespread layoffs in the tech industry, whose employees tend to be ideal solar customers.
Still, after a slowdown in bookings from mid-November to mid-December, SunPower CEO Peter Faricy is cautiously optimistic for 2023 after seeing growing demand in the first weeks of the year.
"The signal right now is pretty positive," he said in an interview late Wednesday. "All the states are doing better than planned."
Bloomberg writer Will Wade contributed to this report.
Sign up for the California Politics newsletter to get exclusive analysis from our reporters.
You may occasionally receive promotional content from the Los Angeles Times.