Biden administration backs new bill that could ban TikTok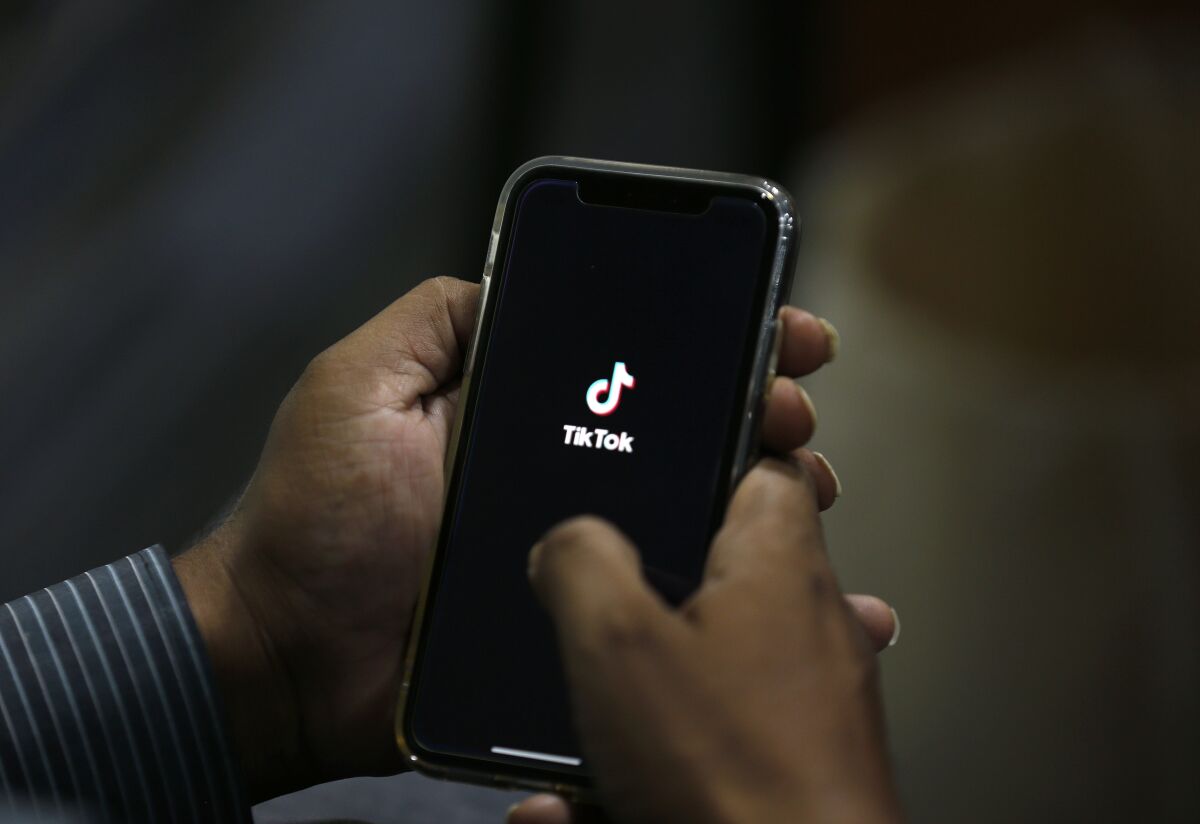 The White House endorsed a bipartisan bill that could give the president authority to ban or force a sale of TikTok, support that could hasten passage and break a deadlock over how to handle privacy concerns around the popular Chinese-owned app.
The bill introduced Tuesday would give the president the ability to force the sale of foreign-owned technologies, applications, software or e-commerce platforms if they present a national security threat to U.S. users. It doesn't mention Beijing-based Bytedance Ltd.'s TikTok by name, but the video-sharing app, which has about 100 million users in the U.S., is the clear target.
"We look forward to continue working with both Democrats and Republicans on this bill, and urge Congress to act quickly to send it to the president's desk," national security advisor Jake Sullivan said in a statement.
This is the first time the Biden administration has weighed in on legislation to deal with the app, which the White House says poses national security risks. Critics of TikTok say it allows the Chinese government access to data and viewing trends of the roughly 100 million Americans — as well as users globally — who have made it one of the world's most popular apps.
A number of countries have banned the use of TikTok, the Chinese-owned video-sharing app, on government devices over cybersecurity concerns.
At the same time, the administration wants to avoid the legal challenges that beset former President Trump's push to ban TikTok and Tencent Holdings Ltd.'s WeChat messaging app. Trump ordered those products banned from app stores in 2020, but a federal judge blocked the order, arguing that it would violate free speech rights.
"These risks are not going away, and unfortunately our tools to date have been limited," Sen. Mark R. Warner, the Virginia Democrat who is one of the bill's co-sponsors, said at a briefing Tuesday. "We are going to create a new set of authorities."
It was unclear how the bill introduced by Warner and John Thune (R-S.D.), the Senate's No. 2 Republican, might affect a separate national security review of TikTok. That review, led by the Committee on Foreign Investment in the U.S., or CFIUS, was meant to come to an agreement addressing concerns surrounding U.S. user data. But that process appears to have stalled.
TikTok's opponents in Congress have rejected the company's assurances that its Chinese owner doesn't have access to U.S. user data, including viewing patterns and geolocation. In addition, reports that TikTok promotes or hides certain content has raised questions about whether Chinese authorities could influence what content American users see.
TikTok has presented a security plan called Project Texas that pledges to insulate the company's U.S. operation from Chinese influence. The plan includes an independent board of directors to oversee data security, third-party vetting and a partnership with Oracle Corp. to store user data and audit the platform's algorithms.
TikTok says every account held by a user under the age of 18 will have a default 60-minute daily screen time limit amid fears of overuse by minors.
TikTok's response
"The swiftest and most thorough way to address any national security concerns about TikTok is for CFIUS to adopt the proposed agreement that we worked with them on for nearly two years," TikTok spokeswoman Brooke Oberwetter said in a statement Tuesday. "We have been waiting for CFIUS to finalize our agreement for over six months now, while our status has been debated in public in a way that is divorced from the facts of that agreement and what we've achieved already."
The backlash has had TikTok waging an all-out charm offensive globally for months. To drum up goodwill and defend its data protection and content moderation policies in Washington, executives have enlisted lobbyists to engage with more than 100 congressional offices. In the second quarter of last year, TikTok spent $2.1 million on lobbying on issues including children's privacy, content moderation and antitrust — the most to date.
In comments that may have presaged the Biden administration's support for the approach in the Warner bill, Commerce Secretary Gina Raimondo said in an interview last month that "it's dangerous business" to "pass a law to outlaw a particular company. I think it's probably more thoughtful to say, 'These are the kinds of risks we're worried about, from these categories of companies and we're going to enable some department to run a process to assess the risk and take action.'"
Warner's bill would still need to go through a Senate committee, and it's unclear where the measure ranks among the priorities of Charles E. Schumer (D-N.Y.). As Senate majority leader, he determines whether it would come to the floor for a vote. It would also need to pass the House of Representatives, where several lawmakers have their own bills that would explicitly ban the app.
Anti-China sentiment crosses party lines in Congress, and a number of senators from both parties said Tuesday that they were aligned on taking action against TikTok. Republican Marco Rubio of Florida has said that it's time to ban TikTok "for good."
"We're very united on this topic," Sen. Daniel Sullivan, an Alaska Republican, told reporters. He said the U.S. needs to "bring all aspects of American power and policy" to the China challenge.
Sign up for the California Politics newsletter to get exclusive analysis from our reporters.
You may occasionally receive promotional content from the Los Angeles Times.