Alibaba to split itself into 6 business groups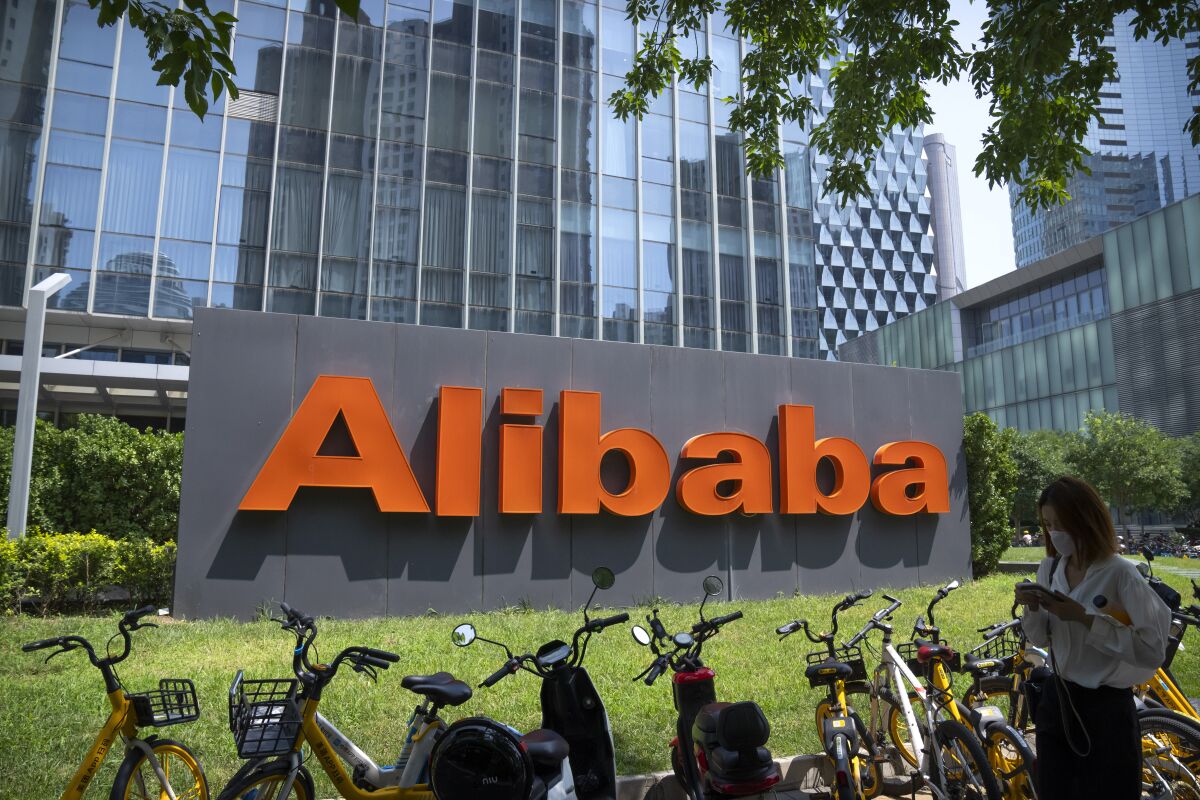 Alibaba is splitting itself into six business groups as the Chinese e-commerce company attempts to become more nimble in reacting to changes in the market and increase the value of those units.
Shares of Alibaba Group Holding Ltd. jumped 8% at the opening bell.
Alibaba Group Holding Ltd. said in a regulatory filing Tuesday that the six new groups will be made up of the Cloud Intelligence Group, Taobao Tmall Business Group, Local Services Group, Global Digital Business Group, Cainiao Smart Logistics and Digital Media and Entertainment Group.
The company said each group will be able to raise outside capital and potentially seek its own initial public offering, except for Taobao Tmall Business Group, which will stay wholly owned by Alibaba Group. Each group will be independently managed by its own chief executive and board of directors.
The Cloud Intelligence Group includes cloud, artificial intelligence and DingTalk. The Taobao Tmall Business Group includes Taobao, Tmall, Taobao Deals, Taocaicai and 1688.com. The Local Services Group includes Amap and Ele.me, while the Global Digital Business Group includes Lazada, AliExpress, Trendyol, Daraz and Alibaba.com. The Digital Media and Entertainment Group includes Youku and Alibaba Pictures.
After China imposed a record antitrust fine on Alibaba Group Holding Ltd., the e-commerce giant did an unusual thing: It thanked regulators.
Alibaba has faced increased competition from short-video platforms such as Douyin and Kuaishou, which also offer e-commerce services on their platforms. Its U.S.-listed stock has also been on the decline since a regulatory crackdown on the technology industry in November 2020 that saw regulators halt the initial public offering of its financial arm Ant Group and crack down on anticompetitive practices across the technology industry.
On Monday, Alibaba founder Jack Ma resurfaced in China after months of overseas travel. Ma founded Alibaba in the 1990s and was once China's richest man. He has kept a low profile with few public appearances since November 2020, when he had publicly criticized China's regulators and financial systems during a speech in Shanghai.
The Chinese government has been seeking to raise confidence in the private sector after regulatory crackdowns on technology, education, online gaming and financial companies, and harsh COVID-19 restrictions slowed the economy.
Ma stepped down as Alibaba chairman in 2019, saying he hoped to focus on philanthropy. In January, he ceded control of Ant, the financial technology firm, amid a revamp of its shareholding structure.
Jack Ma, China's richest man, is laying the groundwork for a future away from Alibaba Group Holding Ltd., the company he co-founded and turned into an e-commerce juggernaut.