This app promises you can 'shop like a billionaire.' But is there a catch?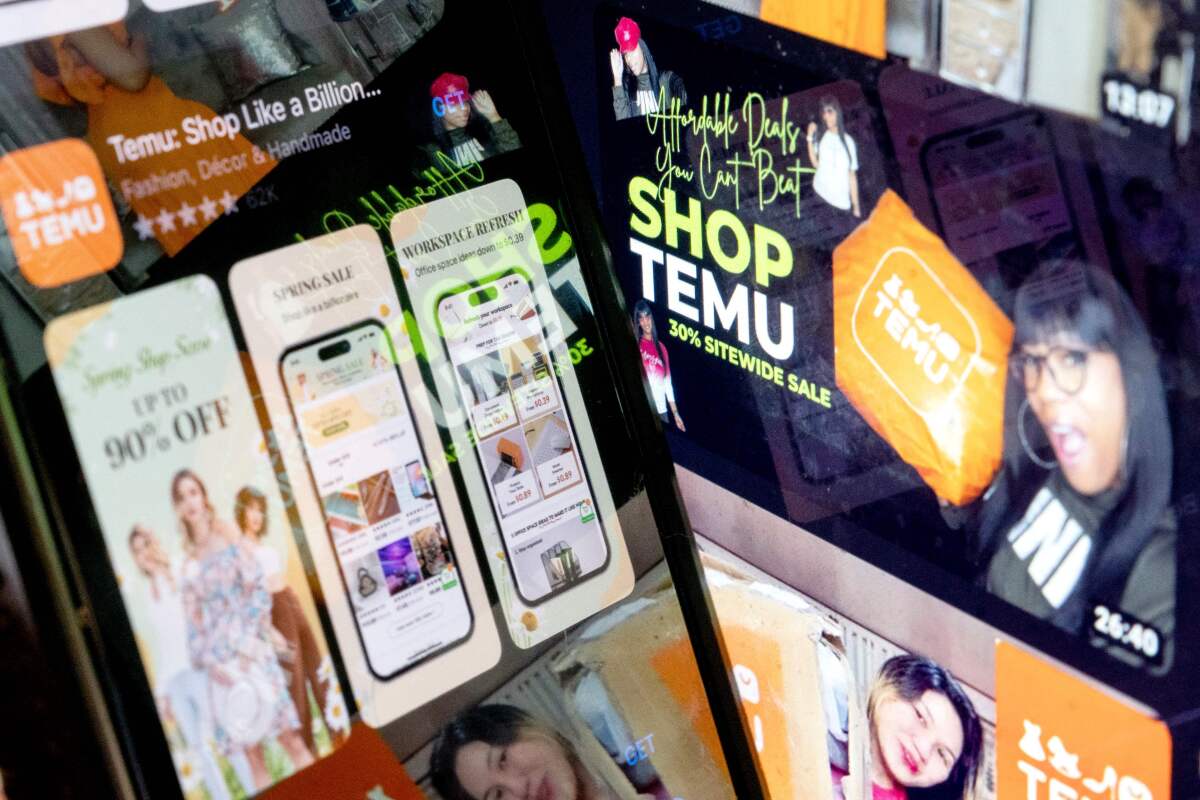 Headphones for $10. A garlic chopper for $4.90. A smartwatch for $12. With Temu you can "shop like a billionaire," an ad promises.
U.S. lawmakers meanwhile are suspicious of the Chinese e-commerce company — it went from unknown to the most downloaded app in the country in a matter of months.
The U.S.-China Economic and Security Review Commission released a report last month singling out Temu and Shein, the popular fast-fashion retailer, as two Chinese companies of concern over issues related to exploitation of trade loopholes, product safety, forced labor, violations of intellectual property rights and more.
Shein, which was founded in 2008, has grown to be ubiquitous online as the place to find cheap clothing and accessories, often of dubious quality. Its revenue reached $22.7 billion last year, and consumers don't seem to care about the controversies that surround the platform.
Temu seems to be trying to follow in its footsteps.
"Shein has really set a model for how a Chinese based e-commerce player can take off in the U.S. and gain traction, and most of that is based on price," said Sky Canaves, a senior analyst for retail and e-commerce at Insider Intelligence.
As the Biden administration weighs a ban on the app, many budding entrepreneurs fear losing a tool that has helped them build a robust customer base.
Temu is owned by publicly traded company Pinduoduo, a Chinese online retailer that focuses on the agriculture industry and is based in Shanghai. Temu itself is based in Boston.
Offering a wide range of items including electronics and clothing, Temu has seen exponential growth since it launched last September — from 5.1 million to 70.1 million U.S. unique visitors in February 2023, according to Insider Intelligence.
For years, Chinese manufacturers have reached U.S. consumers through Amazon. But as the cost of selling on the fast-delivery platform grows and Amazon cracks down on Chinese sellers for fraudulent reviews, more companies are trying to break into the American market on their own.
"[Chinese sellers like Temu] are kind of like middlemen that aim to cut out the middleman — helping consumers save money, while at the same time offering some of the trust that a platform can offer," Canaves said.
How Temu works
Temu takes a shock-and-awe approach to reeling in first-time visitors. There's no way to enter the website until you spin a wheel that offers $20, $50, and $100 coupons. Then a countdown timer starts, giving you one hour to claim it by scanning a QR code and downloading the Temu app.
Once you enter the site, a timer in the upper-left hand corner counts down the seconds until "free shipping on all orders" is no longer available. A row of lightning deals offers a random assortment of products for 73% off or 50% off. There's Mother's Day: up to 90% off. Prom 2023: up to 90% off. Beach Mode-On: down to $0.49. Appliances: up to 96% off.
Mimi Lan, a pop-up dinner and personal chef based in Jacksonville, Fla., said Temu has been immensely helpful in buying catering supplies to run her business.
"It's really hard when you're in the business that I do, as a chef, to do private dinners, and culinary productions. Presentation is important. Kitchen tools are important," Lan said. "You constantly have to buy all these things in order to do your event."
Although a generic fryer basket costs $5.45 each on Amazon, it's only $1.48 on Temu. The difference can add up when buying in bulk, Lan pointed out.
Lan is constantly in need of things such as garnishing tools, dumpling boxes, steamer liners, parchment paper and quality disposable plates. She used to get her supplies from AliExpress — another Chinese retailer owned by Alibaba Group — but now swears by Temu.
"It comes a lot faster than AliExpress," Lan said. "It's cheaper, it's packaged better, it's got [a] better warranty."
By warranty, Lan refers to being able to get refunds for items that she's had issues with. Lan said she would never buy items like clothing or electronics from Temu due to their poor quality, but she swears by their household goods.
Leezan Da, a financial advisor in Vancouver, Wash., also primarily buys kitchen-related items such as stove liners, tea bags and vegetable cutters. She doesn't mind the quality.
"What you get is what you pay [for]," Da said. "Don't pay much, that's what you get. I don't complain about it."
Da avoids electronics after trying out a small, portable washing machine that didn't work, but she'd still recommend Temu to friends for other items.
Temu has a 2.35 out of 5-star rating with Better Business Bureau, which has received 274 complaints in the last year as of April 2023 citing low-quality items, slow shipping and missing items.
Some analysts attribute Temu's early success to its heavy spend on marketing and push for app downloads. The company twice ran a 30-second ad in Super Bowl LVII, which would have cost about $14 million, according to Statista. Temu saw a 45% surge in downloads, and daily active users jumped by about 20% on the day of the Super Bowl, compared with the previous day, according to Sensor Tower data. The company has also run thousands of ads across Meta's platforms.
"There's absolutely no way Temu runs a profitable retail business," said Juozas Kaziukenas, founder of e-commerce research company Marketplace Pulse. "They are effectively buying market share and hoping in the years to come that market share will stick."
The true cost of a deal
A good deal on items for consumers often comes at a higher cost in other respects, and much remains unknown about Temu.
"Like Shein, Temu's success raises flags about its business practices," policy analyst Nicholas Kaufman writes in the U.S.-China commission report. "Temu's lack of affiliation with established brands has brought concerns of product quality as well as accusations of copyright infringement."
Temu did not respond to a request for comment.
There are also two main concerns from a U.S. regulatory perspective: companies with ties to China having access to vast amounts of consumer data, and broader consumer privacy and data security issues, Canaves said.
The question is "whether that data could then be accessed by Chinese authorities or used somehow to harm U.S. interests," Canaves said.
Although Temu has not been accused of doing either, the U.S.-China commission report cites a recent investigation by CNN of Pinduoduo's app for Google Android devices. The investigation found malware enabling the app to bypass security permissions to view activity on other apps, access private messages, change settings and make the app difficult to uninstall.
Shein's owner, Hong Kong-based company Zoetop, which also owns clothing retailer Romwe, was slapped with a $1.9-million fine by the state of New York in 2022 for mishandling credit card and other personal information after a cyberattack in 2018, the report mentions. The breach exposed the user data of 39 million accounts.
With concern over Chinese companies on the rise, Temu probably will face more scrutiny as its popularity grows.
Last month, a bipartisan commission on China wrote a letter asking the U.S. Department of Homeland Security to look into whether Chinese e-commerce companies such as Shein and Temu were violating a law that banned all imports from China's Xinjiang region with the assumption that they were produced using forced labor.
In March, the Treasury Department reportedly gave TikTok's Chinese parent company, ByteDance, an ultimatum: Sell TikTok or face a ban in the U.S. TikTok Chief Executive Shou Zi Chew was grilled by lawmakers over just how much influence China had over the platform.
More than two dozen states have banned TikTok on government-issued devices, and Montana legislators approved a bill last month to block TikTok in the state, the first ban of its kind.
However, whether a national ban is on the horizon remains unclear. In March, the House Foreign Affairs Committee voted to approve a bill that would give President Biden the authority to ban the platform directly, and a similar bill introduced in the Senate has bipartisan support. Neither of these bills have progressed.
Meanwhile, Temu is already setting its sights beyond U.S. shores. It launched in several European countries last month after launching in Australia, Canada and New Zealand at the beginning of March.
"We've really seen a meteoric rise of Temu that to me, looks pretty unprecedented in adoption of a consumer retail app, and usage," Canaves said. "The big question is how sustainable that is?"