KPCC buys LAist: Public radio stations are reviving Gothamist websites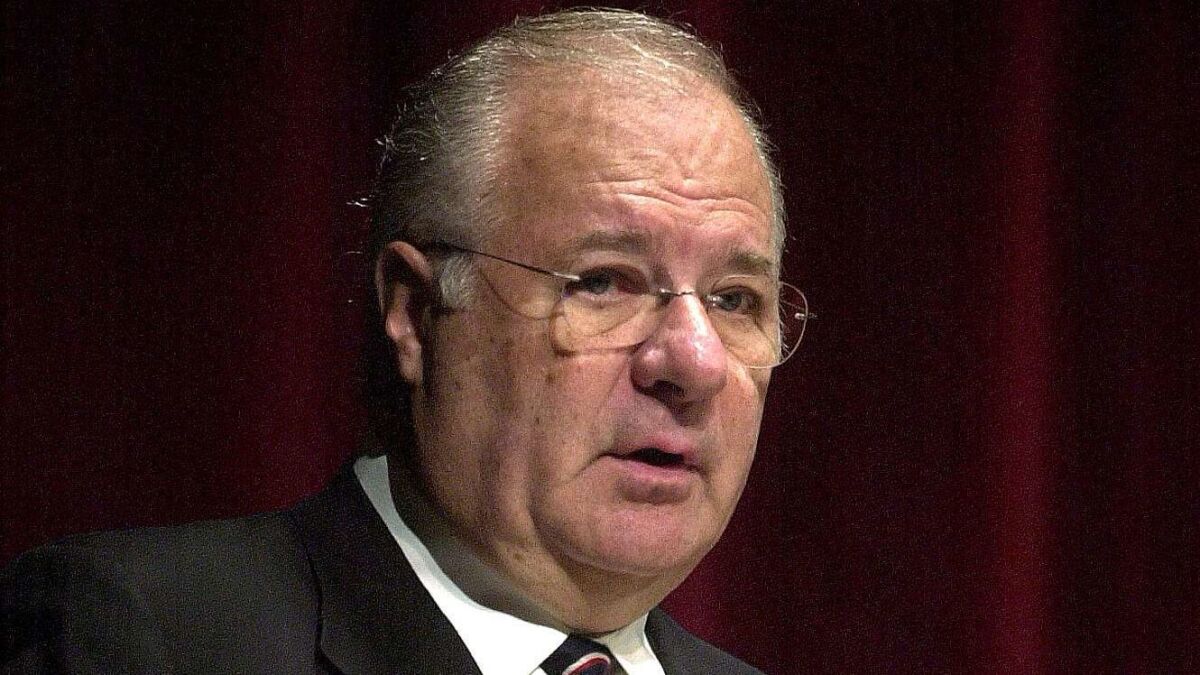 LAist, the news website that was shut down abruptly last year by its billionaire owner, will reopen under new management: public radio station KPCC.
KPCC said Friday that it will run the website out of its Pasadena offices after two anonymous donors provided funds for it and other public radio stations to buy LAist and other sites in the Gothamist network. WNYC in New York will run the flagship Gothamist site, and WAMU in Washington is taking over DCist.
By buying LAist, the Pasadena radio station is doubling down on its local-news focus and looking to expand its digital reach.
"KPCC's mission extends beyond the radio dial, and LAist's rich archive, robust social media following and recognizable voice gives us an opportunity to strengthen our digital presence and serve new audiences in Los Angeles and Southern California," said Alex Schaffert, the station's assistant vice president for digital strategy and innovation.
Joe Ricketts, the billionaire chief executive of LAist's former parent company, DNAinfo, abruptly shut his network of local media sites in November shortly after editorial staffers at Gothamist and DNAinfo in New York unionized.
Ricketts cited costs. "Progress hasn't been sufficient to support the tremendous effort and expense needed to produce the type of journalism on which the company was founded," he said in a statement at the time.
But several of the more than 100 journalists whose jobs he erased have alleged that wasn't true.
"The decision to close DNAinfo and the Gothamist sites [which Ricketts had purchased in March] was political, and not merely a question of finances," former LAist Editor in Chief Julia Wick wrote after her site was shut down. "Although continuously turning a profit in the news business is notoriously difficult, the five 'ist' sites, as we referred to them, had managed to operate in the black."
Ricketts sold off the story archives, internet domains and social media assets of the Gothamist and DNAinfo properties as part of the deal with the radio stations, KPCC reported.
In an interview Friday on the KPCC show "Take Two," President and Chief Executive Bill Davis hinted that his radio station paid about $50,000 for the LAist properties.
Buying LAist "strengthens our digital platform for a very, very affordable price," he said.
The station expects the purchase to greatly increase its digital reach. It said its own website drew 689,000 visitors last October, while LAist's drew 776,000. The amount of overlap between those two groups of visitors is unclear.
Schaffert said LAist — like KPCC — will receive funding from underwriting and will not be a for-profit venture.
Schaffert said new LAist material could appear as soon as this spring, but did not know how many people would be hired for the relaunch. If former LAist staffers want to return, they will need to apply for the jobs.
KPCC said it is forming a transition team to help integrate LAist into the station's newsroom.
"We want LAist to retain a distinctive voice," Schaffert said. "Our hope is that both LAist's online content and KPCC's on-air content will benefit from the partnership."
Davis said the station is still deciding how separate LAist's content and KPCC's content will be. "Somebody might do a broadcast story on KPCC.org, but there may be an LAist version or treatment of that," he said. "We're going to see how best to do that."
Meanwhile, Schaffert said, there are already clear ways the two can work together. "LAist has always been a community builder and a great place to find out what's going on in town. We have our own events team. This could be an area where we find early alignment in our brands." she said, adding: "We feel there is a lot we can learn from LAist and their timely and relevant daily digital report."
KPCC was focusing on boosting its digital presence already. Earlier this month it announced the hiring of Megan Garvey — formerly the Los Angeles Times' managing editor for digital — to run its newsroom.
As part of the deal announced Friday, KPCC gets LAist's archive of about 75,000 stories.
The website has been credited with breaking important news, including the story of Romulo Avelica-Gonzalez, a Los Angeles father who was detained by Immigration and Customs Enforcement while dropping off his young daughters at school last year. And last April, LAist reported on offensive online behavior by L.A. City Council candidate Joe Bray-Ali. That reporting led the L.A. Times editorial board to rescind its endorsement of the candidate.
The return of LAist comes at an especially bruising time for local journalism in Southern California. The region has seen a spate of layoffs and cutbacks at local news publications, including LA Weekly and the chain of local dailies owned by Digital First Media, including the Orange County Register and Los Angeles Daily News.
The Los Angeles Times also has been experiencing turmoil. The region's largest newspaper's editorial staffers voted in January to unionize, partly in response to dissatisfaction over decisions made by its corporate parent, Chicago-based Tronc Inc. A month after the union vote, Tronc agreed to sell The Times and one of its sister papers, the San Diego Union-Tribune, to local billionaire — and Tronc investor — Patrick Soon-Shiong.
In other cities, some of the websites Ricketts shut down won't necessarily be revived. Public radio station WBEZ in Chicago said it is looking into acquiring "Chicago-related assets from Chicagoist." The fates of SFist, which covered San Francisco, DNAinfo Chicago and DNAinfo New York are unclear.
In New York — where the unionization of Gothamist and DNAinfo staffers troubled Ricketts — any new Gothamist employees will be entering an already unionized shop. Staffers will have the option to join the union that represents WNYC workers, said David Cotron, a spokesman for New York Public Radio. "WNYC has had a collective bargaining agreement with SAG-AFTRA for many years."
Twitter: @dhpierson
---
UPDATES:
5 p.m.: This article was updated throughout with additional details, background information and comments.
This article was originally published at 8:25 a.m.
---