The Download: Cord-cutting: It's easier (and cheaper) than you think
You've heard this story before. Someone gets fed up with their cable company and drops the service. Either in an act of defiance or disillusionment, they choose instead to rely on Internet-based services and mobile apps for video entertainment.
It's my story too. I joined the cord-cutters club in August, sacrificing all-you-can-watch for a la carte, DVR for whatever-is-available-now. But what's interesting is not that my story is unique, but that my behavior is increasingly common.
It is the unremarkableness of choosing Netflix, Amazon Video, Hulu and other Internet-based services, or what's called "over-the-top" options, in lieu of the traditional cable bundle that makes the cord-cutting trend remarkable.
SIGN UP for the free California Inc. business newsletter >>
My experience is part of a broad movement away from bloated bundles, said Paul Verna, an EMarketer analyst who researches the cord-cutting trend. There are roughly 8.6 million homes in the U.S. like mine considered "cord-cutters," meaning they have high-speed Internet access but no cable or satellite television subscription, according to a study published this year by Experian Marketing Services.
"I think [cable] is a thing of the past," said Deb Cole. The Mission Beach, Calif., resident, in her late 30s, ditched cable in 2009 and now swears by her streaming accounts: Netflix, Amazon Video and HBO. "I loved my DVR and would record all these stations," she said. "The problem was I had to be home to watch them."
Even Richard Combs, 40, of Kensington, Calif., as traditional a television viewer as you can find, went cable-less a month ago. He took his wife and two kids with him to a strictly streaming entertainment diet with help from his Amazon Fire TV set-top box.
"The first few days were kind of weird," Combs admitted. "But I have to tell you, it's better."
Better, in part, because cutting no longer requires complicated configurations. All you really need is $100 or less for a set-top box such as an Apple TV, Amazon Fire TV or Roku, or an even more affordable streaming stick like Google's Chromecast. Then, your TV transports you into the always-expanding realm of Internet programming, which isn't as foreign as it sounds. Netflix and Amazon are, for instance, becoming networks in their own right with must-watch original series that arguably best the TV shows on the big four networks.
If you can't give up traditional TV, you don't have to. A digital antenna — I'm using a Winegard HDTV FlatWave antenna ($30) that I slapped up on my window — can provide your ABC, NBC or CBS fix free of charge. And Hulu, though not the perfect replacement for cable TV, has enough in-season network content to make giving up your DVR less painful.
Plus, this year a series of radical industry maneuvers have changed TV as we know it, making it easier than ever to dump your cable company.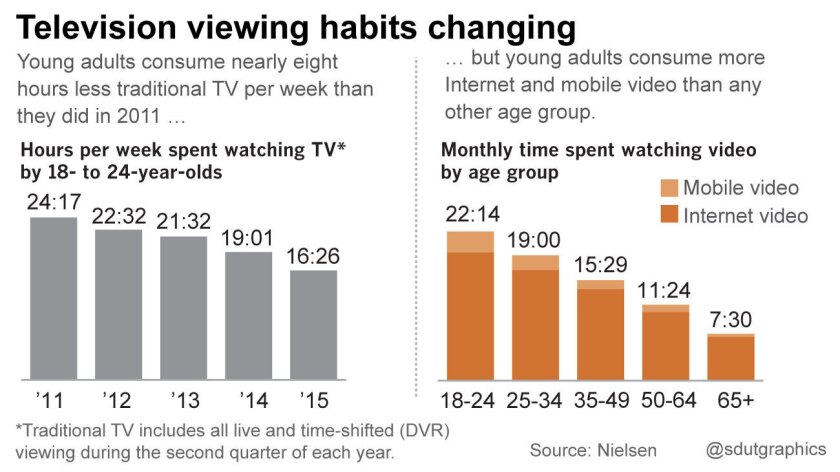 HBO and Showtime began selling their content catalogs as over-the-top options, meaning consumers can pay per month — $15 and $11, respectively — to stream the premium networks. Even CBS now sells its shows direct to consumers through a $5.99-per-month service called CBS All Access. And Sling TV, which launched in February, offers a squished version of the cable package: 23 channels including ESPN, TBS, CNN and HGTV, all streaming live and on-demand via the Sling TV app for $20 per month.
More options are on their way, meaning it's not inconceivable that your favorite channel will have its own subscription-based streaming app.
"There are some people who say [cord-cutting is] overblown," said EMarketer's Verna, "but if it wasn't real, you wouldn't see stand-alone services pop up."
If you already pay for Netflix or have access to Amazon Video (through Amazon Prime), you might have a light-bulb moment during your next apartment move.
Take Amanda Nelson, 28, who stopped paying for cable in 2010 when she split with her then live-in boyfriend. She couldn't stomach the cost of paying for cable solo. Like most of the cord-cutters I interviewed, Nelson's move made her rethink her entertainment choices. Today, the Golden Hill, Calif., resident happily subsists on the new commercial-free version of Hulu ($12), which she watches primarily via a 17-inch laptop that travels with her wherever she goes. She also shares — as in, doesn't pay for — Netflix, HBO and NFL Sunday Ticket accounts with friends and family.
"I travel frequently and like being able to watch my 'stories,' as my grandma says," said Nelson, who estimates she pays around $20 a month for her entertainment choices. "I recently spent a week in Miami, and it was nice to watch the most recent episode of 'Empire.'"
My own move to a new apartment presented me with the perfect opportunity to hit the reset button. I had been paying Cox $238.58 per month for Internet and cable at my former residence. A sales rep had, at one time, suckered me into a promotional deal for the cable provider's top-of-the-line Contour service, which came with all the bells and whistles, including the ability to record up to six — yes, six! — shows at once. At the time, the Contour bundle was cheaper than the other options available, so the excess seemed reasonable. Practical even.
But, as always happens, the promo price disappeared at a later date, and my bill was never the same. Sure, I could have downgraded my service or threatened to leave, but I've been down those paths before. They're just not fun.
These days, I pay $8 for Hulu, $20 for Sling TV and $45 for Internet access through Time Warner Cable. My new total comes out to $73 a month — or $165 less than what I was paying before. And, if I've learned anything, it's that money is more important to me than "The Real Housewives."
A word of caution, though. Cutting the cord isn't hard, but it comes with sacrifices some just won't be willing to make. I've had to learn to live without my former in-season Bravo staples, for instance. And my parents would not, could not give up Padres games, which are broadcast by Fox Sports San Diego and are not accessible through an antenna.
The cable providers can always count on people like my parents. Truthfully, they can rely on most of us for business, especially since we cord-cutters require high-speed Internet access for our in-home entertainment. And those of us who choose Sling are really just giving our $20 to Dish Network, which owns Sling but deliberately markets the streaming service as TV for the counterculture.
But, justified or not, those who forgo traditional cable ultimately feel liberated by the decision.
Combs used to be the "mark-his-calendar" kind of cable customer, calling every six months and threatening to cancel his AT&T U-Verse subscription if his bill wasn't lowered. "I was in a great deal for $140 ... and it was about to expire. I was playing the game, so I called the guy and said I was done.... He put me in this short-term program."
But this time around, Combs forgot to call back after the deal expired, and his bill went up to more than $200 a month. That "was the straw that broke the camel's back," he said.
"U-verse called me this morning and tried to pitch me on TV," Combs said. "I said no way. I love cord-cutting."
Me too.
Jennifer Van Grove writes about technology for the San Diego Union-Tribune.
jennifer.vangrove@sduniontribune.com
Twitter: @jbruin
Hoy: Léa esta historia en español
ALSO:
Yahoo's groundbreaking stream of NFL game garners 15 million viewers
Waze navigation app says battery drain 'significantly' improved in revamp
Air Force's plan for new stealth bomber could bring thousands of jobs to the Southland
---