Air Force's plan for new stealth bomber could bring thousands of jobs to the Southland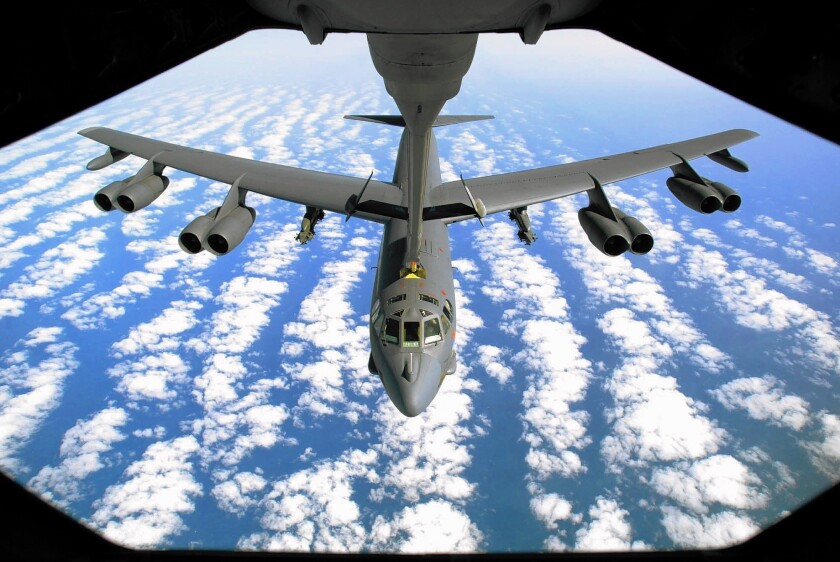 Reporting from Washington —
The Air Force plans to award a lucrative contract Tuesday to develop and build a fleet of 80 to 100 long-range stealth bombers over the next decade, a massive military spending project that could help resuscitate Southern California's beleaguered aerospace industry.
The estimated $60-billion initial contract is one of the largest in Air Force history and culminates an intense four-year battle involving three of the world's largest military contractors.
UPDATE: Northrop Grumman wins $60-billion Air Force contract to build new stealth bomber
Defense Secretary Ashton Carter and Air Force leaders will announce the winning bid — either Northrop Grumman Corp. or a team consisting of Boeing Co. and Lockheed Martin Corp. — at the Pentagon after financial markets close in New York to avoid turmoil in stock prices, according to U.S. officials who were not authorized to speak publicly about it.
Neither competitor has said where it will build the bomber if it wins. But aerospace analysts say that no matter who wins, much of the plane probably will be assembled at Air Force Plant 42 in Palmdale, a 5,800-acre industrial park owned by the military but leased to aerospace contractors.
Officials have said the project could bring more than 6,500 jobs to the area's aerospace industry, which has been hard hit by shifts in Pentagon spending.
Supporters still face a stiff public relations battle to convince skeptics of the need for a costly new strategic bomber. The project will require regular appropriations from Congress to stay on track, and its initial projected costs are almost certain to increase.
The Pentagon already is struggling with deep budget cuts, and the armed services and CIA increasingly rely on relatively inexpensive unmanned drones — not stealth bombers — to battle Islamic State militants in Iraq and Syria, and other targets around the world.
The Air Force maintains it is necessary to replace the nation's aging fleet of B-1 bombers, which were designed in the 1970s, and the even older B-52s, many of which were built during the Kennedy administration, as Russia and China move to modernize their militaries.
"The idea that we would run a Formula One or a NASCAR race with a car built in 1962 is ridiculous, but we're going to war with airplanes built in 1962," Gen. Mark Welsh III, the Air Force chief of staff, said at a news conference in August. "We have got to modernize the Air Force. It's just an imperative."
See the most-read stories this hour >>
The bat-winged B-2 bomber, the first bomber to use radar-evading stealth technology, first rolled off the assembly line in 1988. But it has rarely been used in the wars in Iraq, Afghanistan and Libya, which chiefly relied on less sophisticated warplanes and drones.
The Air Force has gone to great lengths to conceal details of the proposed bomber. It doesn't even have a formal name or designation yet, although analysts have dubbed it the B-3.
Its range, capabilities and other crucial details remain classified.
Officials have said it ultimately will be configured to carry thermonuclear weapons, and one day must be capable of flying as an unmanned aircraft.
The target price is about $606 million per plane, and the first bombers must be ready for combat around 2025.
The bomber build-up could create thousands of jobs at factories and military plants across the United States for the winner.
By teaming together, Boeing and Lockheed — the nation's two largest military contractors — have positioned themselves as the favorite to win because of their combined financial and political influence.
But Northrop, the underdog, is the only company to have built a stealth bomber, the B-2.
Analysts say the biggest challenge will be to avoid the exploding cost overruns that plagued previous big-ticket Pentagon programs, which have been fraught with pricey delays and embarrassing setbacks.
"Development is where you run into trouble," said Thomas P. Christie, a retired Pentagon analyst who spent more than three decades in acquisitions. "We've been here before."
Two decades ago, Air Force officials ordered production of 648 F-22 fighter jets at a price of $139 million per plane. Eventually, they got 188 at a cost of $412 million each.
Before that, the Pentagon wanted 132 new B-2 stealth bombers at about $500 million per plane. It ultimately bought 21 at $2.1 billion each.
To keep costs down, Pentagon officials said they don't intend to build a radically different bomber than those currently flown.
"We've learned lessons on past programs and have no desire to repeat those mistakes," said a senior military official who was not authorized to speak on the classified program. "We're not going to reinvent the wheel with this airplane. Rather, we're aiming on advancing what's already out there."
The official said past bomber programs relied on newly invented materials that took years to effectively develop. In contrast, the new bomber will rely on existing technologies, thus making it less demanding and less expensive to build.
Boeing is based in Chicago, and partner Lockheed is based in Bethesda, Md. Northrop, their rival, has headquarters in Falls Church, Va. But analysts said Southern California is where final assembly is likely to take place.
Air Force Plant 42 lies deep in the Mojave Desert, surrounded by tiers of razor-wire fence and tight security. Each of the competing contractors has facilities there where workers toil in secrecy, designing and building military aircraft.
Rockwell International, now owned by Boeing, built the supersonic B-1 "Lancer" there in the 1970s and 1980s. Northrop built the B-2 "Spirit" in Palmdale until 1997.
Interested in the stories shaping California? Sign up for the free Essential California newsletter >>
To make the location more appealing to contractors, lawmakers in Sacramento passed bills last year giving Northrop and Lockheed nearly $500 million in tax breaks if they build a significant portion of the bomber there.
The two competitors told the Los Angeles County Economic Development Corp. that the contract could mean 1,100 new jobs at the winning company's factory in Palmdale.
David Blanco, the chairman of the organization's defense jobs council, said the contract could create 5,500 jobs for local subcontractors and other businesses.
The work would be welcome to Los Angeles County's aerospace workforce, which fell nearly 70% — from 189,000 in 1990 to less than 60,000 in recent years because of budget cuts, defense company mergers and robotic automation.
The competing companies have employed legions of lobbyists in Washington, and won staunch supporters in Congress, because of the huge number of jobs at stake nationwide.
If Boeing and Lockheed win, they could gain a virtual stranglehold on the U.S. military aircraft market.
The Air Force has three multibillion-dollar aircraft programs underway. The F-35 is a new fighter jet, the KC-46 is a new aerial refueling tanker, and now the new bomber.
Lockheed won the fighter program contract, while Boeing won the tanker. A loss for Northrop, which builds the jet-powered Global Hawk spy drone, raises questions about the future of its aircraft division.
Regardless of who wins the contract Tuesday, the Air Force is braced for the loser to file a protest. That would delay the awarding of the contract by weeks or months.
"This is the biggest aircraft program in a generation," said Loren Thompson, military policy analyst for the nonpartisan Lexington Institute in Arlington, Va. "Winning this contract will be vital to the future of whoever wins. The loser will be devastated."
william.hennigan@latimes.com Twitter: @wjhenn
melody.petersen@latimes.com Twitter: @melodypetersen
Hennigan reported from Washington; Petersen from Los Angeles.
MORE BUSINESS NEWS
Column: Climate change will be an economic disaster for rich and poor, new study says
Does playing fantasy sports amount to gambling? Debate intensifies
Box office: Why did so few people turn out to see 'Steve Jobs'?
---
Must-read stories from the L.A. Times
Get the day's top news with our Today's Headlines newsletter, sent every weekday morning.
You may occasionally receive promotional content from the Los Angeles Times.