Apple says iPhones will automatically share location when people dial 911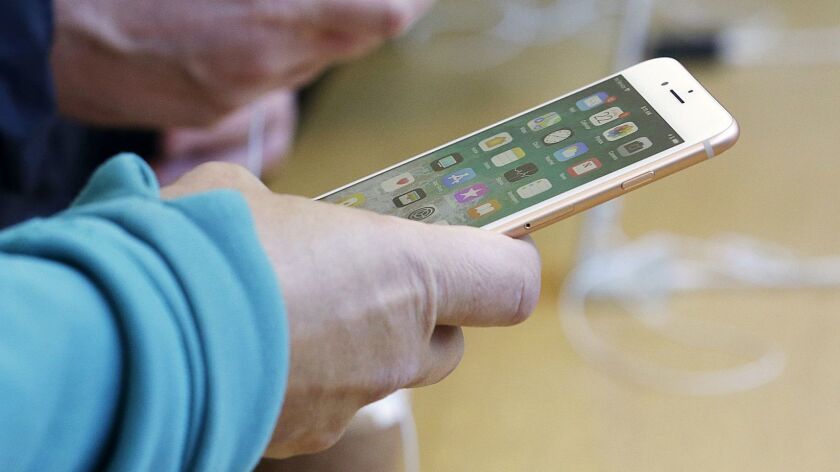 Your iPhone will soon be able to share your location data automatically if you ever have to call 911, Apple Inc. announced Monday.
The feature is designed to give first responders faster and more accurate information, helping to reduce the time it takes for emergency services to arrive. According to the Federal Communications Commission, about 70% of 911 calls are made by people using mobile phones. But outdated systems make it difficult for emergency call centers to pinpoint a mobile user's location, Apple said.
In 2015, the FCC created a mandate that requires major carriers to provide accurate location data for 80% of emergency service calls by 2021. Apple says that with the new feature — which will arrive in the fall with iOS 12 — the company exceeds this requirement.
"Communities rely on 911 centers in an emergency, and we believe they should have the best available technology at their disposal," Apple Chief Executive Tim Cook said in a news release.
Apple said the feature will build upon its existing Hybridized Emergency Location — or HELO — technology, which it launched in 2015. HELO uses a device's GPS and cell towers to estimate a 911 caller's location. Apple will also use tools developed by the company RapidSOS to quickly share that data with 911 call centers. The location data, Apple said, can't be used for nonemergency purposes and will be accessible only to the 911 center during an emergency call.
AT&T said in a statement Monday, "We are exceeding the FCC's requirements and working as an industry to implement improvements in 911 location accuracy for all our customers." Sprint said it "complies with current FCC 9-1-1 regulation and intends to comply with its obligations." Verizon said, "We have met each FCC regulatory deadline that has passed to date and are on track to meet the deadlines coming up." T-Mobile did not respond to requests for comment.
---