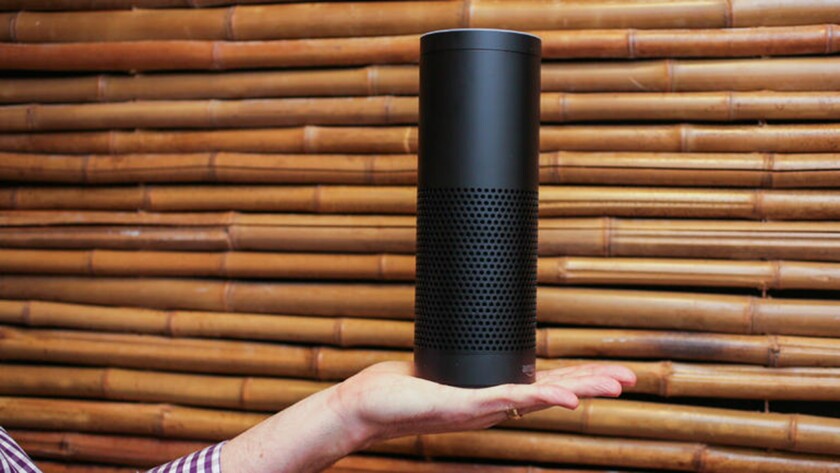 Amazon.com Inc.'s Echo voice-activated artificial-intelligence devices were the stars of what the e-commerce behemoth is calling its "best ever" holiday season.
Seattle-based Amazon said the Echo family of devices sold by the "millions," at a rate nine times greater than during last year's holiday season. The Echo is a home speaker through which Amazon's customers interface with Alexa, a voice-activated software assistant; it became widely available to U.S. customers in summer 2015. A smaller version, which connects to speakers, is dubbed the Echo Dot; it was unveiled earlier this year.
"Echo and Echo Dot were the bestselling products across Amazon this year," Jeff Wilke, the head of Amazon's consumer division, said in a statement.
Wilke said the company, despite ramping up production of the Echo line, "still had trouble keeping them in stock."
Amazon's comments come amid increased competition in the artificial-intelligence arena from a number of companies including Alphabet Inc.'s Google, which recently launched a home speaker that's similar to the Echo. The stakes are high, as experts say voice-activated interfaces point to the future of computing.
Read more: Amazon and Google want you to get a digital home assistant — even if you didn't ask for one »
Amazon didn't give out specific numbers, but its disclosure, along with a litany of other shopping facts released Tuesday, hinted at a profitable performance by a retailer that researchers say dominated online shopping during the holiday shopping frenzy.
Analysts expect Amazon to rake in fourth-quarter revenue of $44.71 billion. That's 25% more than in the same quarter last year.
The company said shipping activity, which peaked Dec. 19, was "record breaking" during the holiday season. Amazon said it shipped more than 1 billion items worldwide under its Prime loyalty program this holiday season, including products shipped by third-party merchants and fulfilled by Amazon.
Gonzalez writes for the Seattle Times/McClatchy.
ALSO
I bought an Amazon Echo ... and it's totally cool
I own an Amazon Echo and an Echo Dot, and I still don't know what they're good for
Hulu nabs the streaming rights for 56 Disney theatrical movies
---