Google banking on Android to help Google+ compete with Facebook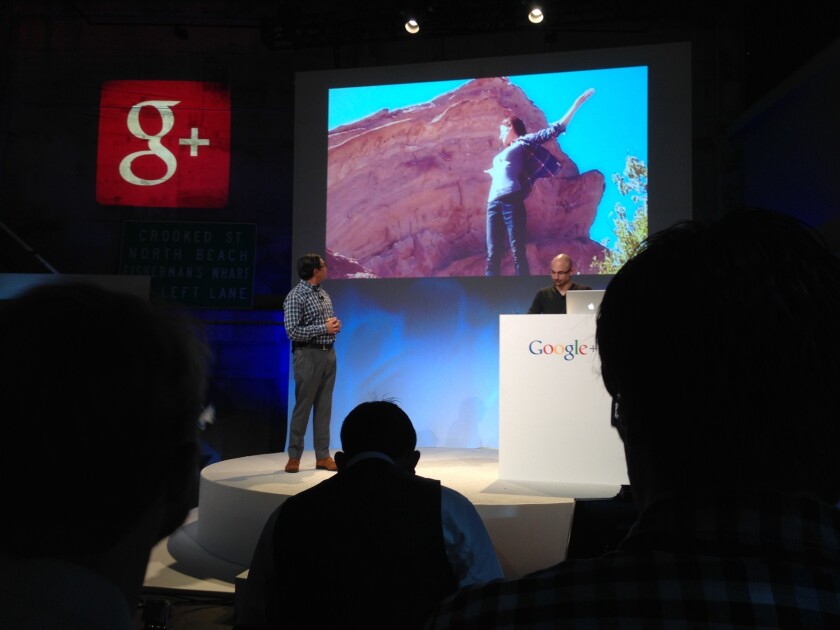 SAN FRANCISCO -- Google has unsheathed what could be its most powerful weapon yet in the war against Facebook for the hearts and minds of mobile device users: Android.
At a news conference in a San Francisco warehouse Tuesday, Google showed off a slew of new Google+ features that automatically enhance photographs and videos in a bid to convert hundreds of millions of snap-happy Android mobile device users into Google+ users.
Android could give the 2-year-old Google+ a boost. The search giant says it has 300 million "in stream" monthly active users on Google+ and 540 million active users who take some kind of social action on Google each month, nowhere near the population -- or popularity -- of Facebook with more than 1.2 billion users.
Google has tried all kinds of ways to gin up interest in Google+. Yet although many people have signed up for it, they are not as active on Google+ as they are on Facebook and other social networking services. (Google executives declined again Tuesday to release daily active user counts that would shed light on engagement, but did say that is the one metric that they care most about.)
But Android is a powerful tool in its arsenal. The mobile software was on nearly three-quarters of smartphones shipped during the second quarter of 2013, according to research firm IDC.
And Google+ is popular with photographers, some of whom were invited to be at the news conference Tuesday.
Some 1.5 billion photos are uploaded each week to Google+, said Vic Gundotra, senior vice president of engineering. That's far more than photo-sharing service Instagram, which is owned by Facebook. And Facebook users upload about 350 million photos every day.
In other news, Google is also going to tie Google+ to its new commenting system on YouTube. Anyone who wants to make comments on YouTube must have a Google+ account. A box will automatically be checked to publish that comment to Google+ but users can uncheck the box, Google executives said.
Google executives also declined to say when they would begin rolling out sponsored ads on Google+ but said they would do so in a "Googley" way that benefits users.
ALSO:
Sexism a problem in Silicon Valley, critics say
Like it? Social ads turn users into unwitting endorsers
Google+ adds new tools including making movies out of photos, videos
---
Your guide to our new economic reality.
Get our free business newsletter for insights and tips for getting by.
You may occasionally receive promotional content from the Los Angeles Times.