Apple rewards shareholders: It's buying back an extra $100 billion in stock and raising its dividend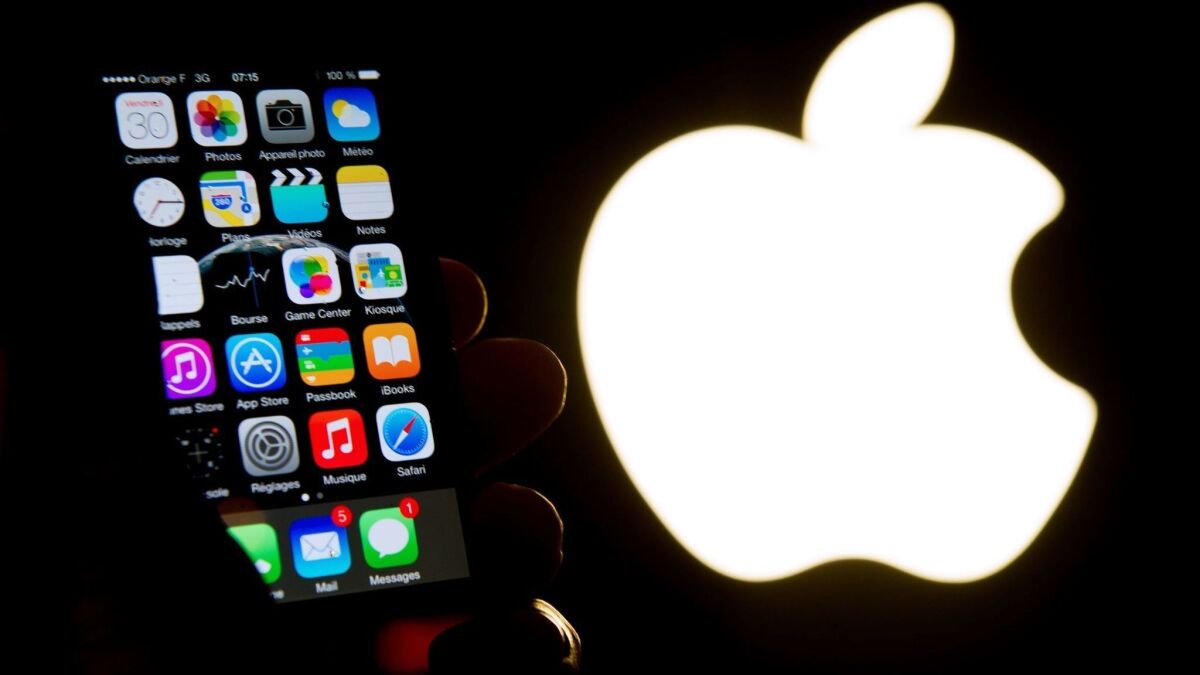 Apple Inc. said it will return even more money to shareholders as the company generates mountains of cash from gadget sales and benefits from recent U.S. tax cuts.
The company also reported revenue and profit that beat analysts' estimates and projected continued sales momentum, calming concern about demand for the iPhone, its most important product.
In announcing its quarterly earnings Tuesday, Apple committed to spend an additional $100 billion in share repurchases. That comes on top of the existing $210-billion buyback program to be completed during the current quarter.
Apple also increased its quarterly dividend for shareholders by 16%, raising it to 73 cents a share from 63 cents. Analysts, on average, expected the dividend to be raised to 74 cents, according to data compiled by Bloomberg.
The Cupertino, Calif., tech giant said its revenue rose 16% to $61.1 billion in its fiscal second quarter, which roughly spanned January through March. That was the fastest growth in more than two years. Profit came in at $2.73 a share. That beat analysts' expectations — they projected sales of $60.9 billion and earnings per share of $2.64, according to data compiled by Bloomberg.
Apple said fiscal third-quarter revenue will be $51.5 billion to $53.5 billion, also ahead of Wall Street forecasts.
Revenue growth in iPhones
Apple sold 52.2 million iPhones last quarter, up 2.9% from a year earlier. Analysts had projected 52.3 million, on average. The average selling price was $728, versus analysts' expectations of $740. That suggested the flagship iPhone X didn't perform as well as some anticipated when it launched last year.
Earlier this year, Chief Financial Officer Luca Maestri said iPhone revenue would grow by at least 10% year-over-year this quarter. Apple easily hit that goal, with 14% iPhone revenue growth in the period.
Concern about the iPhone business was fanned by suppliers that recently reported weak demand for high-end handsets, another sign the smartphone boom that made Apple the most-valuable company is ebbing. It has also been under pressure in China, where some consumers are shunning pricey iPhones and local rivals like Oppo and Vivo are grabbing market share. Tuesday's report eased these fears, with China revenue rising 21% year-over-year.
Although the iPhone X is one of the top smartphones on the market, the device's $999 starting price was too much for some consumers. However, Apple offers an increasingly broad array of other iPhones to suit different budgets. And it's working on a new lower-cost model that has iPhone X features like 3-D facial recognition and an edge-to-edge screen.
Apple Chief Executive Tim Cook highlighted strong revenue growth from iPhones, services and wearable devices like the Apple Watch. He was unconcerned about the high price of the iPhone X. "It's priced for the value that it is, an incredible product with lots of leading edge innovations that sets us up for the next decade," Cook said in an interview.
Services and wearables
Even as questions have swirled about iPhone demand, Apple continues to generate mountains of cash, and other businesses, such as services and wearable devices, are growing strongly.
Apple reported record services revenue of $9.2 billion, easily beating analysts' forecasts. The App Store, Apple Music, iCloud storage and Apple Pay all generated record sales, Cook said. The company is expanding these offerings with original videos and a news subscription service. Apple has said services will be a $50-billion annual business by 2021.
The company's "other products" segment continued to see strong growth, with revenue up 38% to $3.95 billion. The category includes AirPods headphones, the Apple Watch, Apple TV and the HomePod. Cook noted that sales of wearable devices jumped almost 50%, year-over-year.
Apple Watch sales have been driven by strong demand for new models with cellular connectivity. Thus far, however, the HomePod has lagged rivals like Amazon.com Inc.'s Echo speakers. Apple is also developing new AirPods and over-the-ear wireless headphones.
Stockpile of cash
Since its 2007 release, the iPhone has helped Apple generate huge profits. Apple sat on almost $300 billion in cash at the end of 2017 and has returned $275 billion to shareholders since starting its capital return program in 2012.
After the United States slashed corporate tax rates late last year, Apple said it would bring back most of its cash from overseas. At the annual shareholder meeting in February, Cook said the company would likely continue raising dividends rather than issue a one-time special dividend in light of the new tax law.
Morgan Stanley analysts recently estimated that U.S. tax changes gave Apple $163 billion of "dry powder" available to return to shareholders, in addition to the company's ongoing cash generation.
---
UPDATES:
2:55 p.m.: This article was updated with Apple's sales and profit figures.
This article was originally published at 2:15 p.m.