The Apple e-book antitrust lawsuit: What it means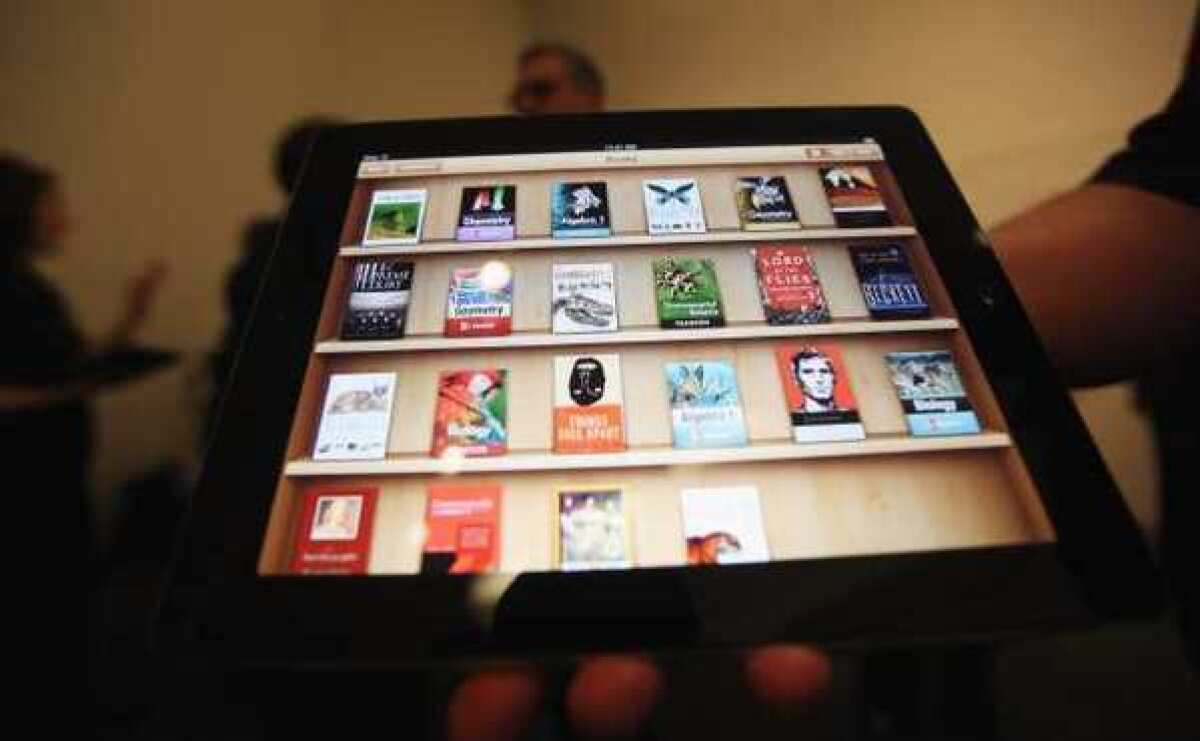 The Justice Department and attorney generals from 16 states sued Apple Inc. and five major book publishers, alleging they colluded to raise the price of electronic books.
The government said the conspiracy cost consumers more than $100 million over two years and added $2 to $5 to the price of new releases and bestsellers.
Here are answers to some questions related to the case:
Who are the publishers?
Three of the publishers -- Hachette, HarperCollins and Simon & Schuster – have settled with the federal government. But Holtzbrinck Publishers, which readers know under the trade name Macmillan, and Penguin Publishing Co. have not settled. Hachette and HarperCollins also settled with the states. Simon & Schuster is negotiating a settlement with the states as well.
What about Apple?
Apple has not settled and would not comment on the case.
Will the lawsuit go to trial?
There is always a chance that the current holdouts will reach a settlement, but if not, the Justice Department promised to move ahead vigorously with its lawsuit in federal court in New York against the remaining plaintiffs.
What was the alleged motivation of the publishers and Apple?
The publishers wanted to make more money and Apple wanted to avoid an e-book price war with Amazon.com as it launched its iPad tablet. Apple also wanted a bigger slice of the revenue from e-books than Amazon was content with.
What did the publishers that settled agree to do?
The three publishers that settled the federal charges – Hachette, HarperCollins and Simon & Schuster – will be prohibited for two years from restricting the ability of retailers to offer discounts to consumers, as Amazon had been doing before 2010. Restricting such discounts is a practice known as retail price maintenance that has been ruled legal in previous cases, but this prevents the publishers from even doing that in the near term. This will restore competition to the e-book market, said Mark Cooper, director of research at the Consumer Federation of America.
The agreement also prohibits the defendants from entering into any agreement with any electronic-book publisher to raise, stabilize, fix, set or coordinate the retail price or wholesale price of any electronic book, according to court papers.
Will consumers get any money back?
Federal antitrust suits normally focus on stopping anti-competitive behavior rather than on consumer restitution.
However, the suit by the state attorneys general is aimed at getting customer refunds. As part of a settlement with the states, Hachette and HarperCollins agreed to pay a combined $51 million in restitution to e-book customers nationwide. The states are still negotiating restitution with Simon & Schuster.
Details are still being worked out on how consumers would apply for restitution, which would come as either checks for previous purchases or credits for future purchases.
Will this result in lower prices for e-books?
That's the hope of federal and state officials. The complex arrangement prevented companies such as Amazon from selling e-books for less than what Apple was charging. A Hachette spokeswoman said it was too soon to tell what would happen to e-book prices. But Amazon said it looked forward to being allowed to charge lower prices on more e-books for its Kindle.
RELATED:
Lawsuit: Apple, publishers conspired.
Third generation iPad - here's a video review.
Los Angeles Times publishes its first ebook - "A Nightmare Made Real."
Times staff writer Jim Puzzanghera contributed to this report.
jerry.hirsch@latimes.com