Fair Labor Assn. says conditions improved at Apple supplier Foxconn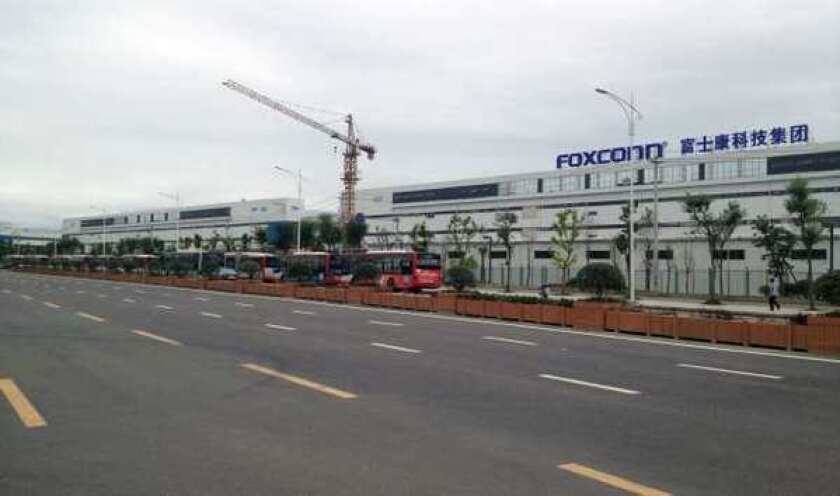 One of Apple's largest suppliers has improved worker health conditions and safety measures after a sweeping inspection by a labor watchdog group.
The Fair Labor Assn. said in a status report Tuesday that Foxconn, the Chinese supplier that has been heavily criticized in the past for making employees work alarmingly long hours and live in cramped dormitories, had successfully completed more than 280 actions recommended earlier this year by the group.
Those include reducing workers' hours, enforcing breaks, changing the design of workers' equipment, updating maintenance policies and testing emergency equipment.
After reports of suicides and dangerous working conditions at Foxconn, Apple and its suppliers agreed to allow the Fair Labor Assn. to inspect three Foxconn facilities in February and March in "one of the most comprehensive and detailed assessments in the history of manufacturing," the group said. As part of the process, the FLA provided Apple and Foxconn with its findings and recommendations, including a 15-month action plan with target dates for completion.
Independent investigators hired by the FLA returned to each of the factories from June 25 to July 6 to verify that several of those actions had been completed.
"Our verification shows that the necessary changes, including immediate health and safety measures, have been made," said Auret van Heerden, president of the association. "We are satisfied that Apple has done its due diligence thus far to hold Foxconn accountable for complying with the action plan."
Among the changes, Van Heerden said, was an overhaul of Foxconn's internship program. The company has pledged to ensure that student interns don't work overtime and that the work they do for the company has "a more direct connection" to their field of study. Interns are also free to leave the internship if they choose.
Workers' hours were a major cause for concern. The labor group said Foxconn has already reduced employee hours to fewer than 60 per week, including overtime. It plans to bring its factories in full compliance with the Chinese legal limit of 40 hours per week plus an average of nine hours of overtime. The company plans to be in full compliance by July 2013.
"The next phase of improvements will be challenging for Foxconn because they involve major changes in the working environment that will inevitably cause uncertainty and anxiety among workers," Van Heerden said. "As Foxconn prepares to comply with the Chinese legal limits on work hours, consultation with workers on the changes and implications will be critical to a successful transition."
ALSO:
Apple becomes most valuable company ever
Apple lets labor watchdog audit Chinese suppliers' factories
Audit faults Apple supplier's factories in China
Follow Andrea Chang on Twitter.
---