At CES, wearables take on challenges more complex than calorie-tracking or step-counting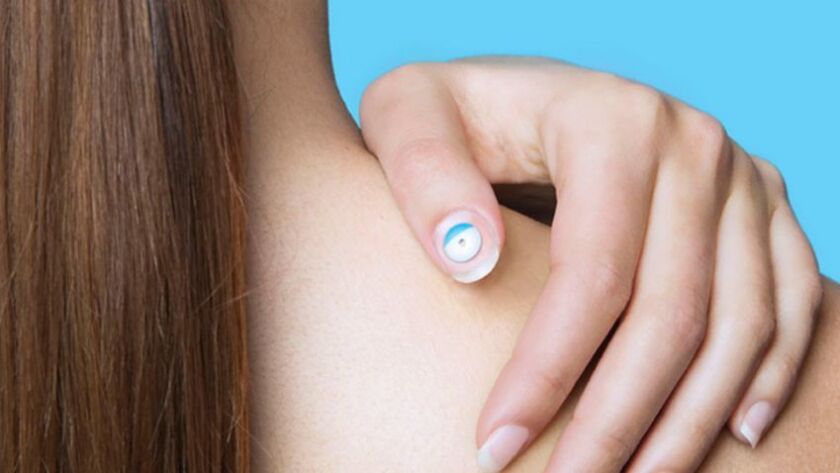 First there were fitness wearables. Then the focus turned to fashionable wearables. The latest evolution, seen throughout this week's CES in Las Vegas: more functional, futuristic — and sometimes far-fetched — wearables.
Wrist-worn wearables were a huge hit at the annual consumer electronics trade show four years ago, as tech makers showed off fitness trackers and smartwatches that monitored steps taken, stairs climbed and calories burned. The technology went on to become enormously popular among consumers, with an estimated 310 million wearable devices sold worldwide last year.
Now, some wearables are moving away from the wrist and becoming smaller and smarter.
"We're seeing lots of not obvious usage scenarios, but once you start to really think about it, it makes perfect sense," Brian Blau, research vice president for personal technologies at market research firm Gartner, said in an interview from CES, which ends Friday.
One of the products generating the most buzz at this year's show is L'Oreal's UV Sense, a wearable electronic UV sensor affixed to a user's thumbnail. The small, battery-free dot — 9 millimeters in diameter and less than 2 millimeters thick — measures individual UV exposure and is designed to be worn for up to two weeks. It can store up to three months of data.
The beauty giant said it was tapping into the increasing popularity of nail art as well as consumers' concerns over the harmful effects of sun exposure. Calling the combination "beauty tech," Guive Balooch, head of L'Oreal's Technology Incubator, said the company wanted its wearables to be simple and "livable."
"The perception of wearables is they're clunky, expensive, require lots of charging," he said. "We need to make them affordable, agile and designed in a way that can be worn in many places."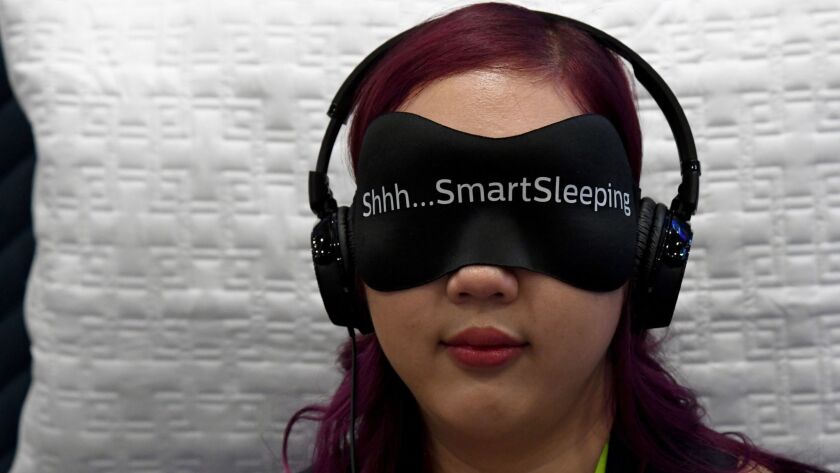 Modius, another wearables start-up at CES, designed a headset that is hardly fashion-forward or discreet but has an alluring promise: weight loss. Chief Executive Jason McKeown said the health industry especially has taken note of how wearables can provide less invasive treatment options.
McKeown said the headset tackles a core issue of weight loss — that metabolism and appetite are controlled by the brain — by connecting to the back of peoples' ears and using electrical stimulation to activate the hypothalamus to regulate body fat. People can track their progress on weight changes, body fat reduction, BMI and waist size on an accompanying app.
He said he wants the next iteration of the product to be smaller, more refined and with added app features.
"The goal is to become more and more compact," McKeown said. "Even the next generation of the Fitbit and Apple Watch have more elements to it. The more technology gets smaller, the more people will engage."
Long-term engagement is indeed key to a wearable's success. With its Apple Watch, Apple last year became the world's top wearables company, toppling Fitbit, according to a report by market research firm Canalys. Part of the smartwatch's dominance can be attributed to its wide array of functions: Besides fitness tracking, wearers use their Apple Watches to read emails, send text messages, make calls from their wrist, listen to music and get directions.
Carlsbad medical technology company Oska is making its first appearance at CES to promote its pain-reducing wearable device called the Pulse.
The oval gadget about the size of a large smartphone miniaturizes a device typically available only in doctor's offices.
The makers of the Pulse say it delivers so-called pulse electromagnetic field therapy — a decades-old medical treatment that realigns the electrical field around damaged cells to release toxins and attract nutrients for quicker healing. It can be strapped onto a patient wherever there's minor or chronic pain, reducing the need for prescription drugs.
Oska's founder and chief executive, Greg Houlgate, said the Pulse represents the latest application of medical know-how to a portable device for consumers.
"It's like the fitness trackers that came out at CES a few years ago that measured your heart rate," Houlgate said. "Ten years ago you'd have to do that in a medical setting. Now it's available on a wearable device."
The Pulse is available online for $399. The latest version of the device Oska is showcasing at CES is paired with a new app for patients to track fluctuations and improvements in their pain.
As wearables become more diverse, tech makers need to create products that not just sound cool but also have lasting utility, Gartner's Blau said. The firm is predicting the wearables market will grow to 505 million units sold worldwide in 2021, up 63% from last year.
"It's a hard equation for a lot of businesses," he said. As an example, he pointed to the rise in web-connnected technologies that have inundated everyday consumer products. Although some make sense — such as smart televisions and refrigerators — he questioned whether there was a need for smart toilets and smart tooth floss dispensers.
It's something L'Oreal's Balooch said the company took into consideration.
Customers are "measuring all kinds of stuff, some things are valuable, some aren't," he said. "We wanted to measure something that's important, that's actionable, that people care about."
---
Your guide to our new economic reality.
Get our free business newsletter for insights and tips for getting by.
You may occasionally receive promotional content from the Los Angeles Times.