E3 buzz: Sony's success, Pac-Man's return, Ubisoft's women problem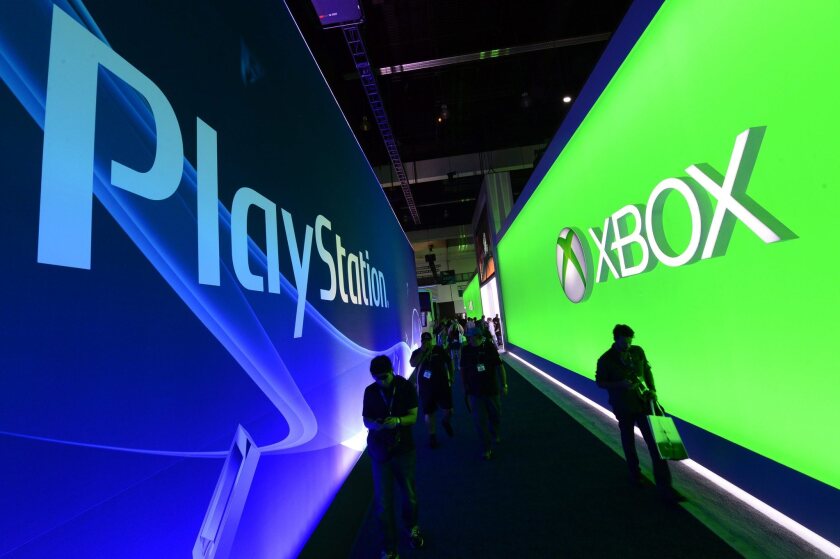 Here's a look at the big topics buzzing across the vast exhibit space on Day 2 of the three-day E3 video game industry show, being held at the Los Angeles Convention Center.
------------
FOR THE RECORD
June 12, 9:14 a.m.: In the June 12 Business section, a story about the E3 video game trade show stated that Nintendo Co. was releasing a "glacier white" PlayStation 4. Sony Corp. makes PlayStation.
------------
White PlayStation
Convention-goers have taken their first look at Nintendo's "glacier white" PlayStation 4. The white console is being bundled with the game "Destiny," a new title from Bungie, Inc., developer of the blockbuster "Halo" series.
Bungie launched "Halo" while the firm was under the ownership of Microsoft. Since spinning off on its own in 2007, the Bellevue-Wash.-based company has been searching for a new hit and teamed up on "Destiny" with Santa Monica publisher Activision.
"Destiny" is set in a future where only one city remains on Earth, and the user must serve among guardians trying to save what's left and try to bring back what's been lost.
The game launches Sept. 9, and the bundle sells for $449, including a controller.
Pac-Man
Late Tuesday, Nintendo executives battled using a forthcoming version of the "Super Smash Bros." game. Revealed during the demonstration was the inclusion of Pac-Man as a character in the game. Pac-Man will be chomping away and firing fruits starting Oct. 3 on the Nintendo 3DS, and sometime this holiday season in high definition on the Wii U.
Lady Palutena, the goddess of light from the ages-old Kid Icarus series, will also be among the new character choices on the game.
Bringing the cult favorites to Super Smash Bros. serves as another nudge for Nintendo fans holding older consoles to upgrade to the Wii U, which has seen weak interest since launching in fall 2012.
Ubisoft and women
Why doesn't the seventh version of the "Assassin's Creed" series, "Unity," feature any female assassins?
Because it was too much extra production work to include women, developers told the gaming news websites Polygon and Videogamer.
The news prompted the latest round of criticism of the video game industry for underrepresentation of women in games or its portrayal of women when they do appear.
"Unity," designed by Ubisoft, features a main character working with assassins "to expose the true powers behind" the 18th century French Revolution. The game is being heralded this week for including a cooperative multiplayer mode for the first time. The game launches Oct. 28 for PlayStation 4, Xbox One and Windows computers.
Allowing users to take control of, say, a team of female assassins would have required double the work, Ubisoft creative director Alex Amancio told Polygon.
"It's double the animations, it's double the voices, all that stuff and double the visual assets," Amancio said. "Especially because we have customizable assassins. It was really a lot of extra production work."
Ubisoft technical director James Therien told VideoGamer.com that a female character was dropped from the feature list to focus on making the best experience possible.
"And I mean it's something the team really wanted, but we had to make a decision," Therein said. "It's unfortunate, but it's a reality of game development."
Gamespot noted that an Ubisoft official had earlier said, referring to a prior "Assassin's Creed" version, that a heroine was not included because "the history of the American Revolution is the history of men."
Sony: Winner?
Some analysts and members of the video-gaming media are calling Sony the "winner" of E3 for pushing forward with plans to build a PlayStation ecosystem that involves access to the same games and content across the house on all types of devices.
In an extended interview with Edge-Online this week, Sony's Andrew House explained how the company was adjusting marketing for the PlayStation Vita, which has faced a "challenging" environment outside of Japan.
A recent PricewaterhouseCoopers report on the industry said Vita sales saw an uptick when the PlayStation 4 was released last fall, but that "Sony's dedicated portable consoles continue to struggle against both Nintendo and smartphone and tablet gaming." And even then, Nintendo has had to slash sales forecasts for its 3DS portable gaming device.
Smartphone, tablet and online gaming remain the video game industry's fastest growing areas, with combined mobile and online gaming revenue on pace to surpass combined revenue from the traditional PC and console-game sectors in 2014, according to the report.
House, the chief executive of Sony Computer Entertainment, acknowledged that the Vita is more of an extender for the PlayStation 4 than a gaming device on its own. People can use the Vita when someone else wants to use the big television screen, he said. It's a similar positioning for the Nintendo Wii U, whose controller has a screen that can be used for gaming when the television screen is tuned in elsewhere.
But House also said Sony has had success persuading mobile app developers to build games for the Vita.
"It's becoming a very accessible and easy onramp for independent developers, those who have had some success in the mobile space and now want to work on games that are that little bit richer, that have a more dedicated gaming interface," he said. "And we're certainly seeing Vita being embraced by that community very strongly."
Chat with me on Twitter @peard33
---
Your guide to our new economic reality.
Get our free business newsletter for insights and tips for getting by.
You may occasionally receive promotional content from the Los Angeles Times.