Exclusive interview: How Snapchat founder Evan Spiegel feels after the historic IPO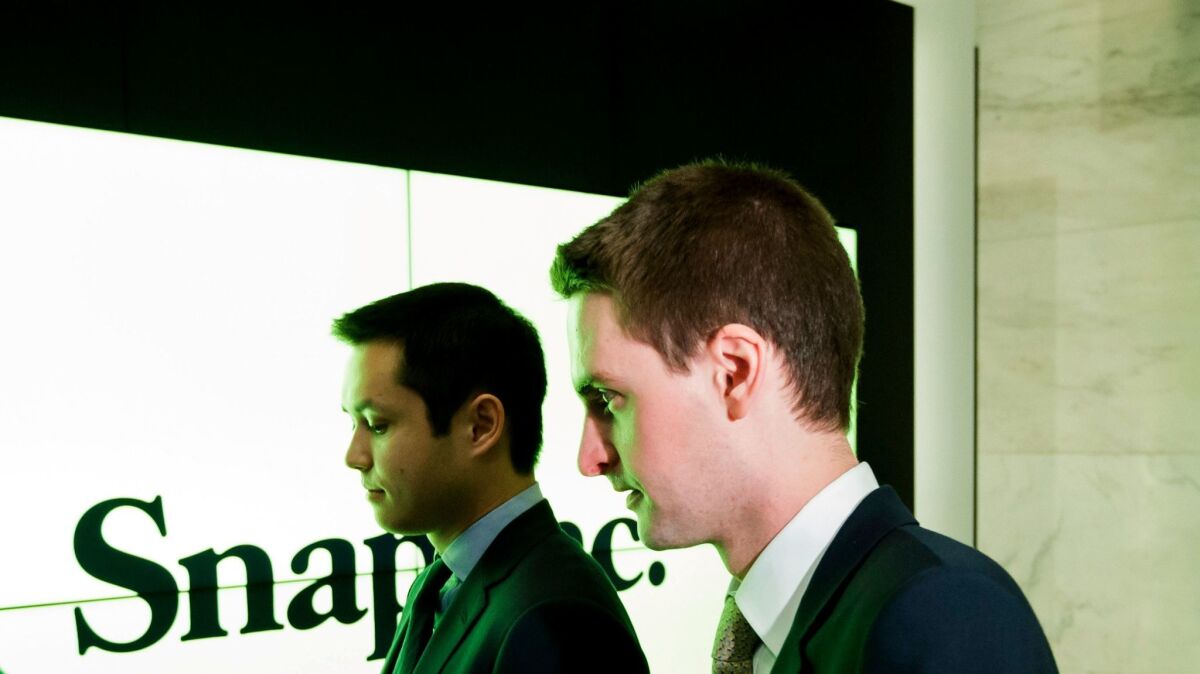 Reporting from New York City —
After a whirlwind month of IPO preparations and investor discussions, Evan Spiegel popped off his tie and sat down for a black coffee in a brick-walled Brooklyn cafe. The 26-year-old Snap Inc. chief executive is one of the youngest entrepreneurs in history to a take a company public and perhaps the youngest-ever to lead a $30-billion enterprise.
But the milestone still hadn't felt real to him, just over an hour after shares of the Snapchat app maker started trading Thursday on the New York Stock Exchange.
"How do we feel? We were just thinking about how do we answer that question," an exhausted Spiegel said, looking at his co-founder Bobby Murphy beside him. "It's exciting."
Live updates: Snap Inc. holds the biggest-ever initial public offering for a Los Angeles company »
In an email to their 2,000 employees Wednesday night, Spiegel noted the IPO and all the wealth and cash it brings mark only a momentary milestone, and he echoed in an exclusive interview that there's still "a lot of work we have to do."
We built our business on creativity.
— Evan Spiegel, Snap CEO
Stock market analysts have questioned why Snap went public at 6 years old with nascent revenue-generation and increasing losses. Spiegel said he sees a benefit in having the company's value determined by public markets as he and Murphy try to grow the business.
They recognize there's a disconnect between how investors and much of the public want to see Snap evolve — preferably something as ubiquitous as Facebook — and the path they see the business taking. Facebook has reached immense value by connecting 1.9 billion people to its social network, but Spiegel believes Snap could become just as valuable by building a smaller, more personal service.
"We built our business on creativity," Spiegel said. "And we're going to have to go through an education process for the next five years to explain to people how our users and that creativity creates value."
Despite its largely young customer base, he views Snapchat, the messaging and entertainment hub used by 158 million people each day, as appealing to anyone, regardless of age.
"Talking with pictures and making memories is universally appealing," he said.
And he's dubious about concerns that Snap can't continue to add new users. Though some investors may be closely watching user growth, Spiegel wants them to focus on how and how much users are interacting with the service.
"We'd rather inspire creation because we know a derivative of that is growth," he said, noting that his head might still be in pitching-to-investors mode.
In other words, if Snap continues to offer fun and novel ways for people to keep in touch with the small group of people whom they care about the most, the company shouldn't have trouble attracting attention.
"We're not just chasing growth," Murphy said. "It's engagement that leads to growth."
Spiegel and Murphy remained coy about what exactly comes next as far as spurring virtual creativity and digital interactions. Whatever their specific game plan, the company remains focused on its mission, which it has described as reinventing the camera. They are thinking about changing how cameras are made, increasing their capabilities and introducing new ways for images to sync with sophisticated software.
"Five years ago, we came to the realization that the camera can be used for more than capturing memories," Spiegel said. "We showed it can be used for talking. The dream for us is expanding the camera and what it can do for your life. It has capabilities beyond making memories."
Twitter: @peard33
ALSO
Teens tell us how they really use Snapchat
There's one part of Snapchat that Facebook can't copy: CEO Evan Spiegel
The guy who came up with the idea for Snapchat got $158 million and vanished from public life