FTC is investigating Facebook over Cambridge Analytica's use of personal data, source says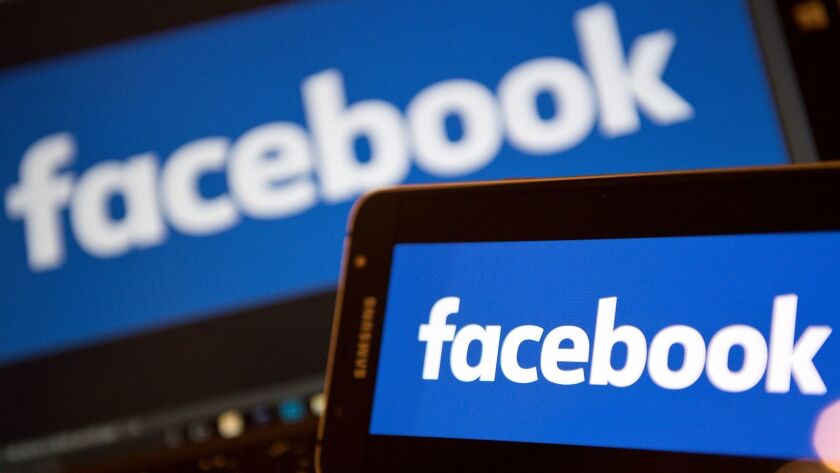 Facebook Inc. is under investigation by a U.S. privacy watchdog over the use of personal data of 50 million users by a data analytics firm to help elect President Trump.
The U.S. Federal Trade Commission is probing whether Facebook violated terms of a 2011 consent decree after the recent revelations that user data had been transferred to Cambridge Analytica without those users' knowledge, according to a person familiar with the matter.
Under the 2011 settlement, Facebook agreed to get user consent for certain changes to privacy settings as part of a settlement of federal charges that it deceived consumers and forced them to share more personal information than they intended. That complaint arose after the company changed some user settings without notifying users, the FTC said at the time.
An FTC spokeswoman said Tuesday in emailed statement that the agency is aware of the issues that have been raised but can't comment on whether it is investigating. The agency takes any allegations of violations of consent decrees seriously, the statement said.
If the FTC finds Facebook violated terms of the consent decree, it has the power to fine the company more than $40,000 a day per violation.
Facebook said in a statement that it rejects "any suggestion of violation of the consent decree."
"We respected the privacy settings that people had in place," it said. "Privacy and data protections are fundamental to every decision we make."
Facebook stock fell, retreating 3.2% to $167 around 8 a.m. PDT. That follows a drop of 6.8% on Monday, which was the stock's biggest one-day loss in four years.
Even though several Republicans and Democrats have expressed concern about Cambridge Analytica's use of the data, GOP-controlled congressional committees haven't demanded hearings with Facebook executives. The Senate Commerce Committee did announce Monday evening that it would like a briefing from the company on "the use and sharing of individual Facebook user data."
Sen. Charles E. Grassley (R-Iowa), chairman of the Senate Judiciary Committee, also said he was considering a hearing with the chief executives of Facebook, Alphabet Inc.'s Google and Twitter Inc.
The Facebook revelations have also prompted transatlantic reactions. The chairman of a British parliamentary committee announced Tuesday he was requesting that Facebook CEO Mark Zuckerberg — who has remained silent for days — appear before the panel to supplement prior testimony by the company's executives.
White House spokesman Raj Shah said Tuesday that Trump "believes that Americans' privacy should be protected" and supports federal investigations into the incident. "If Congress wants to look into the matter or other agencies want to look into the matter, we welcome that," Shah said on Fox News.
Asked if Zuckerberg should testify, Shah demurred. "Without knowing the specifics, it's difficult to talk about whether an individual should testify," he said.
A Facebook spokesman confirmed that the company would be holding a town hall meeting Tuesday, where a deputy general counsel would answer questions.
---
UPDATES:
8:20 a.m.: This article was updated with comments from the FTC, Facebook, Sen. Charles Grassley and White House spokesman Raj Shah, and with a more recent stock price.
This article was originally published at 7:15 p.m.
---