Facebook encouraged media companies to invest in video. A lawsuit alleges it wasn't worth it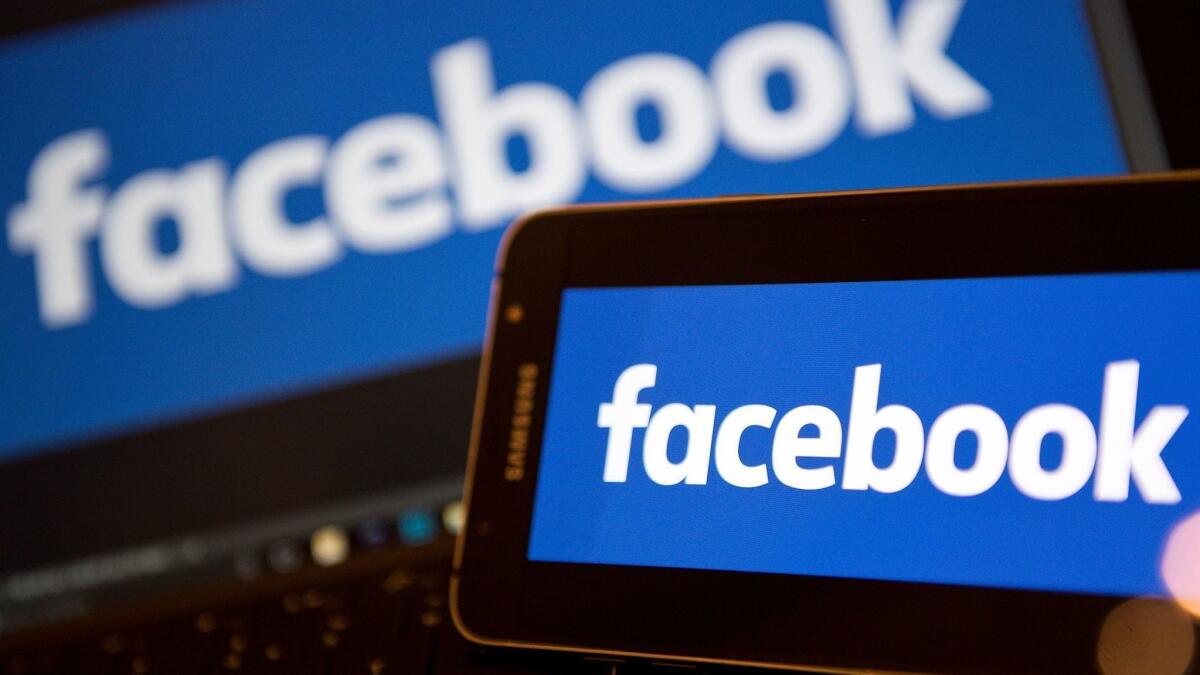 Few phrases elicit more eye rolls in the media business than the "pivot to video."
Starting two years ago, news organizations following the lead of Facebook Inc. scrambled to shift resources toward video under the assumption their audiences would abandon the written word for moving images on their hand-held devices. It was, after all, what Facebook said people wanted.
But a complaint filed Tuesday by a group of advertisers suggests that shift to video by media companies may have been forged on false pretenses.
Plaintiffs allege Facebook knew for more than a year that it was misrepresenting how long users were watching videos. The longer the views, the more Facebook could charge advertisers.
Facebook acknowledged it had been inflating its average viewing times in 2016 shortly before the Wall Street Journal reported the social network had exaggerated its viewership by between 60% and 80%. It did this by only counting a view after a user watched a video for more than 3 seconds — allowing it to push up the figure by disregarding videos that were turned off immediately. Facebook, responding to the report, said it discovered the problem a month prior to the article and moved to fix it.
The plaintiffs in Tuesday's complaint, citing documents obtained through court proceedings, allege Facebook in fact knew about the problem for more than a year before it acted. And rather than address the issue, the company employed a "no PR" strategy to obfuscate the error. They allege Facebook's inflated viewership numbers were much higher — between 150% and 900% above the real total — and that the company's behavior amounted to fraud.
"The wide disparity between the actual average viewership and Facebook's reported metrics should have been corrected immediately," the complaint said. "But Facebook severely understaffed the engineering team in charge of fixing errors — employing only as few as two engineers — and this led to long delays before errors were fully investigated and corrected."
The plaintiffs comprise Crowd Siren, an advertising firm based in Las Vegas, and Jonathan Murdough, a Pennsylvania resident who bought Facebook video ads. They are seeking damages and class-action status.
Facebook said the lawsuit, which was originally filed in 2016, was meritless and filed a motion to dismiss the fraud claims.
"Suggestions that we in any way tried to hide this issue from our partners are false," the company said in an e-mailed statement. "We told our customers about the error when we discovered it — and updated our help center to explain the issue."
Facebook said it believes the plaintiffs have mischaracterized company documents obtained during the lawsuit. The company said it now uses third-party groups to assess its metrics.
Nevertheless, the lawsuit will continue to raise doubts about Facebook's transparency and possibly prompt more scrutiny from government regulators, said Rob Enderle, principal analyst with advisory services firm Enderle Group.
American and European officials criticized Facebook after the company revealed that information from millions of Facebook users was accessed by an unauthorized third party, Cambridge Analytica.
Enderle said those who advertise on Facebook may also be more skeptical of the billing process and the company will have to work hard to regain their trust.
"It's making Facebook increasingly look like they can't be trusted," Enderle said.
Advertisers can determine how much money was wasted on inflated viewership numbers. Media companies, on the other hand, will find it harder to quantify the cost of pivoting to video, said Jason Kint, chief executive of Digital Content Next, a trade organization representing digital publishers.
"It's easy to connect the dots, but hard to find an answer," said Kint, who noted that Facebook Chief Executive Mark Zuckerberg once said content on the platform would be mostly video by 2021.
"That had to have an effect on strategy and newsroom jobs," Kint added.
Vice, Fox Sports and Mic are among several outlets that shed jobs to redirect resources to video.
Sarah Harvard lost her job in a round of layoffs at Mic in August 2017 that was part of a reorganization toward what the company reportedly described as "visual journalism." She has yet to return to journalism.
Harvard, 25, who covered religion, gender, race and national security, said she felt "wronged and cheated" that faulty metrics could have influenced her professional fate.
"I've worked tirelessly for years without any resources or networks in pursuit of the written word," she said. "So, it's soul-crushing to see all of that work and suffering — all done in pursuit of truth and our love for the written word — gone in exchange for 30-second low-grade Windows Movie Maker videos because some faceless entity provided false numbers to media executives."
david.pierson@latimes.com | Twitter: @dhpierson
wendy.lee@latimes.com | Twitter: @thewendylee