Protests propel FireChat app to top spot in Hong Kong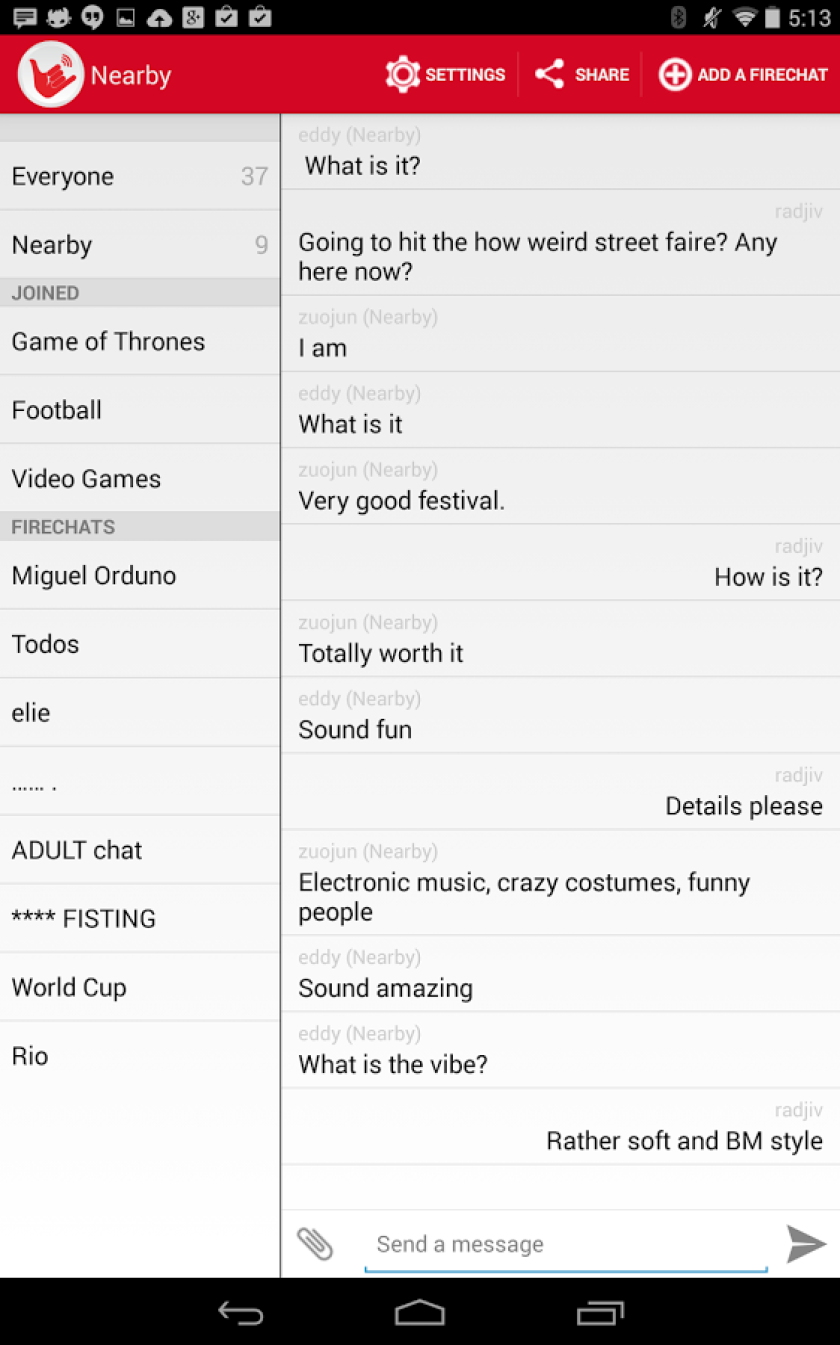 The most popular app of the moment in China and Hong Kong is a cross between WhatsApp and Twitter, made possible by a new networking technology.
Designed for friends to get in a touch with one another at crowded concerts and events, FireChat took off across the Pacific over the weekend.
Protesters in Hong Kong have been demonstrating against China's move to limit voter choices in Hong Kong's 2017 election for the territory's top official. But China has been blocking access or censoring conversations on other social networks, including Instagram, limiting protesters' ability to organize.
FireChat doesn't rely on cell towers or a connection to the Web to work. Instead, it creates a "mesh network" in which one phone latches to another in a continuously growing chain using the phones' Bluetooth and wireless technologies. Two links in the chain must be no more than 75 yards apart. Once the app is downloaded, users post to a public forum similar to Twitter where people can see messages -- organized by topical or geographical chatrooms.
Though authorities could monitor conversations on FireChat, blocking cellular access wouldn't stop users from chatting within small networks. FireChat is seeing about 20,000 concurrent users in Hong Kong who are also connected to the cellular networks, but thousands more could be using it "off the grid," so to speak.
"I don't know if it's a flash in a pan or the start of something bigger," said Christophe Daligault, chief marketing officer for FireChat maker Open Garden, based in San Francisco.
He said about 30% of downloads in Hong Kong have been from the Apple App Store and 70% from Google Play. FireChat remained at the top of the most-downloaded chart for both stores late Tuesday, according to AppAnnie.
Open Garden would like to add verification of user identities and private chatting with encrypted messages, but it must solve some tough technical problems first. For one, it needs to find a way to store user data without a connection to the Web.
"A truly open mesh network is a great idea, but then, by definition, don't trust it to maintain any degree of confidentiality," said Robert Coleridge, chief technology officer at encryption technology provider Secure Channels.
Chat with me on Twitter @peard33
---
Your guide to our new economic reality.
Get our free business newsletter for insights and tips for getting by.
You may occasionally receive promotional content from the Los Angeles Times.